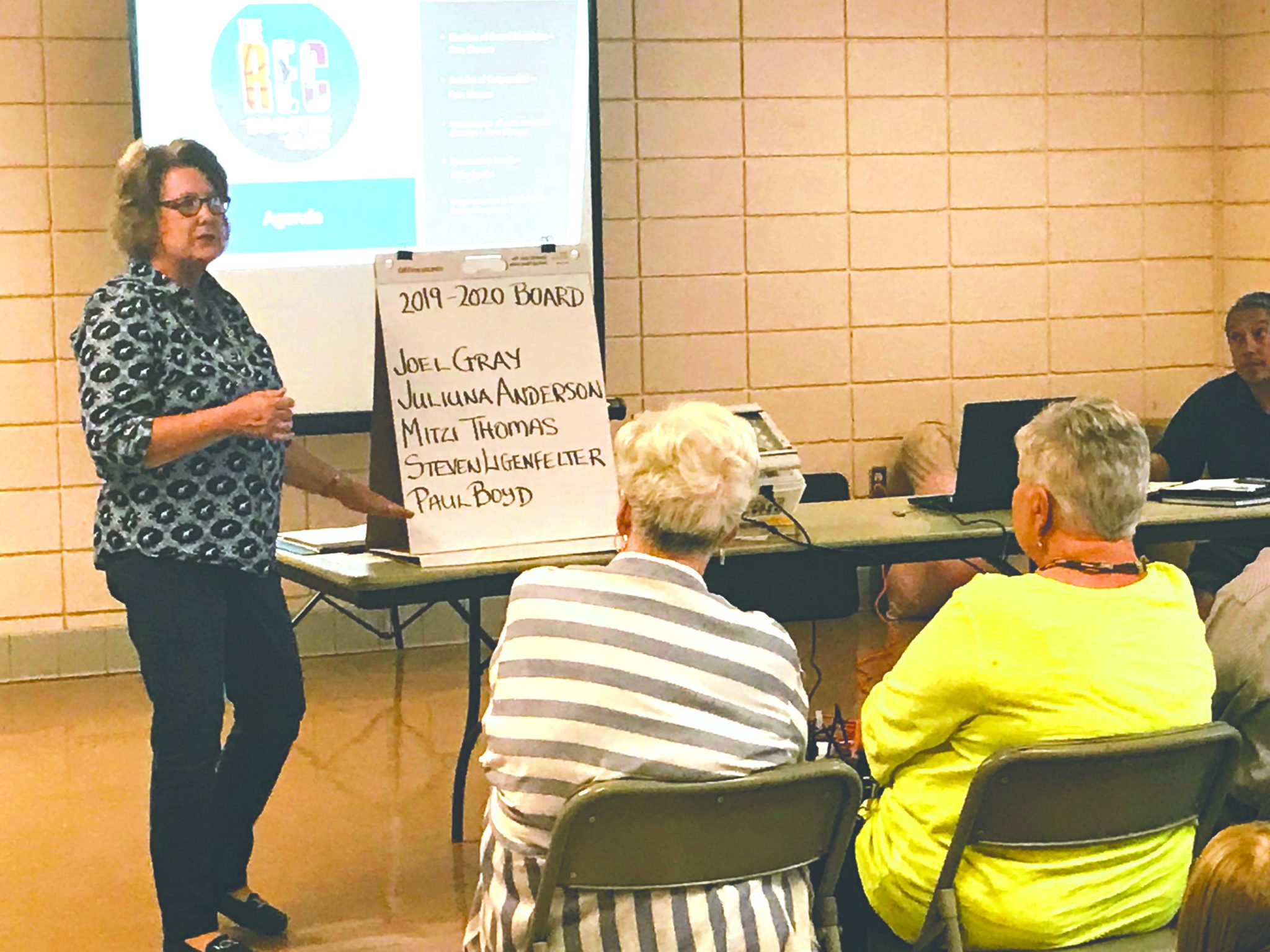 The Minden Rec Center Booster Club is continuing its dizzying pace of setting and achieving goals, as it announced new board members and target goals on Tuesday night in Minden.
"Our booster club will be managed by a five-member board along with the City Rec Center Director and without financial compensation," Councilman Pam Bloxom said.
The board elected new president Joel Gray as well as vice-president Juliuna Anderson.
"I'm hoping that we can get more of the community participating in programs at the Rec," Anderson said. "My daughter takes swimming lessons every year and has played softball here in the past. I've met so many great people just being out here with her. This is a place for our community to come together and be active."
Bloxom said the objective of the board is to remain about fundraising primarily.
"It is not the purpose of this organization to become involved in the day-to-day activities of the Rec Center," Bloxom said. "We're just going to be a helpful hand to fundraising."
Bloxom rounded out introductions by talking about membership requirements.
"Membership is unlimited, anyone can be included, and that is not limited to just Minden citizens," Bloxom said. "Because of the scope of this project, it is open. We will have four meetings a year, each scheduled to coincide with the beginning of sports seasons."
Rec Center Director Rocke Musgraves went on to describe the work already being done to improve the conditions at the Rec Center.
"On Aug. 9, we will begin fencing for the football and soccer fields," Musgraves said. "Keith Jellum won the bid, and expects construction to be complete by the end of August.
"On all of the fields, they are turning brown but that's because we want them to. The purpose was to kill the bad grass as we are trying to get bermuda grass to grow in its place. It will be wonderful in a year or so. In half a year, we've come a long way."
Musgraves detailed the time and energy spent in creating a better standard at the Rec Center, starting with the grass we walk on.
"The soil composition was so bad that it wouldn't grow bermuda at first," Musgraves said. "So I took samples from each field, shipped them down to the LSU Agriculture Department where they tested them and told us exactly what we needed. Now we're mixing up bags labeled by each field because each area has its own needs."
These tiny details are what Musgraves has focused on in his quest to turn around the complex.
"We just had a football camp last Saturday here at the Rec," Musgraves said. "Had about 100 kids, but the cool part was that the Lakeside and Minden coaches worked together at one station and their staff all worked together. All of these rivals and people the kids look up to, working for free to help build something here. It gives me goosebumps just talking about it. Brian Meeker, a coach at Minden, did a phenomenal job organizing and operating that camp.
Musgraves went on to detail the upcoming football league as well as plans for soccer as well as adult programs at the Rec Center before introducing the new assistant director Mike Aguilar, who just secured a $10,000 sponsorship for the complex from Hol-Mont.
It was another successful night as citizens of Minden have taken it upon themselves along with Musgraves and his team at the Rec Center to try to push what should the the hub of health in Minden to the next level.
"I'm really excited about new adult programs that are on the way and programs for kids as young as three," Anderson said. "I'm also really excited about the Tech girls coming to practice here. The Rec is a great asset that can help make Minden even more of a destination for Northwest Louisiana. I'm honored to be able to serve my community in this position with the other amazing people on this board. I hope people continue to attend the Rec Booster Club meetings and we can all work together to support the directors of this complex in moving it to the next level."