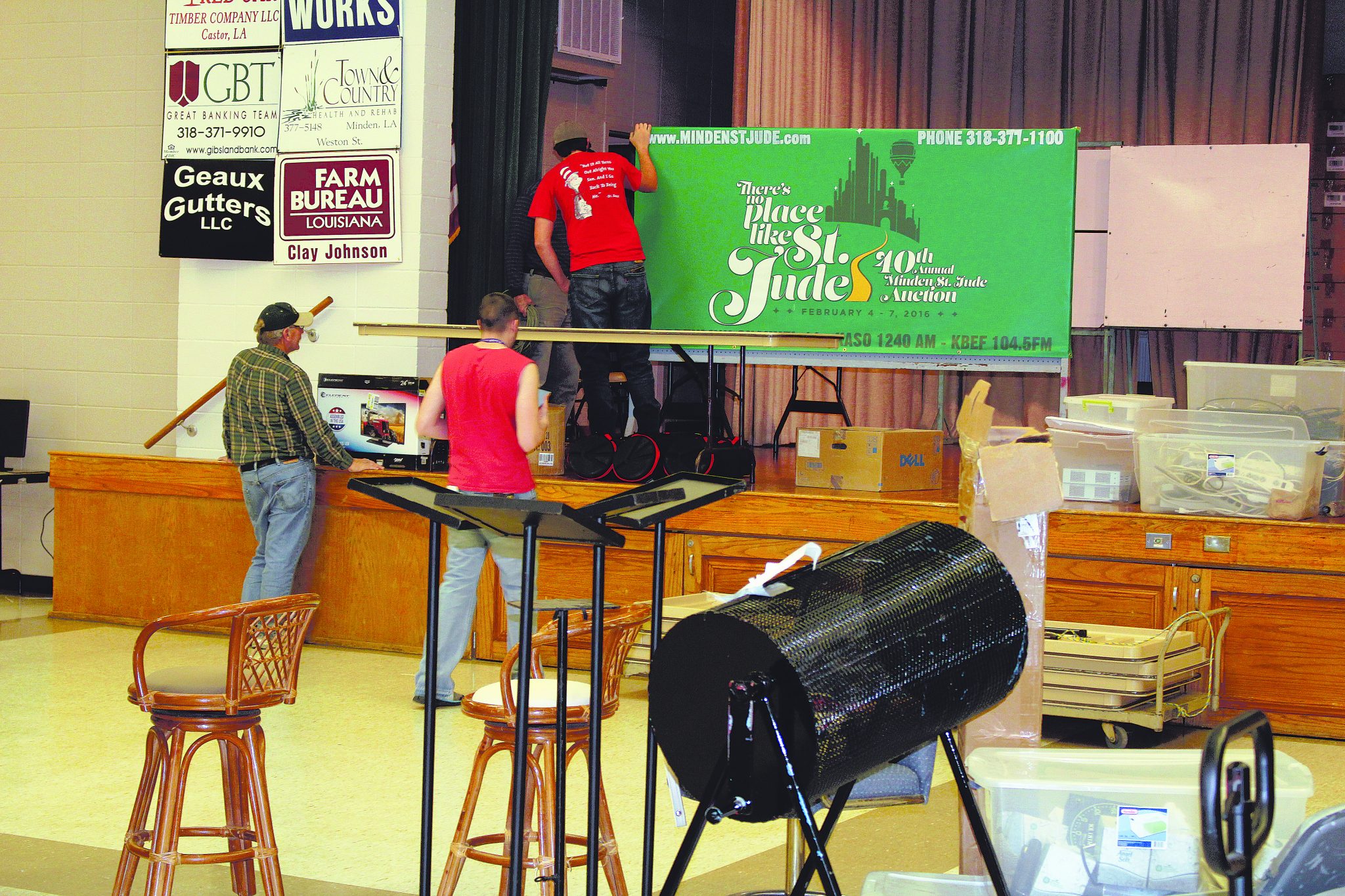 Minden might be the only city in the country where football's most magnificent matchup plays second fiddle on a day known worldwide as Super Bowl Sunday.
It's nothing against the NFL, but on this particular Sunday, the people of Minden and Webster Parish are busy ensuring the success of an event far superior to any sporting event.
The 41st annual Minden St. Jude Auction begins Thursday at the Minden Civic Center. This year's auction theme is "St. Jude is the Word," a nod to the fabulous '50s.
The St. Jude Auction is a staple of Minden and Webster Parish as a whole, dating back to 1976.
What began as a one-day radiothon broadcast by Minden's own KASO radio station, with auction items such as cakes and jams, has evolved into a massive four-day spectacle.
Today, it is celebrated and participated in by people around the globe; over the years, auction and raffle items have grown to encompass everything from a Yukon Denali, Harley Davidson motorcycle, Super Bowl quarterback-signed football and even cold-hard cash.
This year alone, patrons will have a chance to win a Honda Pioneer 4 side-by-side, a youth Honda TRX90 four wheeler, laptop computers, home appliances, a golf cart, guns, gaming consoles, iPads, Apple watches, a drone, landscaping materials, a digital camera and of course, the annual playhouse built by the Minden Fire Department has become one of the weekend's most-coveted possessions. Additionally, their are hundreds of treasures to be won on auction boards starting at noon Thursday when the auction officially begins.
After four days of nonstop hustle, the real prize comes Sunday night following the conclusion of football's most-iconic game, when the final figuring has been done and the people of Minden can gaze upon the fruits of their labor.
Minden raises more money for St. Jude Children's Hospital than any city in the U.S. per capita, sporting a 40-year total of $15.3 million in donated funds. Even more impressive, Minden surpassed Shreveport, Baton Rouge and New Orleans in 2016, becoming the top-giving city in Louisiana for last year with over $1.4 million raised.
Minden was also the recipient of the prestigious Community Alliance Award at the 2016 ALSAC/St. Jude Volunteer awards dinner held at Cook Convention Center in Memphis, Tennessee. Current Auction Co-Chairwomen Melissa Brown and Christie Ruple accepted the award on behalf of the city.
The Minden St. Jude Auction has only grown stronger with age thanks to leadership's ability to find new paths to engaging the many sub-cultures that exist within a small-town community, whether it be the annual Bass Fishing tournament, the Battle of the Badges (an annual slow-pitch softball game that pits the Minden Fire Dept. against the Minden Police Dept.) or the Crowns for a Cure beauty pageant.
There is also a Vintage Car Show, the St. Jude Gospel Concert and numerous bake sales, takeout dinners and raffles that happen year-round. Local schools have even taken their game to the next level with all Webster Parish schools, plus Princeton Elementary, combining to raise $139,696 for the hospital in 2016.
Running enthusiasts have the Minden Run for St. Jude, now in its' ninth year, offering a 5k, 10k or half-marathon option. Mothers with strollers, elementary school children and grown men dressed as princesses alike turn out to break a sweat for the children of St. Jude, and they do it with smiles on their faces. In 2016, the Run for St. Jude raised more than $65,000.
For the foodies, the auction is host to one of Louisiana's largest competitive chili cookoffs, taking place in the parking lot of the Minden Civic Center every Saturday during St. Jude weekend. Games, face painting and the sweet sounds of southern music fill the lot, along with plenty of chili.
But, while there is certainly plenty of fun to be had and money to be raised outside the event, the auction's true heroes are inside the doors of the Civic Center.
Each year, hundreds of volunteers come together in Minden offering their time and services. They answer telephones, serve as auctioneers, sell merchandise, work concession stands and so much more, and despite how easy they make it look, coordinating such an event is a stressful endeavor.
Former Minden City Judge John C. Campbell served as auction chairman for two years and saw firsthand how an event on such a grand scale goes can be executed with near-perfect precision.
"The auction does not belong to the leadership," Campbell said. "In fact, the change in the leadership is actually a good thing. It belongs to the community, and it is such a communitywide event now that it survives no matter what the prizes are or who's in charge. All these other towns have festivals…this Minden's festival."
In 1976, the auction was held in memory of Anne Treat, daughter of Pete Treat. Anne was a patient at St. Jude before her passing, and Treat thought a radiothon was an appropriate way to remember his daughter's fight and honor those continuing to fight for others. The one-day telethon was broadcast by KASO radio's team of Manoah Shadrach "Digger" O'Dell and Bo Cook, raising nearly $10,000.
Treat's loss helped pave the way for countless others to live. Stephanie Barnette, President of the Minden-South Webster Chamber of Commerce, is among that group.
In July 1990, Barnette, then Stephanie Buckman, was diagnosed with a Wilms Tumor in her right kidney. She was rushed to Memphis, Tennessee, the home city of St. Jude Children's Hospital, and it was quickly decided that Stephanie would undergo radiation and chemotherapy. Ultimately, the kidney was removed by doctors; and by her 11th birthday, Stephanie was cancer-free with no chance of a return.
"If it weren't for St. Jude, I wouldn't be here today," Barnette said. "There aren't enough words to describe how great that hospital is. This city understands the importance of what they are giving to, and our community's generosity each and every year helps keep the doors of St. Jude open."
The Minden St. Jude Auction has reached what is now known as the "Minden million" five years running. While there is nothing to suggest a sixth-straight million is out of reach, it's not a forgone conclusion. Another past auction organizer, Laura Hollingsworth, makes a keen observation when asked about the likelihood of a sixth Minden million.
"Every year people are scared it's not going to happen," Hollingsworth said. "But no amount of money raised would ever be a disappointment. It is dollars that go toward helping kids with cancer; any number is a great number."
In a 2016 article posted on stjude.org about Minden, titled "Small Town, Big Numbers," the hospital reports the childhood cancer survival rate has risen from 20 percent to 80 percent since St. Jude opened their doors in 1962.
If Minden has anything to say about it that number will only continue to rise.