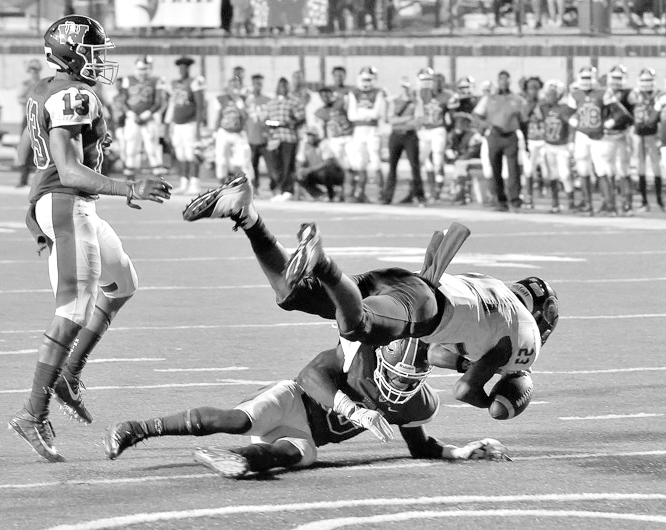 Minden travels to Blanchard Thursday for a 1-4A battle against the Northwood Falcons. The Crimson Tide (4-3, 2-2) have won the last three matchups in this series, but the Falcons (5-2, 3-1) enter as heavy favorites for this season's installment. "(Northwood) went through a few years of being really young," Minden head coach Spencer Heard said Wednesday. "All their guys are older now and they're playing really good football." The Falcons have a pair of statement wins already in their back pocket, over Woodlawn and North DeSoto, but are hungry for more as they look to improve their playoff standing and avenge three-consecutive losses to the Tide. Northwood QB Luke Bogan has the Falcons firing on all cylinders. With opposing defenses forced to respect Bogan's storng arm, the Falcons have had plenty of room to run the ball in 2017, making them nearly impossible to slow down. "The run lanes are there thanks to their offensive line," Heard said. "Skill-wise, they have two or three guys who can run on the outside at receiver and a couple pretty good running backs; Bogan is the key, because he's a talented quarterback and he has some moxy."
The Tide will be without their top two rushers, with speedster Patrick Heard and between-the-tackles running back Zack Gage sidelined this week due to injuries. Those departures mean senior QB Seth Tyler will have to shoulder more of the load, as reserve running backs Izaiah Smith, TJ Arrington and Jalen DeLoach try to fill in as best they can.
"Hopefully we can keep them off balance," Heard said. "It's going to come down to blocking and tackling, as always.
We have some stuff that's worked pretty well in practice this week. We just have to get out there and try to execute it in the game against Northwood." Heard said the Tide have responded well to the short week and he anticipates his bunch will be ready to play after falling hard in back-to-back contests. "We just need to focus on us and continue to play hard," Heard said. "I thought our guys played hard last week until the last quarter. I think we started looking at the scoreboard and we can't do that. It's about playing four quarters and putting ourselves in the best position we can be for the playoffs."