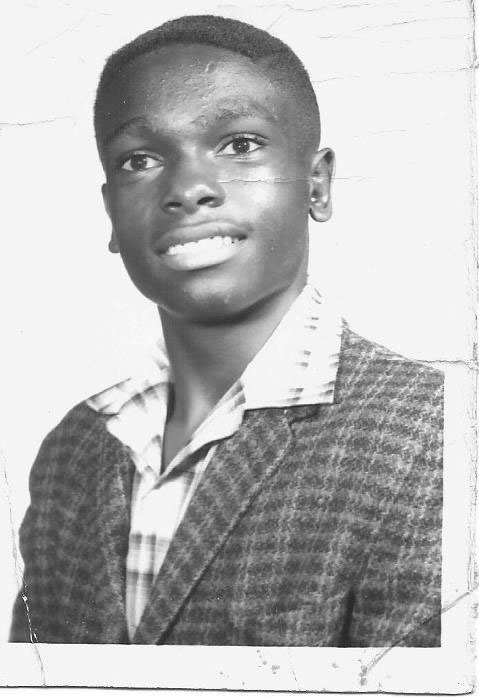 "This is a journey that we all must take, and each must go alone;
it's all part of the Most High's plan, a step on the road home. . ."
On January 12, 1946, Felix Montgomery, Jr. became the second of nine children born to the union of Felix Montgomery, Sr. and Eloise Grider Montgomery. During his early years, Felix fondly responded to the name "Brother." He was a precocious child who amazed adults by being advanced beyond his years; he wanted answers to his "what, when, and why" questions. While playing with his siblings, he shared his clever, creative, and ingenious ways of constructing toys and games.
He was reared in a Christian home, and along with his siblings, Felix attended St. Rest Baptist Church in Minden, Louisiana, and participated in youth activities. After moving to Houston, he affiliated with Wheeler Baptist Church.
As Felix advanced through J. L. Jones Elementary School, J. A. Phillips Junior High School, and Webster High School, his teachers readily noticed his great brilliance as he pursued his varied interests, particularly courses in math and science. From his earliest school days, he displayed a passion for learning, making excellent grades, and competing in academic competitions. He and his family were proud as he earned the honor of being the valedictorian of the Webster High School Class of 1964.
With the culmination of his high school days, Felix entered Southern University in the fall of 1964, completing two years of study there. Having been identified as a high-aptitude student, he received a recommendation to obtain the required clearance to study and work at the United States Space Center in Cape Canaveral, Florida. For Felix this was a very productive venture.
Receiving a draft notice for military service induction, Felix heeded the call and served four years as an active member of the United States Army, followed by two years of inactive reserve duty. He had an extended tour of duty in Germany, gaining additional knowledge through his travels prior to his honorable discharge.
Returning to Louisiana after completing his active military duty, Felix enrolled in Grambling State University, receiving a degree in Business Administration in December 1973. Upon the completion of his degree, he entered the world of work in Houston, Texas. There he began a new venture, working as an accountant at Shell Oil Company and later, with his business skills and many illustrious ideas, Felix opened his own dry wall business. With his passion for learning still burning within him, he focused on yet another venture, securing a real estate license. Felix entered real estate school and became a licensed realtor, purchasing homes, renovating them, and reselling them.
Felix's final interest having worked in varied fields, Felix's last venture took him to the Lighthouse for the Blind of Houston, a non-profit organization dedicated to helping the visually impaired. This was a totally different experience for him, but one that he enjoyed.
Felix was preceded in death by his parents and sisters, Margarita Udella Montgomery and Carolyn Patrice Montgomery; brother, Richard Will Montgomery; nephew, Cedric Chanard Moore; and stepson, Sam, Jr. Those remaining to cherish and recall fond memories are his wife, Roxanna Johnson; his sisters, Laura Marie Montgomery, Emma Jean Montgomery Moore, Gladys Mary Montgomery Critton (Travis Critton, husband); nieces and nephews, Serran Eugene Moore, Richard Ahmad Montgomery, Jennifer Rachelle Montgomery, Roderick Joseph Montgomery, Iman Somoria Montgomery; grandchildren, Shammi and Syomi; great-grandchildren, Jarrell, Sayhanna, Ryan, and Daniel; great-nieces and great-nephews, Malachi, Sarai, Micha, Jaeden, Justice, and Amaiyah; godchildren, Tosha and Caleb; a special cousin, Drew Y. Montgomery; and numerous relatives and friends. Visitation will be Friday, March 15 from 10am to 7pm at Benevolent Funeral Home. The funeral service will be Saturday, March 16 at 2pm at Saint Rest Baptist Church.