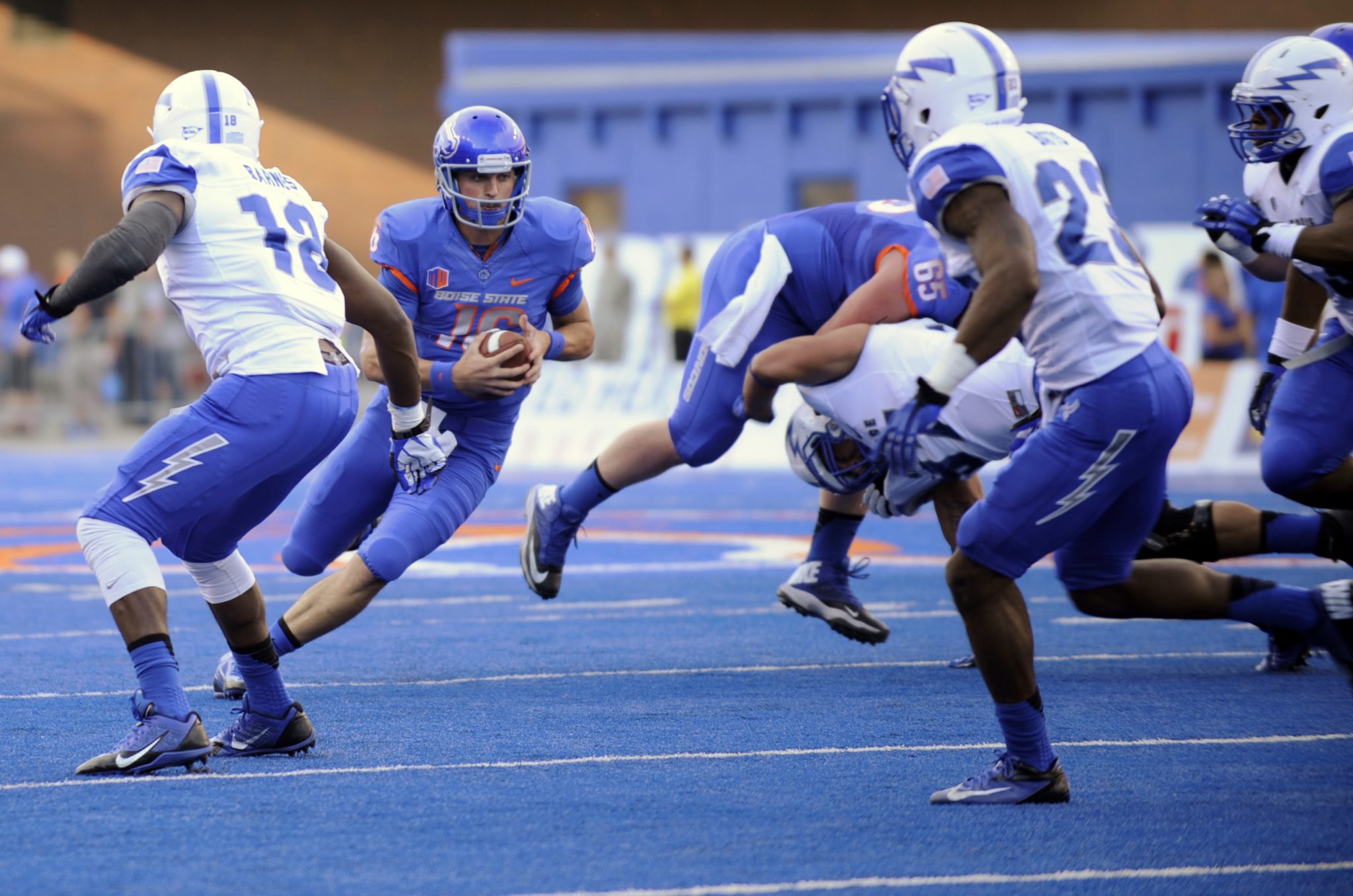 Each week, our expert college football correspondent Matthew Marshall will sift through the storylines and present us with the games, stories and players who will make the most impact.
#17 BOISE STATE AT #24 OKLAHOMA STATE – Saturday, 2:30PM – ESPN
Interesting matchup in week three between two teams that seemingly have no business playing each other. Boise State comes into Stillwater after dismantling two opponents by a collective score of 118-27, but those opponents were Troy and Uconn.
While neither team are world beaters, Boise State's offense has been remarkable. Led by senior Brett Rypien, Boise State boasts a balanced attack that has only turned the ball over once in two weeks despite having the ball for the majority of both games. Oklahoma State enters the weekend with a record of 2-0 after beating Missouri State and South Alabama with ease but are flying under the radar this year after losing stud quarterback Mason Rudolph.
Mike Gundy may be pushing old man status now at 51 years old (it's really been 10+ years since his infamous outburst?), but that doesn't mean he doesn't know how to run an offense.
I expect Oklahoma State to pull off the "upset" in a shootout and go into their Big 12 slate undefeated.
Line: Oklahoma State -2.5
Prediction: Boise State 38, Oklahoma State 49
#1 Alabama at Ole Miss – Saturday, 6:00pm – ESPN
I know, it's Alabama. They are the the freight train that rolls through everyone on their way to the CFB Playoff year after year, but this is a game that always tries to trip them up every once in a while.
Ole Miss runs a spread attack with an athletic QB which always gives Nick Saban and his defense fits (see: any loss since the 2012). Ole Miss lost 5-star Shreveport and Calvary standout Shea Patterson to Michigan this year and have replaced him with Jordan Ta'amu. Ta'amu has filled in very well, throwing for 784 yards and completing 70% of his passes through two games.
This week we will see just how good he is against the toughest defense in all of college football. Plus, we get to see Tua Tagovailoa in prime-time, in an SEC West matchup. I think the Tide rolls in this game, but Tua and Ta'amu will put on a show.
Line – Bama -21
Prediction: Alabama 45, Ole Miss 21
#4 Ohio State at #15 TCU – Saturday, 7:00pm – ABC
Say what you want about THE Ohio State University, but they do not shy away from out-of-conference matchups early in the season. This year they go to Jerry World to take on TCU in the Horned Frog's backyard.
The Urban Meyer suspension ends after this game, and Ohio State would love nothing more than to be 3-0 going into next week's tune-up against Tulane before the monumental game in Happy Valley against Penn State. The Buckeyes haven't seemed to miss Meyer too much on the field as they have dispatched both of their opponents by a combined score of 129-34, but neither team posed the challenge that the Horned Frogs do. Gary Patterson knows how to stop good offenses. He's built his career on it. While his offense hasn't come around just yet, his defense ranks in the top-15 in most major defensive categories.
If Ohio State can take care of the ball, they will walk out of Dallas with a win. I don't see that happening though. I'm taking TCU in a major upset to give the Big 12 a high-profile, out-of-conference win.
Line – Ohio State -12.5
Prediction: Ohio State 31, TCU 35
#22 USC at Texas – Saturday, 7:00pm – FOX
You may be thinking "Why is this must-watch TV?" It is for college football fans like me who want to relive that classic 2005 national championship game.
These are two storied programs playing in primetime early in the season. Kudos to both programs for making this happen. USC has loads of talent, but are very young on the offensive side. In fact, Stanford made them look like they were still in high school last week.
JT Daniels and Amon Ra St. Brown will make for exciting television for years to come. Texas lost to Maryland for the second straight year to open the season before hanging on to beat Tulsa last week.
Tom Herman needs to make his mark on this program fast, or he may go the way of Charlie Strong. I expect Texas to win this game at home in another "upset", but barely.
Line – Texas -3.5
Prediction: USC 24, Texas 28
#12 LSU at #7 Auburn – Saturday, 2:30pm – CBS
This week's marquee matchup will be coming to us from Jordan-Hare Stadium in the annual "All-Tiger" SEC West showdown. LSU looked really good against Miami in week one, but stumbled a little against Southeastern last week. While they dispatched the Lions with relative ease, it wasn't the way most Tiger fans wanted.
At times, they struggled on offense and relied on their defense to put them in situations with good field position. That strategy will not work against the other Tigers. Auburn, led by QB Jerrett Stidham, have one of the nation's most balanced spread attacks courtesy of Gus Malzahn.
Auburn will run right at the LSU front seven and force the LSU Tigers to play a lot of man coverage on the outside, which is something they are used to doing. The trouble with that could be Stidham, who is very accurate with the football and has size and strength on the outside.
LSU's offense highlights Ohio State transfer Joe Burrow and senior running back Nick Brossette. Both are very complimentary to the way LSU likes to run their offense. Burrow is a game manager who has the arm to make any throw, and Brossette is a large running back with break-away speed.
The LSU offensive line was a question mark coming into the season and could have a lot of trouble with the Auburn defensive line. If they can keep Burrow upright, they will win this game.
We will find out which Tiger team is for real this weekend. Auburn is a dark horse for the College Football Playoff, but LSU is an extremely underrated team. I'm going to take the Tigers of LSU in this one in an absolute slugfest.
Line – Auburn -9.5
Prediction: Auburn 17, LSU 21