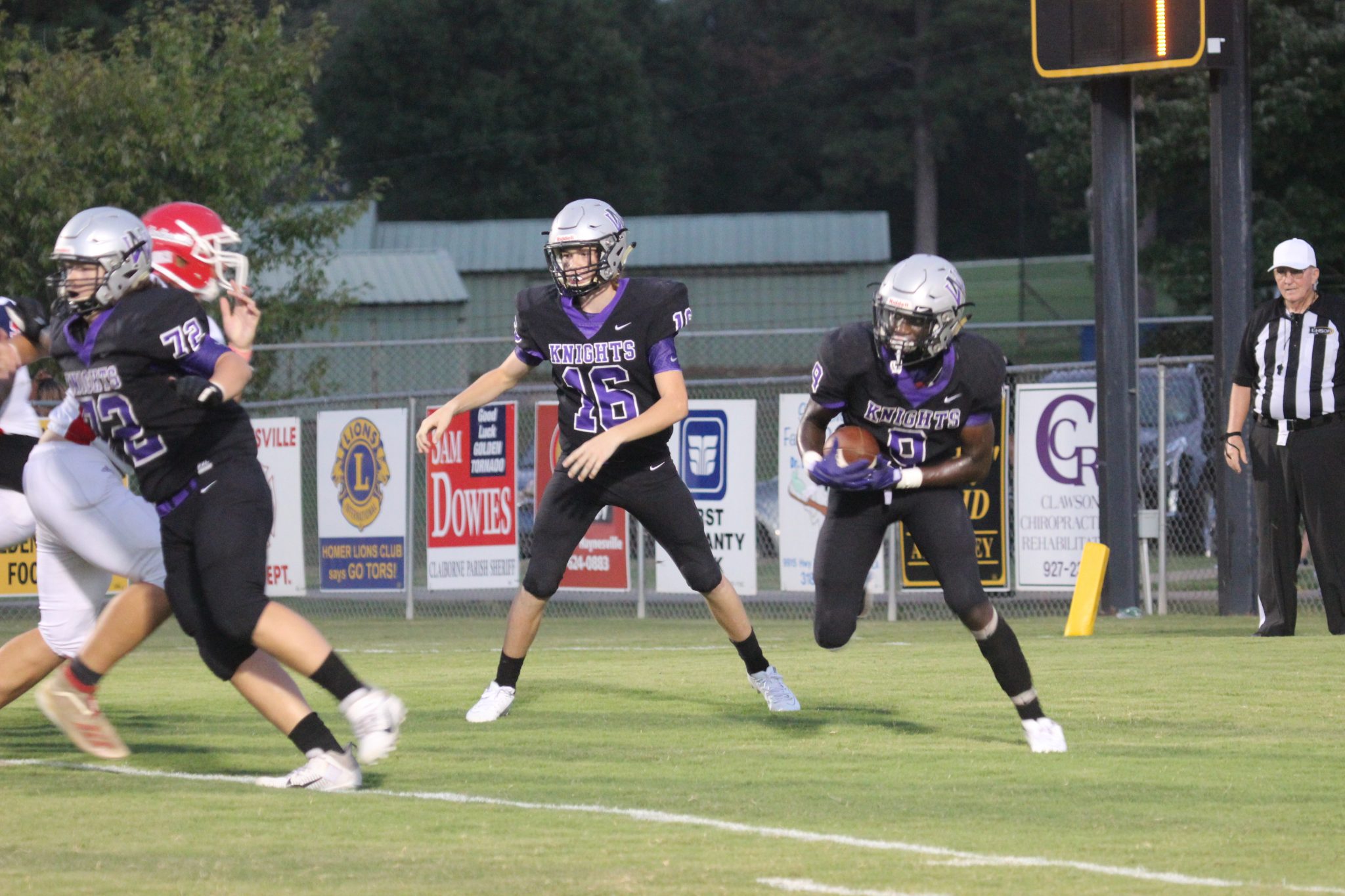 SPRINGHILL — The North Webster Knights used their offensive attack like a sword slicing through the North Caddo defense Friday night at Baucum-Farrar Stadium in Springhill.
And by the time the final horn sounded North Webster had defeated North Caddo 53-30.
The Knights have now outscored opponents by 50 points — 87-37 — in their pair of season opening wins.
"Our kids just came out and played with a lot of passion," Knights head coach John Ware said of the win over North Caddo. We have an experienced line and the continuity they have is really helping this team. They're opening a lot of big holes for our run game and protected our quarterback, and that's really been a key in our first two games.
For a second straight win, the Knights wasted no time in taking control, scoring on their opening possession as junior quarterback Colin McKenzie connected with Jamarcus Stephens on a short touchdown pass for a 7-0.
LSU commitment Omarion Miller hauled in a scoring reception for North Caddo to cut the Knights' lead to 7-6 but the Knights quickly answered with a 30-yard scoring scamper for McKenzie out of the shotgun.
After stopping North Caddo on the ensuing series, the Knights marched to paydirt again with Stephens plunging in from a yard out to put North Webster up 20-6 at the end of the opening stanza.
North Webster didn't slow down in the second quarter with McKenzie connecting with a 61-yard scoring strike to Seth Dehart to push its advantage to 26-6 before Cooper Sanders broke loose on a 20-yard scoring run to build a 32-6 halftime lead for the Knights.
North Caddo scored early in the second half to cut the Knights' lead to 32-14, but North Webster countered with a quick 10-yard scoring scamper by Stephens that seemed to burst the Rebels' dream balloon of a dramatic comeback.
Stephens finished the night with five touchdowns (four rushing and and one receiving) and now has eight TDs on the season.
Miller led the Rebels with eight receptions for 152 yards and two scores, but Ware was still pleased with his team's defensive effort.
"He's going to get his — he's too good just to stop completely," Ware said. "So we focused on trying to slow him some and taking care of everyone else."
The Knights will next battle for the bragging rights of Webster Parish as they hit the road to meet Minden in a battle of undefeateds next Friday at WW Williams Stadium.