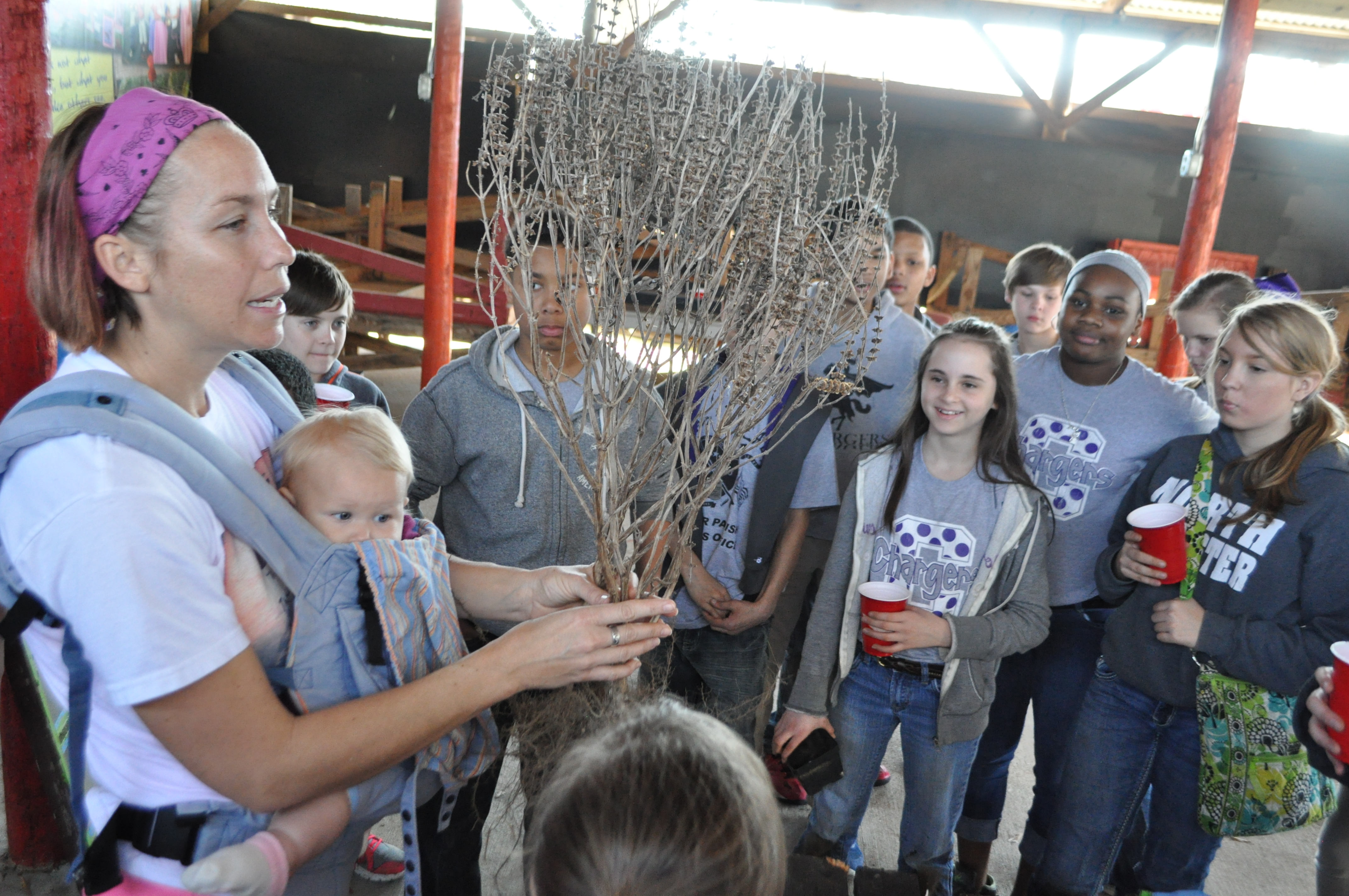 Students at North Webster Junior High School spent the day at Cultural Crossroad's The Farm learning how to take care of their environment.
As part of the sustainability project at The Farm, executive director Dani Deshotel says the program is about teaching kids how to grow things, learning to grow food to feed themselves and support the environment.
Sixth grader Alyssa Fish, 12, says she's done some gardening and learned a lot from Monday's field trip.
"Today was pretty good, although I'm not real good at painting," she said during an art class where they painted the cycle of a plant from root to flower. "In Iowa, we grew bellpeppers, corn and squash."
Sometimes, they dealt with flowers, she says.
Sixth grader Kaylon Lewis, 11, says he enjoyed the day.
"I like the painting," he said. "I'm going to learn how to make my own garden."
He likes to spend time outdoors frequently playing kickball or basketball.
The sixth grade class was broken up into three groups, one going to an art class, one going on a scavenger hunt and the other working in the community garden.
Deshotel says the garden will be full of marigolds, sunflowers and zinnias.
"This is their baby," Deshotel said. "This will be their garden."
Substitute teacher Michelle McLain says there are six classes at NWJHS. The first set of three classes were at The Farm Monday. The next set of three will come Wednesday, and all sixth grade classes will return once a month to take care of their garden.
Deshotel, along with three other volunteers with Cultural Crossroads, worked with the students on the various activities. In one activity, students planted seeds from a basil bush in a pot.
Deshotel says the pots will go into the greenhouse until they return next month. Upon their return, the students will then plant it into the ground.
Sixth grade English teacher Tina Hughes says Monday was about teaching the kids how to enjoy art and the outdoors.
"Some of them have never been outdoors and put their hands in the dirt and soil," she says. "They are learning to plant and nurture things and see what they've grown. It plants a seed of creativity in their minds. Who knows? We may have a Picasso because of this. This also introduces them to whole other fields like horticulture, botany and agriculture."
"This is a free program and it's for the children," Deshotel said. "I wanted something they could do that wouldn't cost a dime."
Deshotel, as part of the vision for Cultural Crossroads, has implemented a sustainability program to show kids and others about gardening and different techniques to care for the environment. It is also about showing them the cycle of nature and how to nurture it.
For more information about Cultural Crossroads or The Farm and its sustainability program, call The Farm at 318-268-2122. The Farm is open to the public from 9 a.m. until 1 p.m. Tuesdays and Thursdays.