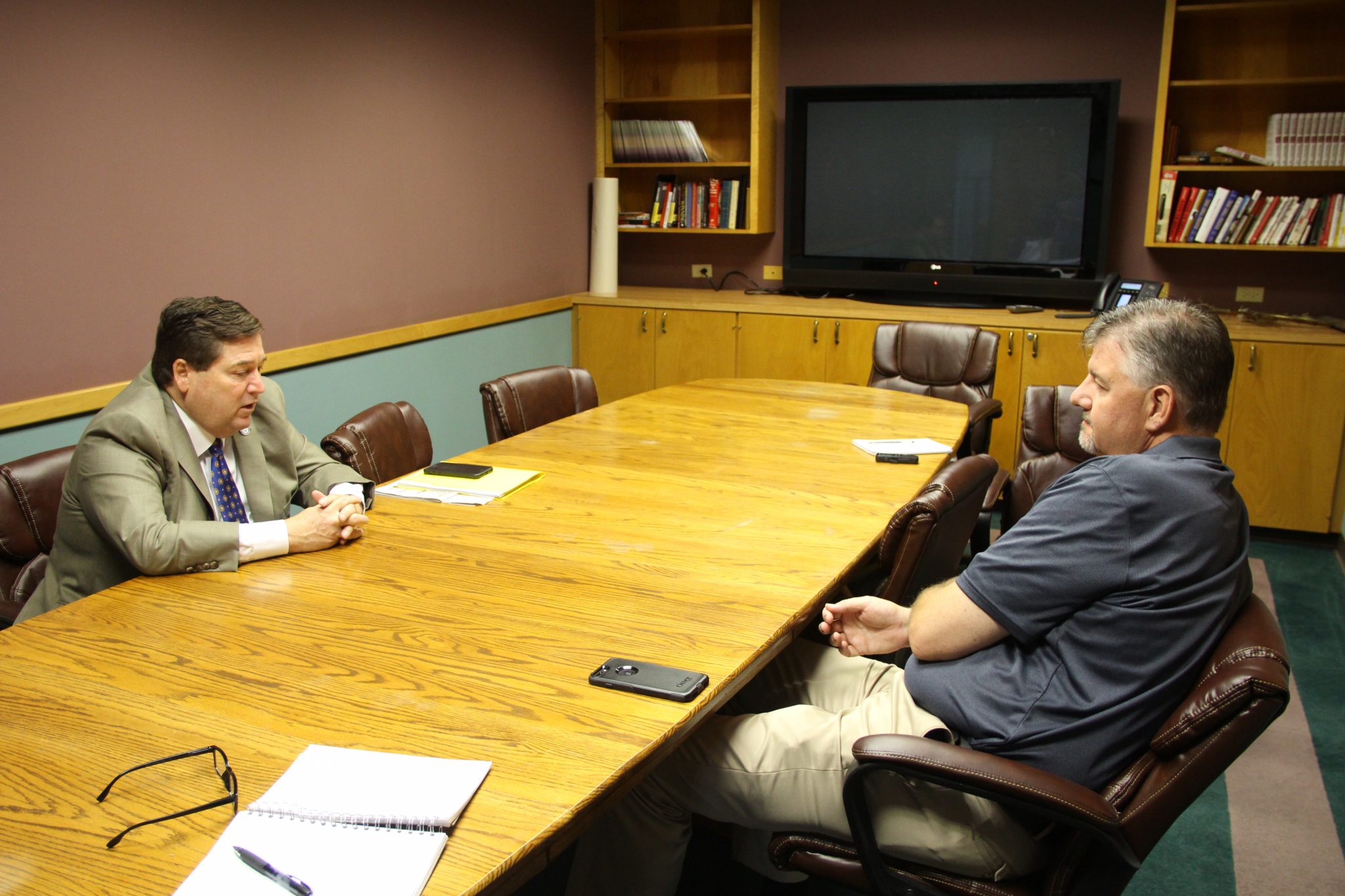 Louisiana Lieutenant Governor Billy Nungesser stopped by the Press-Herald office Tuesday morning to discuss the future of tourism efforts in Louisiana.
Public-private partnerships
In the summer of 2017, the Louisiana legislature created the Culture, Recreation, and Tourism foundation to support Nungesser's state department of the same name. Since its inception, Nungesser said the foundation's board has worked diligently to find creative new ways of increasing revenue on an ever-constricting budget.
"We are doing private-public partnership with the state parks," he said. "We let a guy move his horseback operation into Bogue Chitto [State Park]. He had horses, but he didn't have any land. So now he makes a lot of money, the park gets a cut, and we get to offer horseback riding. We're looking to do that at other parks."
According to Nungesser, private-public partnerships such as these will be the key to making Louisiana's parks and museums self-sustaining. He gave other examples, such as ziplining, canoe rentals, and more.
"On Fontainebleau [State Park], we own 500 acres next to the park on the lake. We got three companies looking at building a conference center and resort there. You lease the land cheap and get a percentage of gross sales, basically becoming a business partner with private industry."
Nungesser said all partnership ideas are thoroughly vetted through the local communities before they're agreed upon, to ensure the park and local businesses are not disturbed. He said these partnerships will double as a way to add more tourism offerings and attractions without having to shoulder the cost alone.
"In the years to come, we won't have the money to build new things," he said. "But if we can offer a great deal on a partnership, as long as we bring in a little money to help the operational costs of the park, it's a win/win for the community. We're getting a lot of people coming in with unique ideas of what they want to do."
Lake Bistineau State Park
Eugene Reynolds, a native of northwest Louisiana, recently stepped down from the state legislature to become director of Louisiana's state parks. In a TV spot on KTBS Monday morning, Reynolds said Webster Parish's own Lake Bistineau State Park was the least-visited park in Louisiana last year. He went on to say that funding priorities for the parks are based on yearly attendance.
Nungesser said the Culture, Recreation, and Tourism Foundation is working to help more parks across the state start making money, and those that need the most help should be prioritized.
"For the first time ever, we had three parks make money," he said. "I really believe that through these partnerships we can eventually have them all making money. But we're going to have to help some of them along, and it should be based on need, not current visitation. I think with things like the ziplines, horseback riding, canoeing operations, anything where somebody moves a business into the park, they're promoting the business and bringing their customers in there, and it opens up a whole new opportunity."
Nungesser said updated maps of every park are being created, as well as a website to showcase them. Once these projects are completed, citizens will be able to go online and make suggestions for new ideas and additions.
"Once it's running, we'll run ads to let people know that if they know of things that need to go on the map, they can go on the website and let us know. We have horribly wrong maps in a lot of parks right now, so we're working on updating those."
Budgetary concerns
Despite Louisiana facing the fallout of its hotly contested budget finally passed in a special session last month, Nungesser said his department will survive the cuts without any major closures.
"We're actually going to be okay," he said. "We're taking a little cut like everybody. The last several months we looked at the worst case scenario, which was a 30% cut. We figured out the 'what ifs': these parks would close, these museums, we'd have to cut out our budget of marketing and advertising. And in the end, none of that had to happen."
Nungesser said the department has been able to save substantial amounts by re-negotiating contracts across state facilities on everything from air conditioning to cable.
"We're all over the place, and we can do a lot better with taxpayer dollars," he said. :We're going to save millions."
Museums
After state parks, when asked about the museum side of tourism, Nungesser said that while not all museums in the state are currently under his department, they might soon be.
Currently, state-accredited museums are under the jurisdiction of the Louisiana Secretary of State, which was Tom Schedler until he resigned in May. The Germantown Colony Museum in Minden is among that list.
"We met with Tom Schedler when I first got into office about taking his museums over, but he didn't want to give them up," he said. "Now that he's gone, I think this will be the year for us to take his museums and put them under the Lieutenant Governor. But that still doesn't help the local museums that struggle."
What will help the struggling museums is a potential combination of funding and education from Nungesser's foundation.
"With the money coming into that foundation, I believe within three or four years we will be able to give out grants to support the local museums," he said. "We've been taking the social media people from our tourism team into local communities and teaching everyone from the museum people to the tourism people to the chamber [of commerce] how to better market on social media."
Finally, in addition to funds and instruction, Nungesser said the department can wield its contact list on behalf of local events.
"For every community event you have, get us the information," he said. "Not only will we share it on social media, but we have 350,000 people on an email list from the state parks, and we'll let them know what you're doing."
Grilling on Main
As far as local events already taking place, Nungesser said he was impressed by the flow and passion of Minden's Grilling on Main, which he personally attended this summer.
"I think it was first class," he said. "When you have those events, sometimes it's not well coordinated. It was obvious by the people that put it on – the passion they have for it. Some places don't have that. I've been to some that don't have that good flow."
"Just everybody had that festive attitude," he said. "The food and people were great. That's what we've got to do: if I can drive 50 people who have never been here before to come check it out, then they'll leave and talk about that neat little place, Easley Courtyard, and how great of a time we had there. The people welcome you and you feel like you've known them your whole life even when you come for the first time. It was a great event, and you'll see it grow. I think everyone had the same feeling."