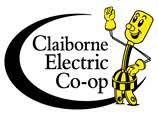 After nearly 16 years of community donations, Claiborne Electric Cooperative's Operation Round Up program has surpassed $2 million in contributions to local projects.
Operation Round Up is a community service program that gives Claiborne Electric members the option to allow their bills to be rounded up to the next whole dollar. The difference in the actual bill and the rounded amount is deposited into the Operation Round Up Trust Fund. The funds accumulated are dispersed to charitable causes in the communities served by Claiborne Electric.
The program is governed by the Claiborne Electric Operation Round Up Trust Board. This board consists of nine Claiborne Electric members from across the Co-op's service area. The board receives and reviews applications for the funds, makes decisions about allocation, and disperses the funds accordingly. One hundred percent of the money raised through Operation Round Up stays in Claiborne Electric's service area.
Since the first grants were dispersed in October of 2007, the program has been used to award 566 grants totaling $2,007,059.68 to established non-profit organizations and families in need. The program has been used to assist area schools, fire departments, youth organizations, law enforcement agencies, families whose homes have burned, libraries, museums, veterans' efforts and elderly and disabled individuals, among many other worthy local causes.
"We are beyond excited about passing the two-million-dollar mark," said Claiborne Electric's General Manager and CEO Mark Brown. "Our members have supported this program for more than 15 years, and it has made a significant impact in the communities we serve."
For more information on Operation Round Up, or to obtain a grant application for an individual, family or organization, please contact Lisa Ledbetter at (318)927-3504.