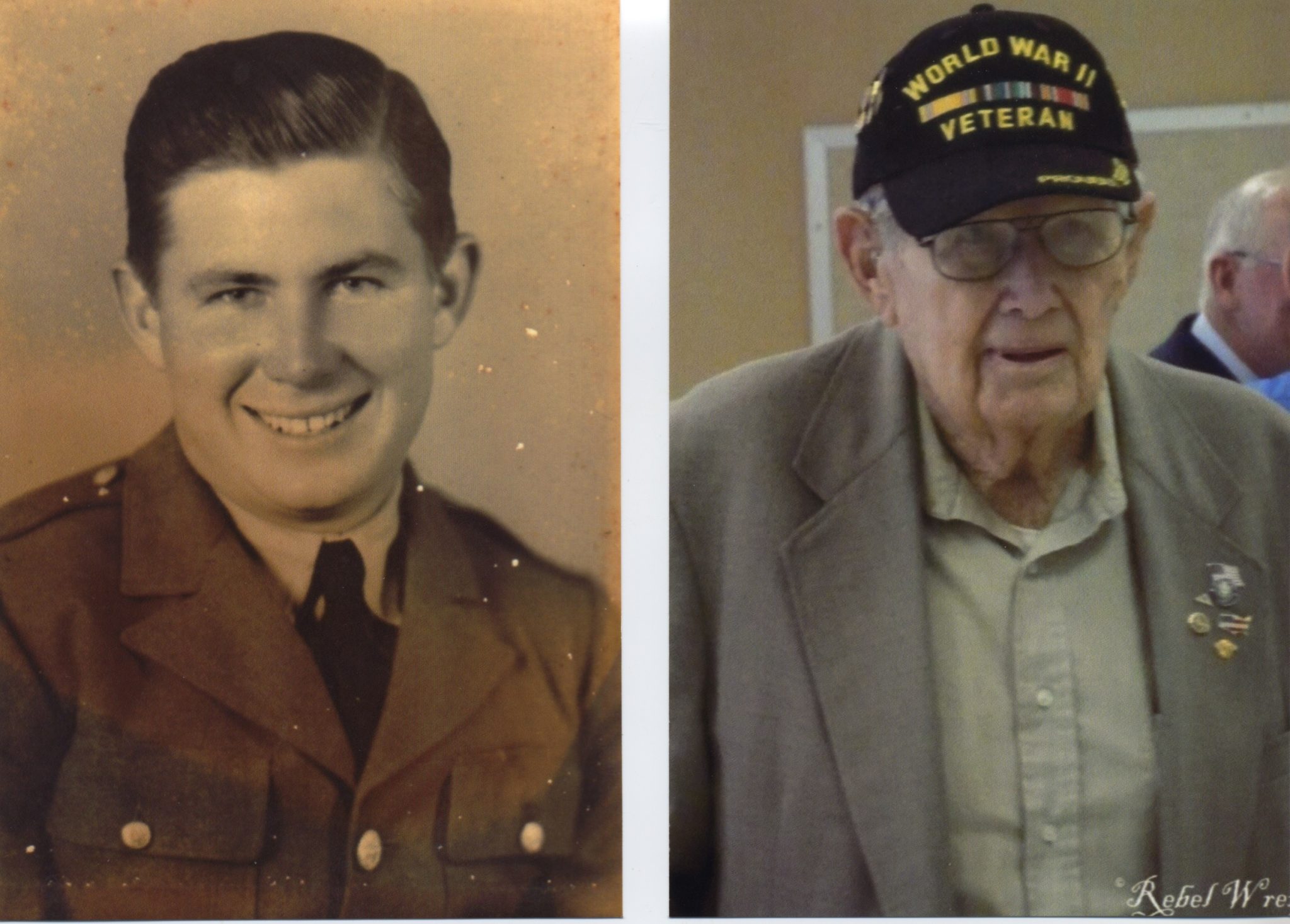 Otis Lee Strong Jr. was never much for talking about his service.
The World War II veteran took no pride in war, but freedom comes at a price unknown to many Americans today.
Strong was born Sept. 4, 1919, and died Nov. 1, 2017. He was born in Taylor, Louisiana but moved to Doyline early in life where he went to school and grew up alongside his five siblings.
According to Strong's daughter Joy, Otis derived his pleasure from the simple things in life and was a "man's man."
"He loved to fish, hunt, garden and tinker with lawnmowers and tractors," she said. "If it was broken, he could fix it."
According to Strong's own hand-written memoirs, he grew up working on the family farm with his two brothers and father with hopes of being a football player. He excelled for the Doyline football team during his high-school days, which was enough to land him a tryout for a scholarship at Centenary. The coaches told him they liked what they saw, but that he should come back next year after gaining some weight.
Next year took a dramatic turn however, as the federal government began to draft men into service. Strong registered in Minden, No. 12, and was mobilized into federal service on Jan. 6, 1941.
Strong started off in the National Guard traveling to San Diego, North Carolina and Georgia before being deployed to Southampton, England to defend the port city against the German Luftwaffe from February – June 1944.
Strong then traveled to Normandy, France as part of the 184th AAA Battalion.
"Right after they stormed Normandy, he came in on Omaha Beach right after the invasion," Jay Bell, Strong's grandson, now a defense paralegal for the United States Air Force, said. "And he was at the Battle of the Bulge; but I'd say one of his biggest accomplishments was receiving the Soldier's Metal."
Strong received the prestigious recognition for rescuing a downed pilot whose plane crashed into a protective mine field. It was days before the Battle of the Bulge – a battle which saw more than 20,000 American live lost – when the American pilot's P-47 went down. Strong said he reacted on instinct, immediately rushing to save the pilot. Only moments after retrieving the downed airman, the plane burst into flames.
Bell points to Strong, affectionately known as "Graddy" by family and other loved ones, for leading him into service.
"If there was a big decision to be made, he was always involved," Bell said. "It was always, 'What would Graddy do? What would he think?' He's probably 90 percent of the reason why I made the decision to join."
The brutality of war impacted Strong in a way he would never forget. When the topic of WWII came up or if he was asked to tell stories, Otis would decline.
"He never would tell any of us about his service until the last 10 years or so," Joy Strong said. "He got choked up a lot about it. I can remember him saying, 'There's just some things you don't want to talk about.'"
But make no mistake, Strong was a patriot above all else, proudly donning his World War II veteran ball cap everyday for everyone to see. Last year, following the passing of his wife, he began keeping a book of newspaper clippings and memorabilia from his service. The contents of the three-ring binder, a treasure trove of Otis's accomplishments and recognition, now belong to Joy.
His story reached the ears of the Honor Air program who flew Strong and his family to Washington D.C. in 2009 to be honored alongside 96 other veterans.
"It was a real hard day for him," Joy said. "But he wouldn't have missed it for the world."
Strong lived 98 selfless years, dedicated to his his loving wife Laverne and the rest of his family, but also to his country. He defended his homeland from foreign adversaries, saved lives, raised a family and enriched the lives of all who knew him. His earthly body was laid to rest at the Doyline Cemetery on Nov. 6, 2017.
Saturday at 4:30 p.m., Strong will be added to the Wall of Honor at Turner's Pond during the City of Minden's Veteran's Day ceremony. There, his name and memory will be enshrined forever as a reminder of what truly makes America great.