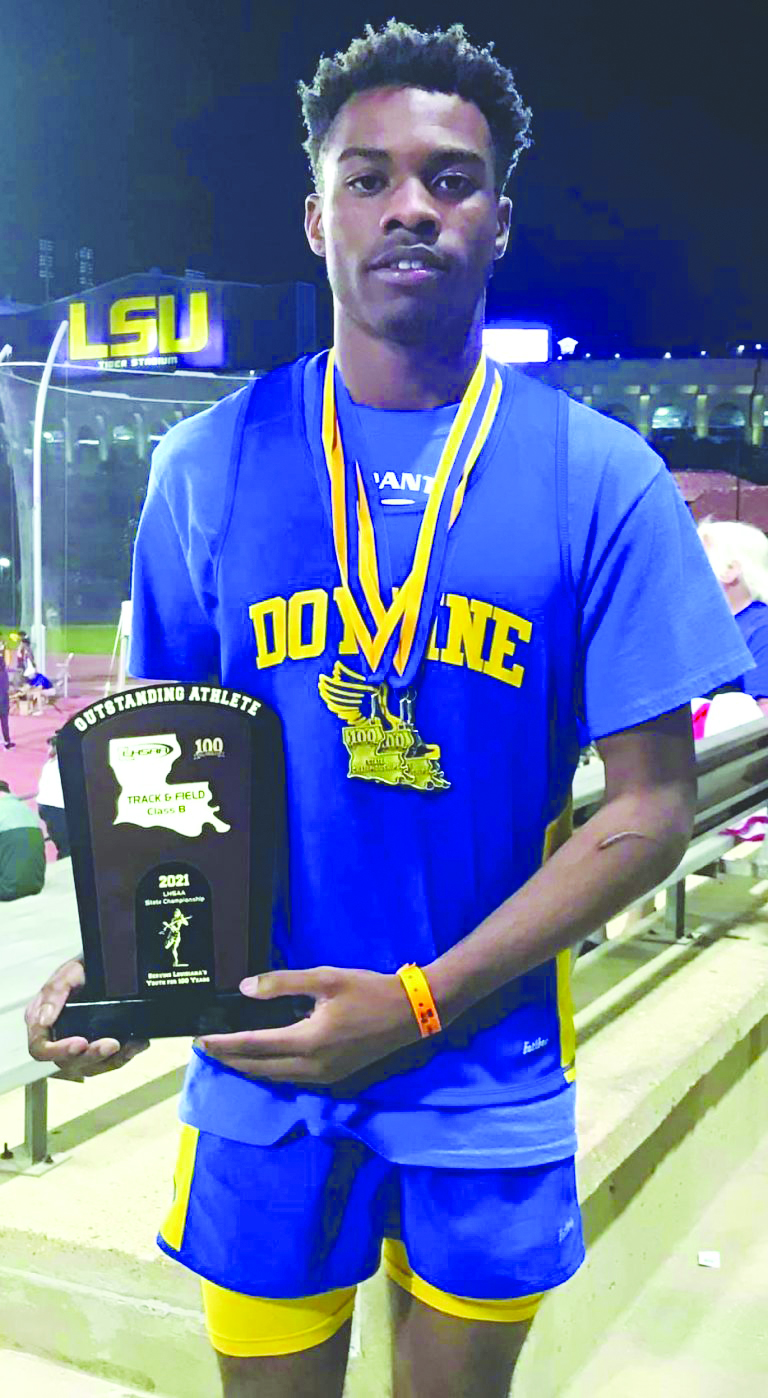 nior sprinter Roderien Richardson will be racing for a state title as he competes in the 2022 Class 4A State Track and Field Championships at Bernie Moore Stadium on the LSU campus in Baton Rouge.
Richardson qualified for the state meet by earning a Class 4A Region 1 championship in the 100m Dash last week at Huntington High School in Shreveport as he ran a season-best 11.71.
Minden's other top performance at the regional meet was a fifth-place finish in the 100m Hurdles by senior Kameron Talley, who finished the event in 16.60 seconds.
The Crimson Tide's Porter Neal added a sixth-place showing in the 1,600m Run with a time of 5:13.01 while Minden's 4×100 and 4×200 boys relays both added seventh-place finishes.
Doyline will have a trio of athletes competing for state Track and Field Class B Championships after finishing in the Top 3 of the Region I Class B Meet last week at Castor High School.
The Class B Championship Meet was slated to have been held on Thursday at Bernie Moore State.
Lady Panther Izalya Harris, a sophomore, will compete in four events at the state meet after a strong showing during last week's regional meet.
Harris place first in the Girls 100m Dash with a time of 11.96, first in the Girls 200m Dash with a time of 25.74, first in the Girls 400m Dash with a time of 1:00.67, and second in the Girls 100m Hurdles with a season-best time of 18.12.
Lady Panther eighth-grader Takerria Washington also qualified for the Class B State Championships after finishing third at the regional meet in the Girls 800m Dash with a run of 2:51.39.
Washington also finished fourth at the regional meet in the Girls 300m Hurdles with a run of 58.35 while Doyline sophomore Keily Sumlin took fourth Girls Discus with a throw of 74-2.
On the boys' side, Doyline's Jamari Markray is set to compete in four events at the State Championship Meet after a strong showing at the regional meet.
Markray, the defending Class B Outstanding Athlete, finished first in the Boys High Jump at the regional meet with a mark of 6-4 while also finishing first in both the Boys Long Jump (21-2) and the Boys Triple Jump (42-4).
He added a second-place showing in the Boys 300m Hurdles event with a time of 44.47.
North Webster will have a pair of athletes competing in the Class 3A state meet on Friday at Bernie Moore Stadium.
Lady Knights senior Peyten Ware, a Northwestern State University signee, captured first place in the Class 4A Region Meet with a 11-0 in the Pole Vault while junior Davontra Brewer will also participate in the state championships after finishing second with a throw of 45-11.5 in the Boys Shot Put.
North Webster's girls 4×100 Relay Team also qualified for the state meet after finishing third at the regional meet with a time of 51.24.
Representing Lakeside in the Class 2A State Championship Meet to be held on Friday at Bernie Moore Stadium will be junior Connor Wood, who took first place in the Boys Discus event at the Region I Class 2A meet last week at Northwestern State University in Natchitoches.
Wood's throw of 133-11 put him above second-place finisher Andrew Calloway of Mangham, who tossed for a distance of 132-07.50.
Lakeside had two other athletes turn in fourth-place finishes at the regional meet — senior Jayla Braggs in the Girls High Jump with a mark of 4-4.5 and senior Jario Auguinaga, who ran the Boys 1,600 Run in a time of 5:08.34.