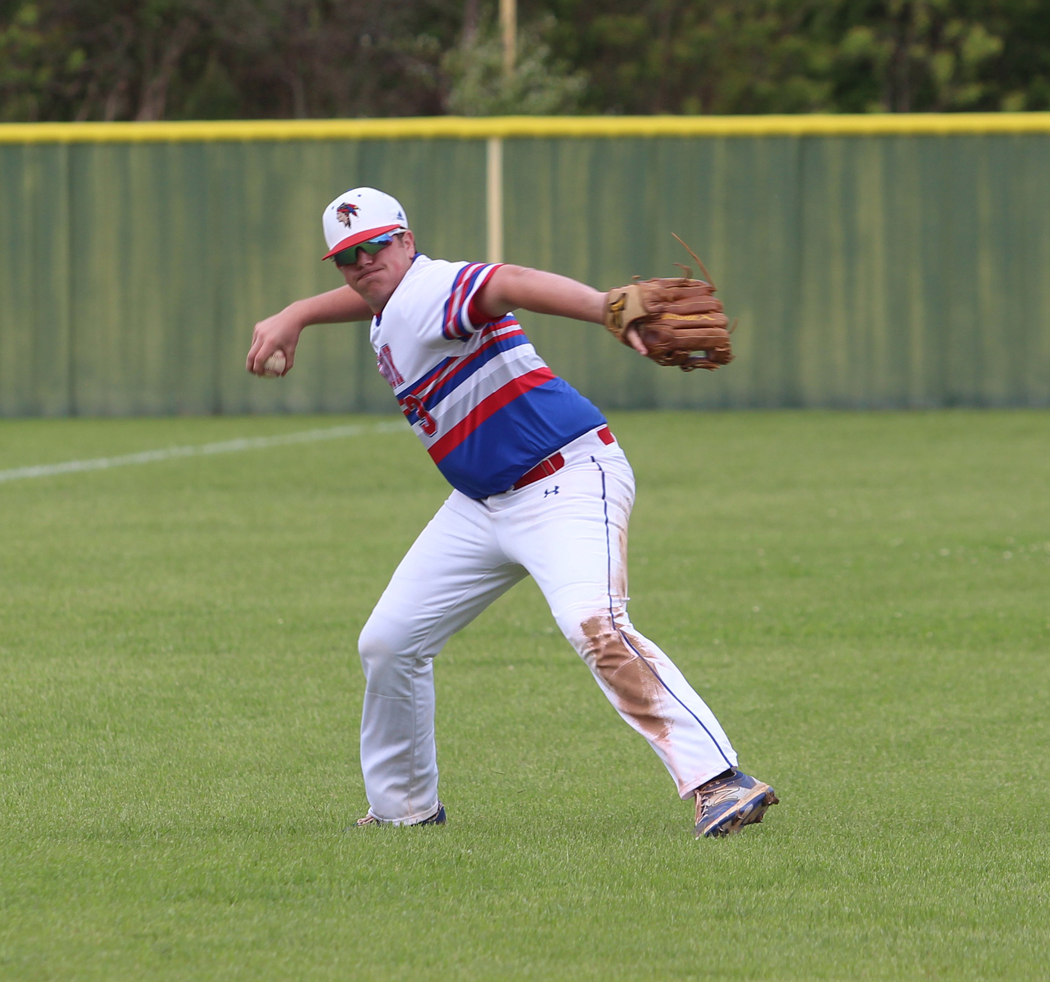 The Glenbrook Apaches suffered not one, but two exasperating losses Thursday at the hands of Prairie View Academy, ceding control of district 5AA to the Spartans.
The Apaches fell 6-5 in game one before dropping game two 6-2 despite outhitting the Spartans in both contests.
Game one: Glenbrook 6, PVA 5
The Apaches took 2-0 lead in the first inning when Parker Christy drove in Peyton Wells with a single, followed by a Cameron Barnett steal of home plate.
Prairie View Academy's Mason Rogers singled home Blake Ray in the bottom of the second to trim the Glenbrook lead to 2-1, but the Apaches came back with two more runs in the top of the fourth inning to go up 4-1.
The two-run fourth inning started with back to back singles by Nick Mourad and Cade Clemons. After Clemons stole second base, placing runners at third and second, Jackson Powell delivered an RBI single scoring Mourad and Jonathan Parkerson hit a sacrifice fly to bring home Clemons.
The Spartans mounted a two-out rally in the home-half of the fourth, scoring on a Tyler Peters 2-RBI double after Rogers single and a hit-by-pitch.
The Apaches tacked on another run in the fifth when Barnett doubled and came around to score on a Christy groundball.
The 5-3 lead would not be enough, as PVA came back strong with 3 runs in the bottom of the fifth. Ray dropped an RBI single into right field, the next batter was hit by a pitch and then Rogers reached on an error to score Ray and tie the game.
Gage Riles drove in the winning run for PVA with an RBI single through the left side of the infield.
Glenbrook loaded the bases in their final at-bat with Cade Clemons at the plate, but Wells, the Apache baserunner on third base, was cut down trying to reach home ending the game.
Mourad went all 6 innings and took the loss for Glenbrook; he struck out 6 batters and allowed 3 earned runs on 8 hits.
Game two: Glenbrook 2, PVA 6
The Apaches struggle to contain the Spartans' Mason Rogers once again, as he went 2-4 with 2 RBIs to lead PVA, who had just 4 hits in the game, to a series-clinching victory.
Glenbrook outhit PVA 8 to 4, with the offense led by Jackson Powell (3-4, R) and Maddox Mandino (1-3, RBI). Ryan Sheets added an RBI for the Apaches, who stranded 10 runners in scoring position.
Apache pitching had a rough game as well, as Glenbrook walked 11 PVA hitters.
Tyler Peters added an RBI single for the Spartans, who now control their own destiny from the district driver's seat.
Glenbrook will begin a 3-game series with River Oaks next Tuesday in Monroe at 6 p.m., before returning home for a doubleheader against the Mustangs on Friday at 4 and 6 p.m.
The Lakeside Warriors won three games and scored 51 runs Thursday.
Due to incoming inclement weather, Lakeside and Mansfield started early and got in all three games of their district series in the books, with Lakeside winning game one 18-0, game two 16-0 and game three 17-0.
Game one: Lakeside 18, Mansfield 0
Colton Carter went 2-3 with a double and 4 RBIs, Gavin Jones went 2-3 with 3 RBIs, Hayden Humphrey went 2-3 with a double and 3 RBIs, Jayke Stewart and CJ Watts went 2-3 with 1 RBI and Logan McIver went 2-3 with a double and 1 RBI.
Nathan Willis and Michael Watts added RBI singles for Lakeside.
McIver tossed 3 shutout innings with 6 strikeouts, giving up 2 hits and no runs.
Game two: Lakeside 16, Mansfield 0
In game two, Colton Carter tossed a 3-inning no-hitter with 7 K's for Lakeside and Dalton Crumpler, Jayke Stewart and Hayden Humphrey all finished with 2 RBIs to power the offense to another easy win.
Game three: Lakeside 17, Mansfield 0
Nathan Willis went 2-3 with a double and 3 RBIs, Gavin Jones was 2-3 with a double and 2 RBIs, CJ Watts went 2-2 with 2 RBIs, Hayden Humphrey finished 2-2 with 1 RBI and Colton Carter had a 2-RBI double as Lakeside completed the sweep with ease.
Willis pitched two innings and allowed only one hit to get the win and Dalton Crumpler pitched a hitless inning of relief.
Lakeside is now 11-13 on the season.
Minden 3, Northwood 8
In the second game of a two game set, Minden fell to Northwood, splitting the series.
Minden scored all 3 of their runs in the top of the first inning and the offense was absent from there.
Hunter Wilkes hit an RBI double and Connor Davis roped an RBI single for the Tide's only RBIs. Cameron Dollar, Jalien Moore and Rodney Johnson each had two hits each for Minden.
Dollar pitched all 6 innings for the Tide, giving up 3 earned runs on 9 hits with only 2 strikeouts.
SOFTBALL
Lakeside 4, Benton 2
Lakeside ace Laney Taylor struckout 12 Benton batters to lead the Lady Warriors over a 4A opponent.
Abby Zemaitaitis had a big day at the plate with a double and 2 RBIs, followed by Sydney Robinson with a single and 2 RBIs. Taylor finished 3-4 with a double and a run scored at the plate for Lakeside, Paige Garland went 2-3 with a double, and Cecily Gurgainers and Chealsea Mays each roped doubles. Frances Robinson singled to round out the Lakeside attack.