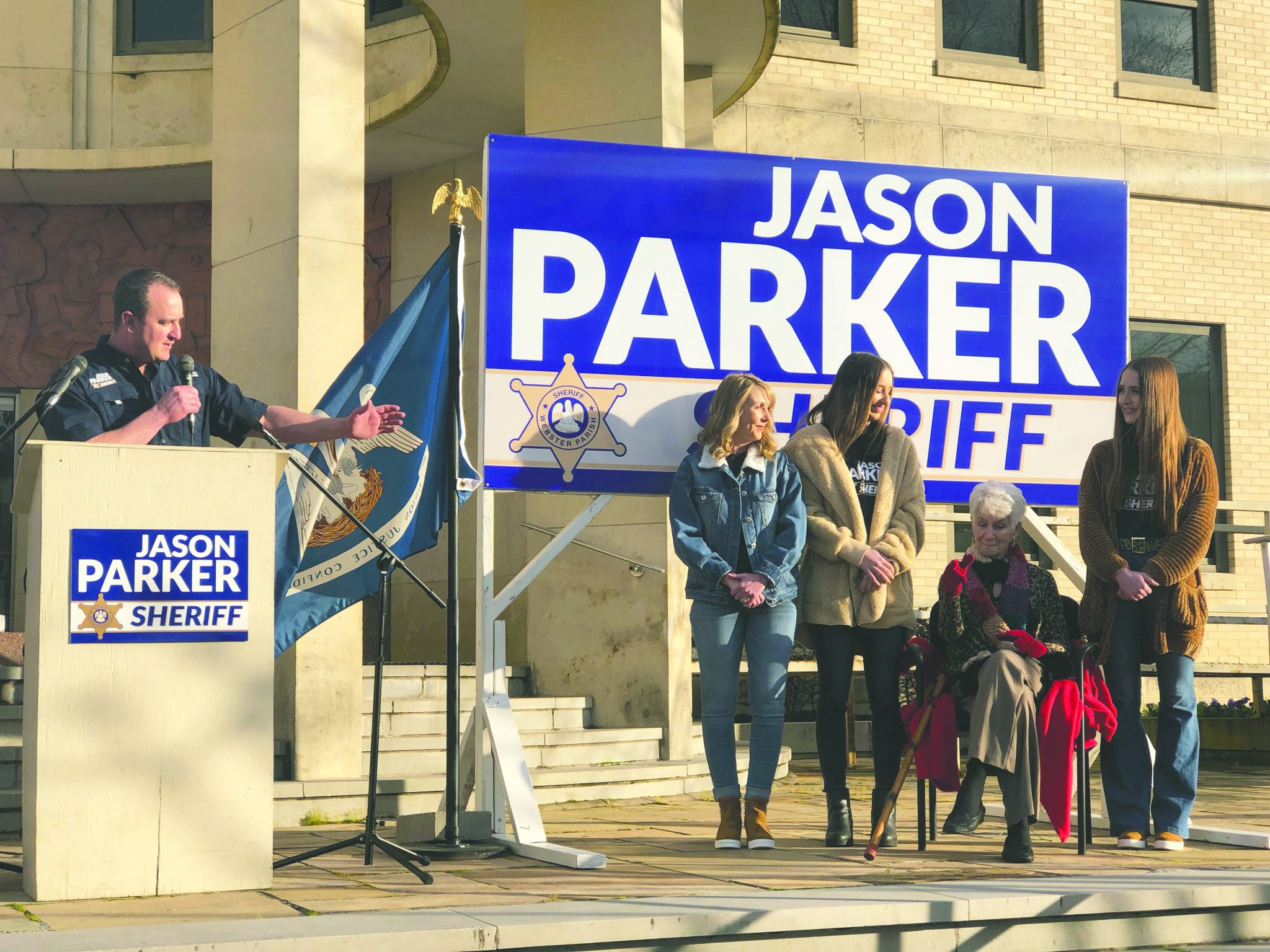 Sexton, Marvin endorse Parker for Webster Parish Sheriff
Special to the Minden Press-Herald
Deputy Sheriff Jason Parker announced today his candidacy for Webster Parish Sheriff. Parker is seeking election for sheriff in the October election to replace Sheriff Gary Sexton, who is retiring.
Parker made his announcement at a public gathering on the steps of the Webster Parish Courthouse before a crowd of 100 supporters, neighboring sheriffs, and area chiefs of police.
"For over 27 years, I have served my fellow citizens by working diligently to enforce the law fairly to all and to keep our community safe. Now, I will offer my leadership credentials, my active community involvement, and passion to continue serving the citizens of Webster Parish. I look forward to sharing my vision, philosophy, and campaign platform with the citizens throughout the next eight months and to listen to their opinions and concerns," said Parker.
Sheriff Gary Sexton and District Attorney Schuyler Marvin attended the event and offered their endorsement of support for Parker's candidacy.
"I know that the Webster Parish Sheriff's Office will continue to thrive under Jason Parker's leadership. He has consistently proven to me and so many others that he possesses the character, competency, integrity, and temperament required to be our next sheriff. I fully endorse his candidacy without reservation," said Sexton.
"The District Attorney's Office works very closely in a team effort with the Sheriff's Office. We have the same end goal, which is to protect the citizens and to pursue justice for victims of crime. I am confident that Jason Parker is right person to maintain the high standard that has been set by Sheriff Sexton and look forward to a continued positive working relationship with the office," said Marvin.
"As your next sheriff, I will continue to focus on the priorities and the critical needs of the office. I will build on what Sheriff Sexton has built in having a Sheriff's Office that is focused on protecting our citizens by being visible on the roads and being actively involved in each community in our parish," said Parker.
Parker, 45, is a Webster Parish Sheriff's Office school resource deputy at Doyline High School, Lakeside High School, and Central Elementary. He retired from Louisiana State Police with 23 years of service. During his service at State Police, Parker was commissioned as a Drug Task Force Officer with the United States Drug Enforcement Administration.
Parker resides in Minden with his wife Christy and their two daughters, Alycia and Kirsten. They are active members of First Baptist Church in Minden. Parker also serves as president of the Minden Lions Club, board member of Greater Minden Chamber of Commerce and a volunteer firefighter for Webster Fire District #7.
The election for Webster Parish Sheriff will be held on October 12, 2019.