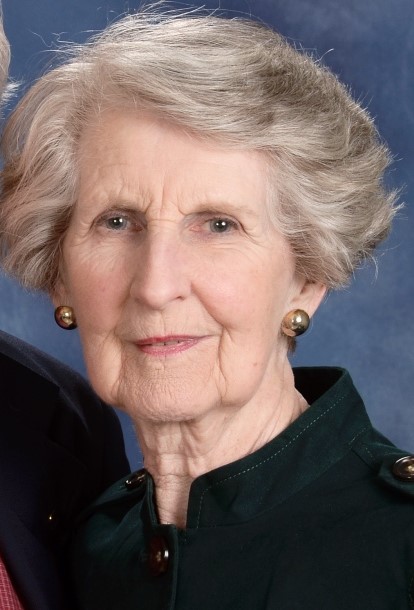 Funeral services celebrating the life of Patsy Smith Garcin, 86, of Minden, LA, was held 11:00 A.M. Tuesday, October 26, 2021, at First Baptist Church in Minden, LA with Rev. Bill Crider, Rev. Leland Crawford, and Rev. Steve Gilley officiating. Interment followed the service in Gardens of Memory Cemetery, under the direction of Rose-Neath Funeral Home in Minden, LA.
Patsy passed away peacefully on Friday, October 22, 2021, Center at Ochsner LSU Health in Shreveport, Louisiana at the age of 86 surrounded by her loving family.  Patsy was born on November 3, 1934, in Ruston, Louisiana to Archie Lee Smith and Eleanor Green Smith.  Raised in Minden, she graduated from Minden High School and attended Louisiana College where she met and later married Kenneth Glenn Garcin on October 31, 1954.  While living in Alexandria, Louisiana, their only child was born, Kenneth Gary Garcin.  In 1961 they moved to Minden where she started working at the Louisiana Army Ammunition Plant from which she later retired in 1996. 
Patsy spent her life in Minden devoted to helping those in her community and her church, selflessly giving her time and energy wherever she could. She especially loved to be involved in ministry at First Baptist Church in Minden where she regularly volunteered to serve meals and help with numerous events and projects. Vacation Bible School was a special love of hers. Patsy was also involved in the W.M.U. and was the representative on the Missions Committee. She helped to manage the missionary homes, provide meals to Habit for Humanity volunteers, and helped with special projects to benefit local schools. She helped in coordinating donations each year through the Shoe Box Ministry and worked at the Rolling Hills Thrift Store in Ruston with her fellow senior adults. She regularly visited older adults who could no longer attend church and would even drive them to doctor's appointments or pick up their medicine or groceries. Though she never desired recognition for her many acts of kindness, her altruism earned her the title of Minden's Woman of the Year in 2005 after her mother, Eleanor Green Smith, had previously received the same award in 1990. Patsy loved her community in Minden so much – her neighbors, her Sunday School Class, the SonRisers, those she served with at church, and her group of friends who would meet at McDonalds. Her legacy of love and generosity will be remembered by all.
Patsy was preceded in death by her husband, Kenneth Glenn Garcin, her parents, Archie Lee Smith and Eleanor Green Smith, her brother, Gary Archie Smith, and his wife, Sandra Pullig Smith, and her half-brother, Aaron Olespy Smith. Patsy is survived by her son, Kenneth Gary Garcin, and his wife Deborah of Pilot Point, Texas, her grandson, Bryant Garcin, and his wife Melissa of Alexandria, Virginia, and her sister-in-law, Sondra Crider, and her husband Rev. Bill Crider of Minden, as well as numerous nieces and nephews and cousins along with many friends from First Baptist Church and the community of Minden.
Pallbearers will be Bryant Garcin, Lee G. Smith, Stuart Smith, Trevor Smith, Taylor Smith, Trenton Smith, and Connor Smith. Honorary pallbearers will be Tommy Garcin, Bobby Taylor, Brint Fegley, Tracey Campbell, Gary Haynes, Jon Cole, and John Parnell.
A contribution in her memory can be made to the First Baptist Church Missions Committee or St. Jude's Children's Hospital.