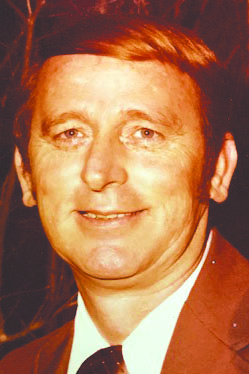 Mr. Perry Lee Sanders, 84, passed away Sunday, December 16,2018, surrounded by family.
Perry was born February 25, 1934 in Ruston, Louisiana, the only child of parents Grady and Sarah (Rich) Sanders. Perry and his family moved from Arcadia to Minden when he was a young child. He graduated from Minden High School on May 22, 1952 and then served in the U.S. Navy from May 29, 1952 thru May 22, 1956. Immediately following his four years of military service, Perry enrolled at Louisiana Tech in June 1956 and completed a four-year degree in three years, graduating with a degree in Business Administration May 29, 1959.
Perry, "TaTa" to many, was a fixture in Minden, his home for the remainder of his life. He worked for Ed Kennon/Minden Concrete twenty-two years before becoming a real estate agent for Century 21.
A marriage to Bobbie (Langheld) Herford in 1956 produced children Steve Sanders in 1959 and Cindy Sanders in 1962. The marriage lasted until 1972.
Perry married his soulmate Ruby Grace (McKelvain) Sanders in September 1979. They lived life to the fullest, always enjoying adventure. They were known for their entertaining and could often be found cruising the Atlantic Ocean or Lake Bistineau.
Perry is survived by children Steve Sanders, Cindy (Sanders) Smith & Ken Smith; grandchildren Tiffany (Smith) Costello and Ashley Sanders. He is preceded in death by his parents and wife, Ruby Grace.
A Celebration of Life service will be held at the Lakeview United Methodist Church in Minden on January 12,2019 at 2 p.m. Friends and family are invited to meet afterwards in the fellowship hall to share favorite stories and memories of Perry.
In lieu of flowers, Perry would want donations made to the Lakeview United Methodist Church of Minden.