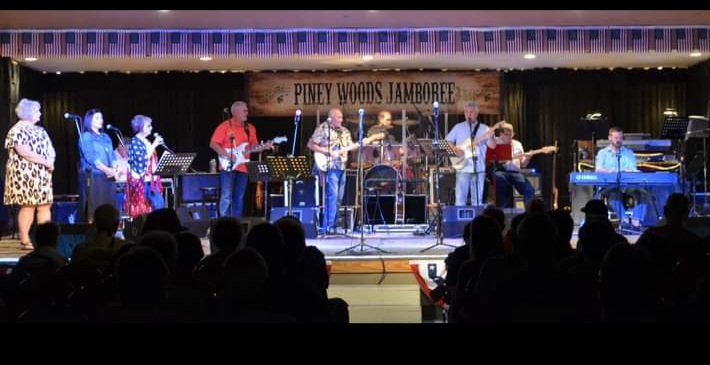 Mark Eubanks of the Piney Woods Jamboree is passionate about music and producing great shows for audiences. "I've been playing for 53 years — 43 of those years professionally," Eubanks said. "My mom said I started at two years old, beating on Folgers coffee cans with pencils. I don't get tired of music."
The Piney Woods Jamboree Band is chock full of talented musicians. "The band are all studio and road-quality musicians," said Eubanks. "They all play three to five instruments apiece. They can swap around if they want to."
The Piney Woods Jamboree Band consists of Brett Traylor of Haughton, Louisiana, on piano; Gene Simmons of Dierks, Arkansas, on steel; Tommy Amason of Fordyce, Arkansas, on bass; Ronnie Hearnsberger of Springhill, Louisiana, on keyboards; Zane Glasscock of Magnolia, Arkansas, on lead guitar; David Mann of Warren, Arkansas, on lead guitar; Mike White of Shongaloo, Louisiana, on guitar and fiddle, and Mark Eubanks of Springhill, Louisiana, on drums. Together with the support staff, they have created an avenue to bring Branson-style shows to Springhill, Louisiana, on the second Saturday of each month (except in May).
This band does an impressive amount of work to prepare a new show with different headline performers each month. Eubanks described his part of the process, saying:
"I get the music together, and contact all the ones who are going to be singing and say, 'give me four songs, the artist and the version that you're doing, and the key that you want to do them in.' I do that for each person and then send it out to all my musicians."
The musicians then have about two to three weeks to look over it and study it.
"Meanwhile, I'm putting the show together — how it's going to go, who's going in what order. I've got a comedian who comes out of Hot Springs each month — Mickey 'Shinbone' Shinn of Malvern, Arkansas — who used to be in Branson. When that's all put together, I send them out a copy of the set list so they can look and be familiar with the flow of the show. They roll in on the day of the show at noon and set up, and from one o'clock to five o'clock we put anywhere from 24 to 27 songs together and put the show together. Then at seven o'clock we do the show. That's how good they are.
"Next weekend Brady Rhodes from Cale, Arkansas, is going to be on the show with us, and he just got back from Radio City Music Hall with Barry Manilow. Josie Hargis from Warren, Arkansas is going to be with us: it's like her second time being with us, and people just loved her. She's got a song she wrote that, on Spotify, got over 2.3 million hits. She's super good," said Eubanks.
To keep things fresh, Eubanks enjoys thinking of monthly themes.
"I tend to try to theme shows. For the February show, we're looking to theme it with country love songs, because that's going to be Valentine's. It doesn't necessarily have to be per se a love song, maybe like Rascal Flatts' song 'What Happens When You Play a Country Song Backwards' — you get your wife back, you get your dog back, you get your trailer back — it's funny. Or it could be like Willie Nelson's 'Always on My Mind.' The April show might be an Easter theme — looking more toward country gospel," he said.
The Piney Woods Jamboree is held at the Frank Anthony Community Activity Center (FACA) in Springhill. Each show will start with a prayer and a rendition of the National Anthem, something that Eubanks feels strongly about.
Another thing that Eubanks strives for is the comfort of his audience. While the FACA has a seating capacity of about 900, they usually set up enough for only 600-700 people to give plenty of room to walk between rows of seats. Concessions are available and reasonably priced. And there is even a 31-unit RV park next to the FACA for people who want to stay close by. Admission is $10. The doors open at 6 p.m., and the show starts at 7 p.m.
For upcoming events, check out the Piney Woods Jamboree Springhill Facebook page.