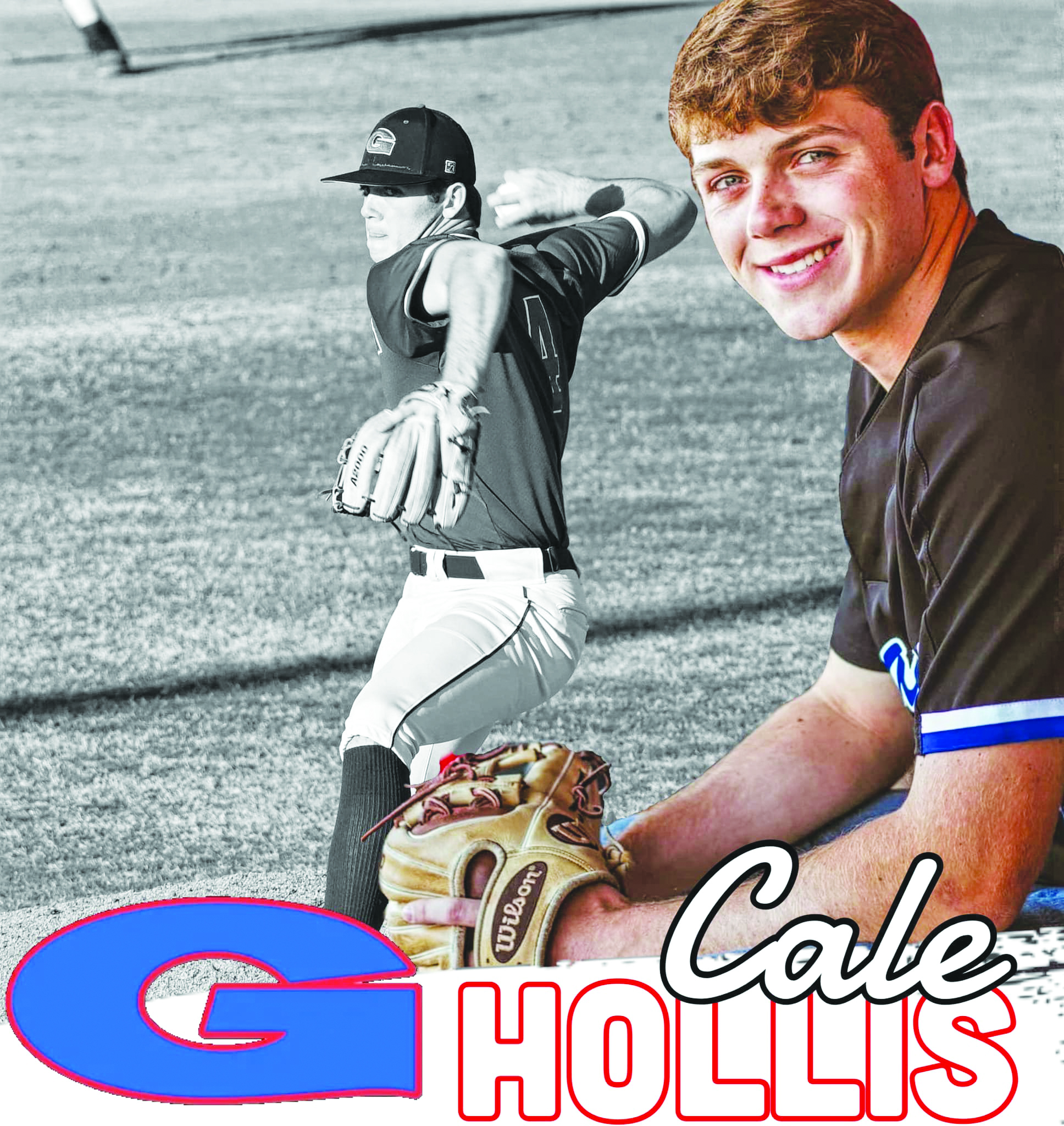 Sometimes an athlete faces one of those life defining moments — one that makes or breaks their dreams of continuing a career in sports.
New Glenbrook graduate Cale Hollis faced that moment as a senior after breaking his leg on the football field.
A standout receiver, Hollis' main sport is baseball — the one that could carry him on to the collegiate level — is baseball. The right-handed pitcher with the powerful fastball had already drawn attention of college scouts even playing prep ball at a smaller school.
But then came Oct. 22 of last year, as the Apaches were at home playing Ringgold in a game the Apaches won 49-14.
It was anything but a winning night for Hollis.
TOUGH BREAK
Hollis knew right away what had happened.
"My tibia and fibula on my left leg were both broken," Hollis said. "The bottom of the leg was turned around backward. My foot was facing the other way. I was laying on it and as soon as I lifted my leg a little and looked at it, I knew.
"At the time I didn't know if I would need surgery. I just knew it was bad. The day before I had taken a pitching lesson. That Thursday before the Ringgold football game I hit 88 mph on a pitch for the first time ever. So when I turned around on Friday and that happened, it was devastating. I was at the hospital and one of the nurses told me it would take me a year to recover. And that nearly broke me. The thought I wasn't going to be able to play baseball my senior year was a big blow. I didn't want to believe it. So I didn't. I started right then and there fighting mentally to get myself back to where I wanted to be. I wasn't going to give up without a fight.
COMEBACK JOURNEY BEGINS
"I was on crutches until the end of January," Hollis said. "They did surgery to put a rod down the tibia with four screws to hold it in. They let the fibula heal naturally, which is why it took me so long to get back. I hate to sit out an extra four weeks because they were worried about me twisting on it and it just snapping back in two again."
Hollis didn't waste time beginning his comeback journey.
As soon as he could sit up strong in a chair, he would sit there throwing a baseball to keep his arm strong," said Glenbrook baseball coach Tony Sanders. "He wasn't going to give up and didn't waste any time doing whatever he needed to do to try and get back out there on the mound."
The biggest step in that journey came in late February.
"I was on crutches until late January," Hollis said. Then I got cleared to get back out on the field on Feb. 22. That was the day I threw my first bullpen. I was a little worried about it because it was my plant foot. I landed on it on every pitch. And that was on my mind every second at first. But the thoughts were only there a second before I made them leave my mind."
The more he pitched and worked, the stronger Hollis said he got.
"Once I got confident about the leg, the pitching really started coming back," Hollis said. "It was like that sore feeling you get after working out sometimes. The leg was always so swollen afterwards at first. But I fought through the pain. I knew it was making me stronger and better. I knew it was all just part of the healing process."
Glenbrook baseball coach Tony Sanders has been right there with Hollis for every step for the comeback journey.
"I took a lot of guts, hearts and determination for him to do what he's done," Sanders said. "His foot was turned totally the opposite way. I was on the field with him. I drove him on the cart to the ambulance. I was at the hospital with him after the game. To see that and to see him come back as our only baseball senior, knowing that we can't make the playoffs because we're on probation being a first-year (Louisiana High School Athletics Association) program, and see that happen to a player with college potential was heartbreaking.
"But to see him persevere and keep working through it all was inspiring. A lot of the reason he's back is his faith, his determination and just pure hard work. He wasn't the normal Cale at the first of the season, but just to see him back on the mound was a great thing for us and for him."
And game-by-game, Sanders saw as Hollis continued to gain confidence.
"He kept getting stronger and stronger as the season went on," Sanders said. "The first weekend he was released we were in Marshall, Texas, playing in a tournament. He had come to us the day before with a full medical release. He had a grin on his face from ear-to-ear.
"That first game it was 20 degrees and he was over there shivering and saying that his leg hurt, just from the cold. And I wondered if it was going to happen this year or not. The next night we got into some trouble and I told Cale to get hot if he wanted to get hot, and he got hot. He went out there and his first time on the mound got the win. Then over the next few outings he kept getting stronger and stronger. And soon he was back to being our go-to guy on the mound."
Hollis ended up going 6-4 on the season, being named District 1-1A Co-Most Valuable Player after posting a 2.56 ERA with 62 strikeouts in 41 innings pitched.
"He did it by working hard and always believing in himself," Sanders said. "He just wouldn't back down. He couldn't. That's just not in his nature."
SET FOR SUMMER WORKOUTS
Workouts this summer will be different for Holis as he works to try to find a spot on the collegiate level.
"Last summer I'd get up and do football workouts and then go get a snack to try to get something in my stomach," Hollis said. "That was around noon. I'd start football conditioning workouts at 8 a.m. We'd run some routes and things like that, and then we'd hit the weight room and I'd work on upper body or lower body on alternate days, or run a mile.
"Then every Thursday afternoon, I was doing pitching lessons under Riley Hollingsworth. It may not have been the best for me doing two workouts back-to-back, but I was trying to get stronger in all phases.'
Hollis admits he nearly gave up football after his freshman year.
"But I went back out as a sophomore," Hollis said about his years on the gridiron. "I was mainly out there just to have fun without everybody else – just enjoy my time. When the new football coaches got there when I was in eighth grade, we had eight guys at the first football meeting. So I felt I had to play. They needed me for the numbers.
"When we got to 22 players — 11 starters on each side — it started getting a little better. I could have quit at that point. But I would have been letting my teammates down. I don't know if I'm going to miss the sport (football), but I'm going to miss being around everybody and what we got out of it working better to build that program."
And it wasn't an easy build.
"We went 1-9 my freshman year in football," Hollis said. "We didn't have any idea what the future would hold. But all of a sudden sophomore year we started to win games. (Football coach David Feaster) knows a lot about the sport and what he's doing. I'm glad I was part of the foundation of all of it."
Hollis said his football experience has helped make him a better baseball player.
"Football has taught me how to work harder for things, for the future," Hollis said. "Trying to put forth more effort to get where I want to be in life and in baseball. It's kept me working harder and never really taking a break. It's taught me determination and putting everything I have into that next play. Or that next pitch in baseball. It's a sport I think everybody should play just because of the team concept."
PITCHING FOR A STRONG FUTURE
"I have a Division II team that has offered me since September. Other than that it's mainly just JUCOs. I'll do whatever I have to do to get a chance."
Hollis said there is no timeline in deciding his future.
"I was hoping to have committed somewhere by now," Hollis said. "But I have one offer so far. We'll see what happens over the next few weeks. I'm going to a tryout pretty soon. I hope to commit somewhere soon.
Hollis knows it's his fastball that will carry him to the next level.
"I have a curve and a change-up," Hollis said. "Sometimes I'll throw a splitter in warm-ups. It usually doesn't work, but I'm trying to add some pitches. Everybody needs more than three. But I'm a fastball pitcher. I'm consistent with it. You can go through games where your curveball isn't working and you try your best to place that fastball on the corner just so the batter isn't alway seeing offspeed stuff."
Sanders said Hollis is deserving of a chance to play collegiately.
"Cale's going to bring leadership, hard work, grit and determination," Sanders said about what Hollis can bring to a college baseball program. "He's going to lead by example. He's a great kid — one of those kids you want your daughter to bring home to meet her parents. He's going to put in the work and do the right thing.
"He's going to make his grades. You don't have to worry about that with Cale. He deserves the chance. He's earned it through hard work. I just hope he gets it."
As far as a college major, Hollis said that decision will be easy.
Holis said the one certainty he does have is his post athletics career direction.
"I want to be an electrical engineer," Hollis said. "My dad, my grandpa, my uncles, they're all engineers. My dad and grandpa are both electrical engineers. I have the skills. I'm good at math and that's really what I want to do."