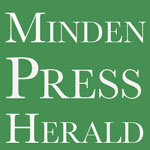 Specht Newspapers, Inc., publisher of the Minden Press-Herald, has announced the local newspaper will reduce its print frequency to once per week on Wednesdays, beginning Nov. 1.
According to David Specht Jr., president of Specht Newspapers, the decision was made due to a variety of factors.
"It's never easy to make these decisions," Specht said. "However, inflating costs, coupled with supply chain challenges within the printing industry has made this change unavoidable."
The Press-Herald first reduced its frequency from five-days-per-week to two-days-per-week in 2020. Specht said the ongoing impact of the pandemic and market forces have continued to be a challenge.
"I'm not going to lie, I thought we would bounce back within months of the first adjustment, and that just didn't take place," he said. "The good news is that we are retaining every employee, with no furloughs nor layoffs."
Minden Press-Herald Publisher Randy Brown said he is optimistic this change will put the newspaper in a position for growth.
"I remember doing something similar at our Bossier newspaper as a result of the 2008 recession," Brown said. "The frequency of one-day-per-week became a real sweet spot for our readers and advertisers."
Print readers can expect the weekly Press-Herald to contain the news and analysis they have come to expect, with even more depth of coverage, according to Editor Joshua Specht.
"With more time to prepare our stories, we will go deeper on the issues that matter to our loyal print readers," Joshua said. "In addition, we will be ramping up our digital coverage to bring breaking news to our audience faster, and more accurately, than ever."
Brown added the digital offerings of the Press-Herald, along with sister publications Bossier Press-Tribune and BIZ Magazine, will offer major marketing opportunities for local businesses.
"It has been well documented that our websites are the most visited news sites in our complementary markets," Brown said. "Now, we can drive results for our local clients in more ways, at more affordable price points, than ever."
Once the frequency change takes place Nov. 1, subscription rates for the print edition will be $40 per year. Current subscribers will see their subscriptions prorated to reflect the change.
Plans are also underway to create new, targeted offerings for readers, both online and in print.
"We know people see us as part of their life's stories, and we want to bring those stories to life," Joshua said. "If it is important to you, it is important to us."
David added the end is far from near for local news, and the Press-Herald in particular. "When my father came to Minden in 1968, he committed to this community. That commitment continues today through our family and this company," he said. "We will continue to pivot, grow, and evolve, to be the news and content organization this community deserves."
Brown said he wants the Webster Parish community to share in this journey with their thoughts, support, and concerns. "We can only get better when we hear honest feedback from our community," he said. "Please reach out to me and we will work together to navigate this new beginning. I still believe, and I will always believe, that we provide a valuable service to our community, and will continue to do so for many years to come."