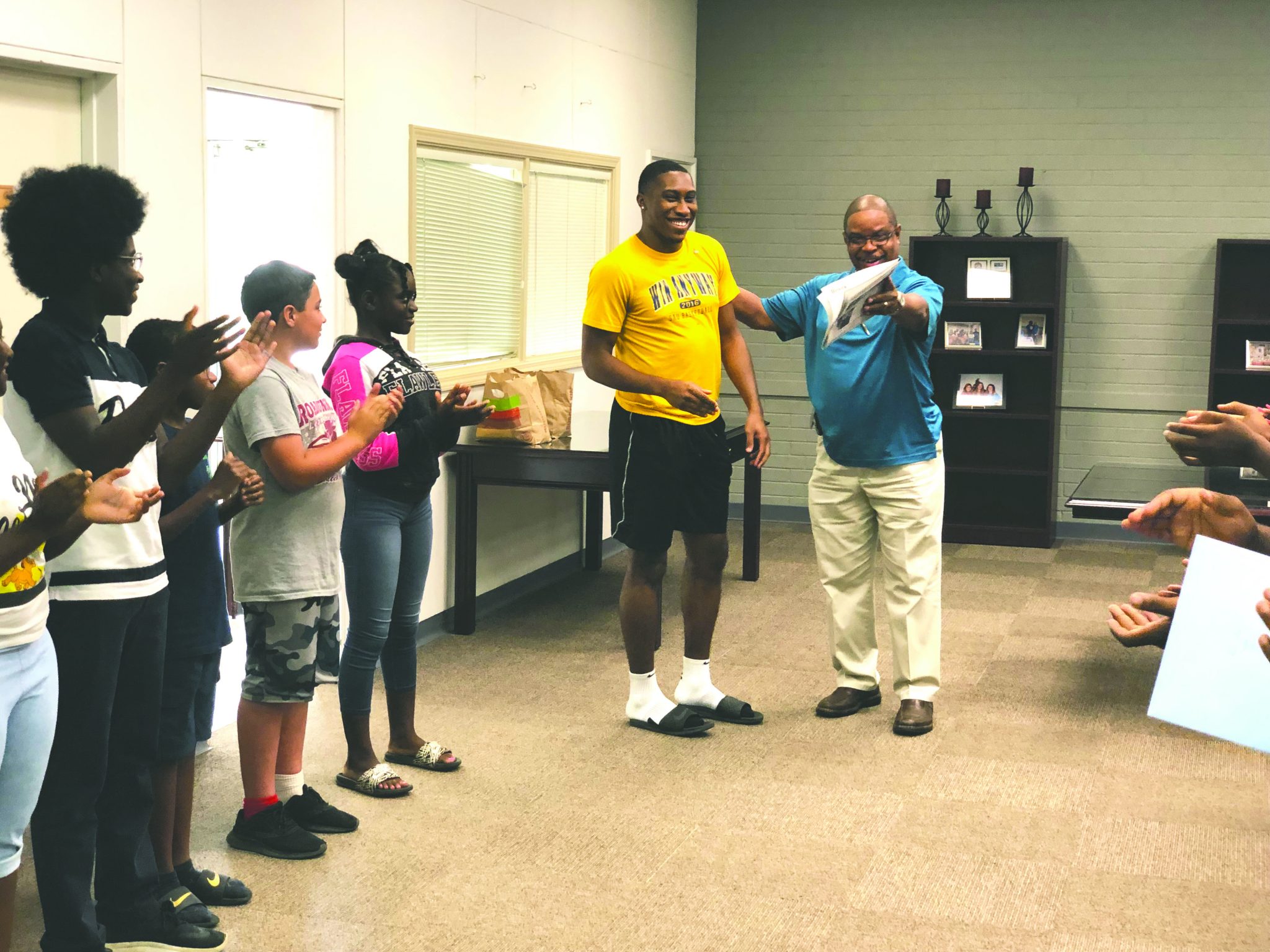 C.J. Elkins was in for a shock on Thursday afternoon as he walked into the United Way building and was met with cheers and claps from the members of Project Reclaim. This, along with a card signed by the club members and a full back page ad in the Minden Press-Herald, was their way of congratulating Elkins for graduating from Southern Arkansas University with a degree in Sports Management.
After the initial congratulations had taken place, Elkins said, "I'm not gonna lie, it was unexpected. I just saw a line and all eyes on me, and I was like 'what is going on?' I thought I was coming in just to sit with the kids and talk with them. It is a great gift, and I don't take any of these moments for granted. I just try to be thankful for everything and I'm glad that (Ron Anderson) was able to do this for me."
While a big reason for Elkins being there was to celebrate his accomplishments, the other reason was to show the members of Project Reclaim that they can follow their dreams too, as long as set goals for themselves and work hard.
"With me possibly being a role model for some of the younger ones, I want to try and get them to go in the right direction," Elkins said.
"As I'm sure (people) know, a lot of stuff has been happening around here. I wanna show them that they don't have to go in that direction. You can always follow your dreams, you don't have to always be in the streets. With me being here, I feel like I can be that change. Hopefully, I can have an impact on their lives to get them to go in the right direction and get them to follow their dreams. It's not easy. You're gonna have to earn it, and I feel that after I graduated, I did it. I feel like I can be a good role model and show them that they can do it too. Of course it's gonna be hard, nothing is going to be given, but hopefully, I can be a good impact on their lives."
Now that Elkins has graduated, his next plan is to start playing professional basketball overseas, and possibly becoming a coach after he's done playing the sport.
Ron Anderson, the man in charge of Project Reclaim, had some kind words to share about their special guest. "We're proud of him. He's a stellar young man — he earned an athletic scholarship and he parlayed that into an academic degree," Anderson said.
"I think we really need to place emphasis on success stories that come from the youth in Minden, those who use their skills to go off and give Minden a good name. When we visited southern Arkansas university the president said that C.J. was a legend there. He made a big impact on their campus, and we're proud of the fact that he's from Minden. So he's gone off and distinguished himself but also he shined a good light on this city, that there are a lot of good things happening here if we pay attention to it."