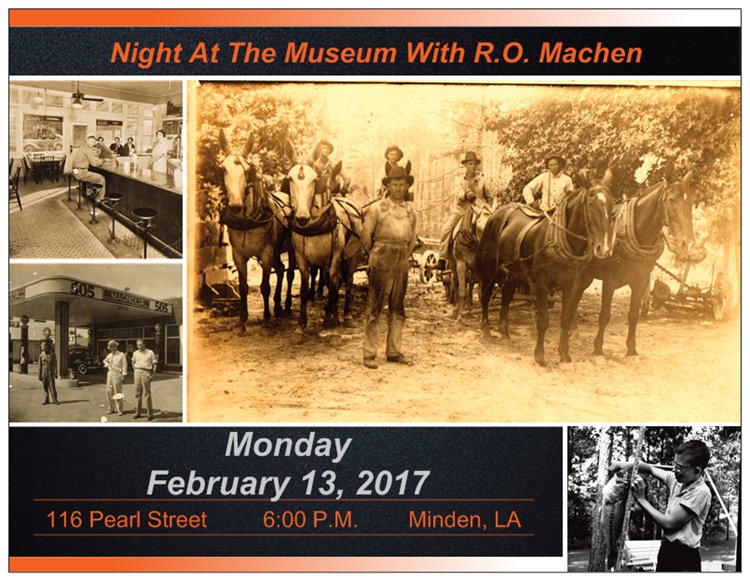 The 61st Night at the Museum is less than one week away, and Webster Parish residents have an opportunity to learn about a family with deep roots in the parish.
The presentation, "The Machen Family in Webster Parish" will be given by R.O. Machen Jr. Monday, Feb. 13. The Machen family has been a part of Webster parish for nearly 100 years.
Machen was born May 7, 1942, in Springhill. Machen moved to Minden when he was in the fifth grade. His father, R.O. Machen Sr., became assistant superintendent of Webster schools that year which prompted the move.
A 1960 graduate from Minden High School and later graduating from Louisiana Tech in 1964 with a B.S. degree in Accounting, Machen's banking career began immediately after graduation when he went to work for Louisiana Bank in 1964 and Peoples Bank in 1967. After 47 years in the banking business, he retired in 2010 from Gibsland Bank and Trust.
He married Barbara Fountain of Homer in 1979 and the couple have five children, 15 grandchildren and three great grandchildren. Barbara works for the State of Louisiana in the Child Welfare Division and will retire in 2017.
The Dorcheat Historical Association Museum is located at 116 Pearl Street in Minden. Admission is free and doors open at 5:30 p.m., followed by, "The Machen Family in Webster Parish" 30 minutes later at 6.
For more information contact Schelley Brown Francis at 377-3002 or visit museuminminden.blogspot.com