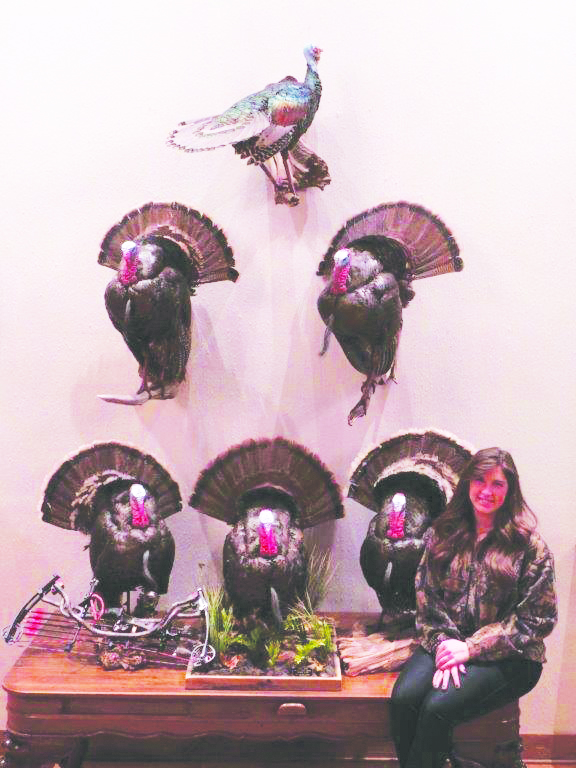 By Glynn Harris/Special to the Minden Press-Herald
With the 2022 spring wild turkey season being launched in most of the state April 2, hunters all over are heading out in the pre-dawn darkness to try their hand at out-smarting one of the wiliest critters on the planet. When this happens, there is a feeling of satisfaction like no other.
While most turkey hunters are content to bring down any legal gobbler, there are those who aspire to take it to the next level. If you are able to move about the country to take the four subspecies in the US, Eastern, Rio Grande, Merriams and Osceola, you meet the qualifications for a Grand Slam.
Add to this the Gould's and you qualify for the Royal Slam while being able to down an Oscellated in Mexico and you have a World Slam. The ultimate is the U.S. Super Slam which means you have taken a gobbler in each of the 49 states that have wild turkeys; there are none in Alaska. Thirteen hunters have been able to accomplish this amazing quest.
When it comes to challenges, seven years ago a then 19-year-old Rachel Barr of West Monroe, a high school senior, reached for a mark that was other worldly. She set out with a goal very few have attempted and fewer still have accomplished.
Her mission? Take a World Slam of wild turkeys. That in and of itself would be quite a feat but she added a kicker to her challenge.
"I wanted to take the World Slam with my bow before finishing high school," Barr said.
Believe it or not, Rachel did exactly that, adding the final sixth notch to her bow with a Rio Grande gobbler one month before high school graduation.
"When I was little," Barr explained, "my dad bought me a rifle but I never took an animal with it. I didn't like the noise, the smell, the kick that broke a pair of my glasses once. I told my dad I wanted to hunt with a bow so he sold my rifle and bought me a bow. I have been hooked ever since."
Barr's first turkey with her bow was taken March 29, 2011, when she arrowed an Eastern subspecies and at that point she shared her dream with her dad.
"In checking the NWTF site for information on 'Slams,' I told Dad I wanted to try for a World Slam with my bow. My dad, who is a surgeon in West Monroe, was all for it and agreed to arrange for trips necessary to make it happen," Barr said.
She didn't connect on a gobbler in 2012 but beginning the spring season of 2013, the determined young lady was off and running, arrowing a Merriam's near Holt, Nebraska, on March 28 and a Gould's in Chihuahua, Mexico on April 19.
With graduation looming in May, 2014, Barr went to work, skewering an Oscellated gobbler in Campeche, Mexico on Feb. 16 and an Osceola near St. Cloud, Florida, on March 15. This left only the Rio Grande to complete her World Slam, a bird that gave her the most trouble.
"On our initial trip to Texas, the weather was not in our favor and I was not able to get a shot at a Rio. However, we were able to return the following weekend but problems cropped up and Barr was beginning to doubt if she could reach her goal of a World Slam.
"We did not hear a single gobble that morning but did have some turkeys come in silently but I could not get a shot. That afternoon, a big Rio broke away from a flock of gobblers and jakes and when he stopped at 15 yards, I made the shot and down he went," a relieved Barr said.
A check of the records www.nwtf.org validates Rachel Barr's incredible feat.
Any hunter able to qualify for any of the Slams deserves a pat on the back. What Rachel Barr was able to complete, a World Slam with her bow before finishing high school, in my opinion, tops them all.