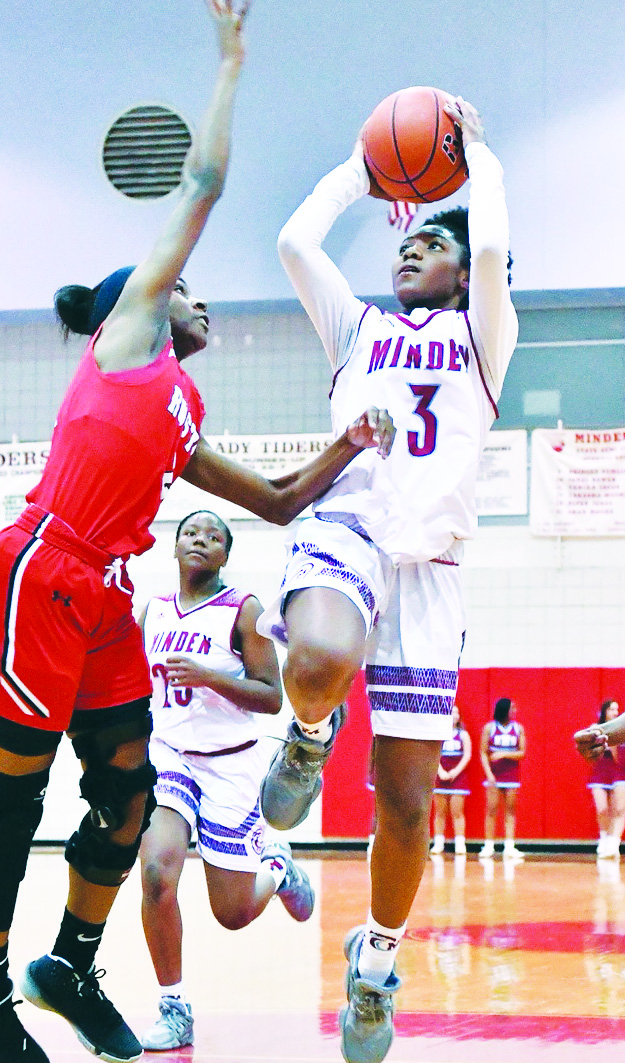 Janiya Reed isn't from Webster Parish. For some of us, it takes a little while to find home.
Reed moved from Ruston to Minden High before her junior year.
"When I got to Minden, I felt like I was finally home," she said. "In Ruston I was so uncomfortable. The experience really motivated me to find a new place and change. Basketball is my life. I needed to find an opportunity to play."
She entered a Minden team last season that was loaded with top-tier talent. But she wasn't afraid.
"I was willing to out-work everyone to get that starting spot," she said. "I didn't up and move to Minden to sit on the bench."
Now, Reed is the lone starter left from the Lady Tiders' magical run to the state semi-finals last year.
"What stood out early from Janiya was that she was thrilled for the opportunity to play," Minden head coach Jacob Brown said. "I knew right away that she would be a key factor in our season."
Last season, she led the starters as the point guard while Bre Rodgers recovered from an injury. Reed's ability to control tempo and handle the ball was crucial in allowing Rodgers the chance to finally spot up and hit threes once she returned. She opened up the floor for Rodgers, Derrica Gilbert, Destini Powell and the rest of the star-studded 2018-19 Lady Tider roster.
"Janiya just wants what's best for the team," Brown said. "She doesn't make it all about herself."
Minden had a number of huge moments last season, including a win over #1 Benton and a deep run in the state playoffs before falling to Warren Easton, the eventual state champs.
"I think we just kind of froze up in that game," Reed said. "If we could go back and do it again, I know we would win. We were just a little too excited to play."
Every game is an opportunity to grow. Reed used the loss to Easton as a chance to get better.
"I know Janiya loved the state tournament experience and just wants to make a run again," Brown said. "We've challenged her to be a leader this year because she was the most experienced player returning, and she wanted it."
A new season has presented new opportunities, but also a number of new challenges.
"A lot of my teammates don't have a lot of varsity experience," Reed said. "So I am learning that we have to get better as a team and make better chemistry on the floor."
Minden hasn't been as dominant as they were last year. This season has seen the Lady Tiders lose a few close games, including last week's two-point loss at Airline.
"We should have won that game," Reed said. "I learned a lot. I noticed a lot. My teammates depend on me. I can't catch silly fouls or just throw the ball away. People look up to me and watch what I do."
It's a work in progress, but she is figuring out what it means to be the number-one option for a top-class team.
"It's more to leadership than just being the best player," she said.
Reed's love for the game is clear in her approach. 
She brings the ball up the floor and picks her spots. She zips the ball from one side of the floor to the other as she looks for spots in the zone to attack.
Her go-to move is a a patented running floater that came through in the clutch for the Lady Tiders in a number of scenarios last season.
"Janiya plays the game at a fast pace," Brown said. "She's an extension of the coaching staff out there on the floor. She also has such a good spirit about the game and a desire to learn."
Going from a hidden gem to the top dog isn't easy. Teams weren't expecting Reed to drop twenty points in a game last season because they were too concerned about Gilbert and Rodgers.
This season, every team has to gameplan for Janiya.
"I wake up and breathe basketball," Reed said. "This is what I asked for."
Minden has a long way to go to reach last season's heights. The Lady Tiders are 5-4 entering the Holiday Classic on Wednesday evening. Still, with Reed at the helm, the Tiders are in good hands.
"I see a young lady who is destined for success," Brown said. "I'm just glad her journey led her to us here in Minden."
Minden plays Calvary on Wednesday at 6:40 p.m. at The Palace.