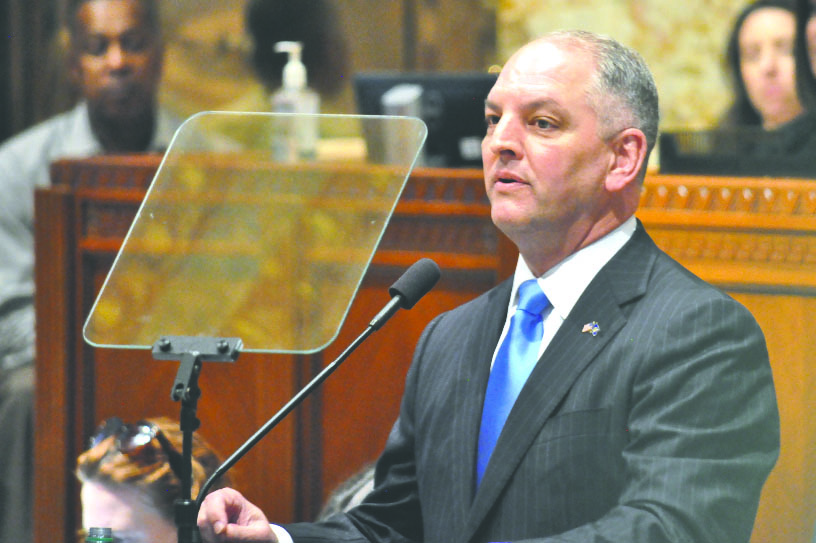 Ghost of failed special session lingers
Drew White and
Tryfon Boukouvidis
LSU Manship School News Service
BATON ROUGE– Gov. John Bel Edwards on Monday listed raising the minimum wage, enforcing equal pay for women and combating sexual harassment as some of his top priorities for the regular legislative session.
The governor's remarks came in an address to the Legislature a week after the end of a failed special session he had called to replace expiring tax measures and ease a projected $1 billion budget shortfall.
Edwards began his address expressing disappointment that the session failed due to "distracting political games."
"I know you haven't been away for very long, but I hope that in the past week you have had time to rest and refocus on the work that we have ahead of us," Edwards told members of the House and the Senate. "I do not want the roadblocks of the special session to hamper us from what's most important – making life better for the people of this great state."
Edwards said that increasing the minimum wage to $8.50 an hour over two years could curb Louisiana's high poverty rate. Louisiana has the second highest poverty rate and is one of only five states not to have adopted a state minimum wage.
Employers in the state now adhere to the federal minimum wage of $7.25 an hour.
Edwards, the only Democratic governor in the Deep South, said he also supports the Louisiana Equal Pay Act, which would promote wage equity between genders. Currently, Louisiana "has the highest wage inequity in the country," he said.
A female earns 66 cents for every dollar a male earns. But "she doesn't get charged any less when she's buying groceries for her family, and she shouldn't get paid any less when she's working the same job as a man every day," Edwards added.
Ninety-one percent of Louisianans believe that an employer should pay men and women equally when they are doing the same job, according to LSU's 2017 Louisiana Survey. Fifty-eight percent of the respondents believed that women still face more obstacles than men on their path to success.
Equal-pay legislation has consistently failed in the Louisiana Legislature, despite having the governor's support.
Last May, the House Labor and Industrial Relations Committee nullified bills that would have promoted transparency in wage discussions and equal pay for women.
Edwards also addressed the need to eliminate sexual harassment based on recommendations by a task force he had created to address the issue. The proposals include protecting the identity of individuals who report instances of sexual harassment and requiring annual sexual harassment training for all elected officials and public employees.
Every person "should be able to go to work each day without fear of sexual harassment or discrimination," Edwards said. "I have said repeatedly that sexual harassment will not be tolerated in the state of Louisiana nor will we allow victims to feel bullied or silenced."
Louisiana Secretary of State Tom Schedler was recently accused of sexual harassment in a lawsuit that claims he made repeated sexual advances toward an employee and then retaliated against her after she rejected him. Edwards has called for Schedler to resign.
Edwards will support legislation that would require hazing prevention education in the wake of LSU freshman Max Gruver's death by alcohol poisoning after an alleged hazing incident last year. "Arming students with the knowledge to identify and report instances of hazing could save a life down the road," he suggested.
He said he also supports legislation that would expand efforts to end childhood hunger in Louisiana, where one in four children live in poverty, allow teachers to get tenure if they have "effective" or "highly effective" ratings for 5 out of 6 years, and enhance school safety.
The governor also urged the Legislature to create a commission that would help small businesses stay competitive by loosening certain regulations that have made Louisiana one of the worst states for convoluted licensing requirements.
He said small businesses constitute 99.5 percent of all businesses in Louisiana and employ more than half of the state's private workforce.
Several Republicans said during the special session that some GOP House members did not want to compromise with Edwards and help him solve the budget problems. Edwards, the only statewide elected Democrat in Louisiana, is up for re-election next year, and will be a top GOP target.
Rep. Marcus Hunter, D-Monroe, when asked if he thinks Republican legislators will work with Edwards, said: "The best predictor of the future is the past, but hopefully this new session brings a new opportunity for us to move forward and accomplish some goals that are in the best interest of Louisiana. We are here to find common ground."
Rep. Barry Ivey, R-Baton Rouge, said he does not believe the Legislature will pass a budget. It is "extremely difficult to get enough support on that much in cuts," he said. "It's a lot of pain to spread around, and there's not that many places to spread it besides higher ed and healthcare."