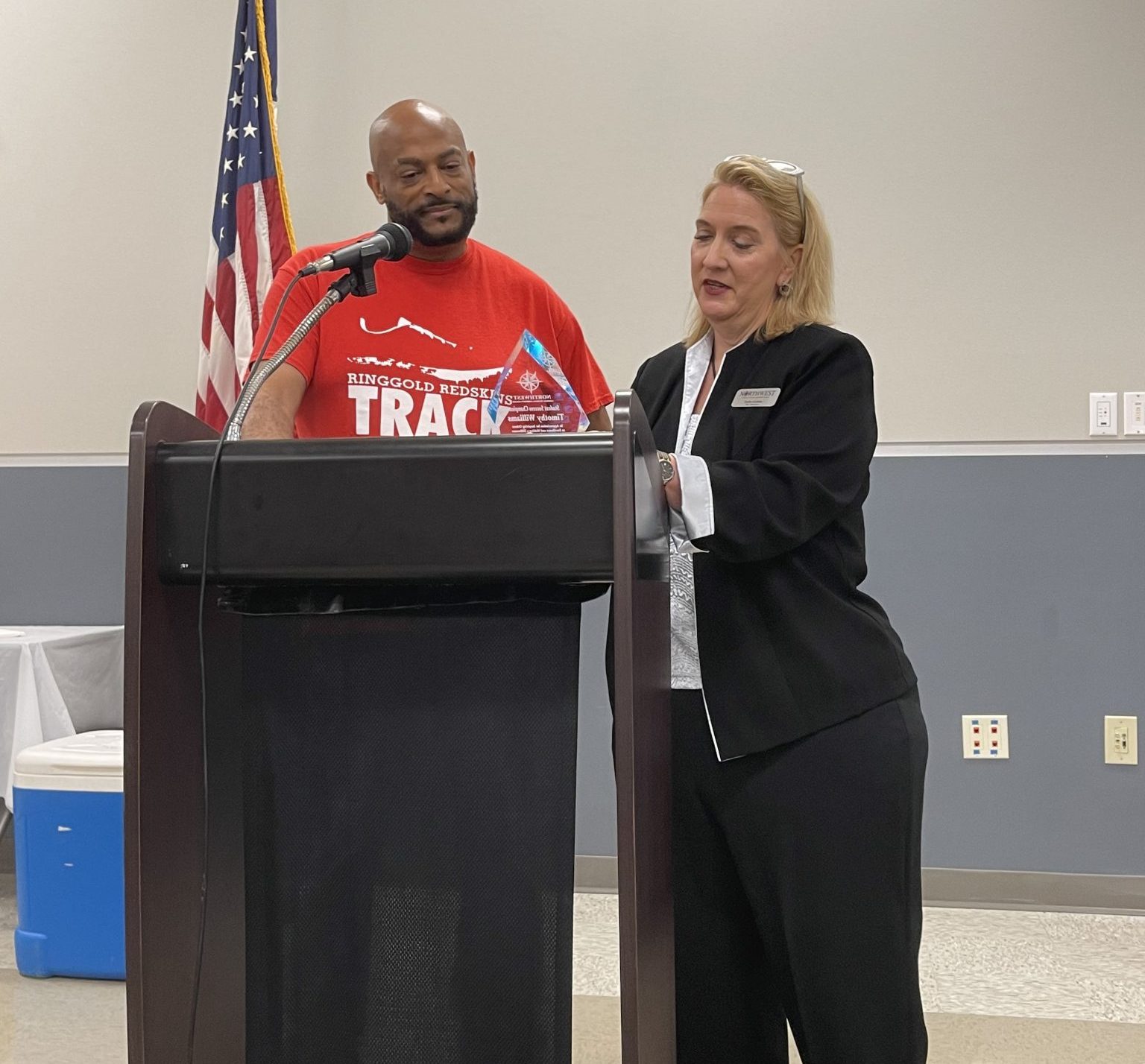 Each year Northwest Louisiana Technical Community College honors a member of their faculty or staff with the Student Success Champion Award to an individual who goes above and beyond for the students they serve. This year was a first for the award, as NLTCC decided to present the award to a non-staff member, one Timothy Williams, Guidance Counselor for Ringgold High School.
"Every year we've selected someone at the institution, someone that worked in student services or a faculty member that had done great things. Well this year we have decided to select an outside person. This is the first time that we have ever given a Student Success Champion award to someone who was not an employee of Northwest," said DeDe Griffith, NLTCC Vice Chancellor of Academic and Student Affairs.
"But I'm excited and honored to give it to you, Mr. Williams, and I wanted your students to see you receive this award. Because it really is all about you students, that's what you do."
Since taking up his position as Guidance Counselor at RHS nearly ten years ago, Williams diligence led to Ringgold High School having the first student in the state of Louisiana to graduate with both a highschool diploma and an associates degree, and since then he has worked to provide that same opportunity to countless other students.
To provide an example of Williams influence, during the 20/21 school year, Bienville Parish School District saw their students receive 2194 dual enrollment hours, 17 certificates of general studies, 4 associate's degrees, and a variety of technical diplomas and credentials.
For these reasons and more, Williams was selected as this year's recipient of the Student Success Champion Award.
"Mr. Williams is responsible for more dual enrollment students than all of our other highschools put together," said Griffith.
"On a professional level, there's just no one else that we have been able to work with that has really dedicated themselves to the students like you do."
Upon receiving the award, Williams stated, "I do this because I love my kids. I love all kids, and when I was young, I didn't have anyone to help me, so I promised myself when I got something like this I would help others."
Jackelyn Sampson, of the Bienville Parish School Board Office was also present at the ceremony to share her experiences of working with Williams in the Bienville School District.
"To me, a visionary is someone that can see what's invisible to others, and for approximately ten years, that was a man who had a vision of his students graduating from high school and earning an associates degree at the same time. He joined forces with NLTCC and other post secondary institutions to develop a plan of action. It took about 5 years and a tremendous amount of time, effort, and financial support for his vision to become a reality. Since that time, his vision has encompassed a significant number of students throughout the bienville parish school district," said Sampson.
"This visionary man believes that a person's circumstances does not dictate his or her future, and that there comes a time in life when you have to leave your comfort zone and embrace new experiences. I would like to personally thank and recognize this visionary man for Bienville Parish, and more specifically, for Ringgold High School, my dear coworker and friend, Mr. Timothy Williams."