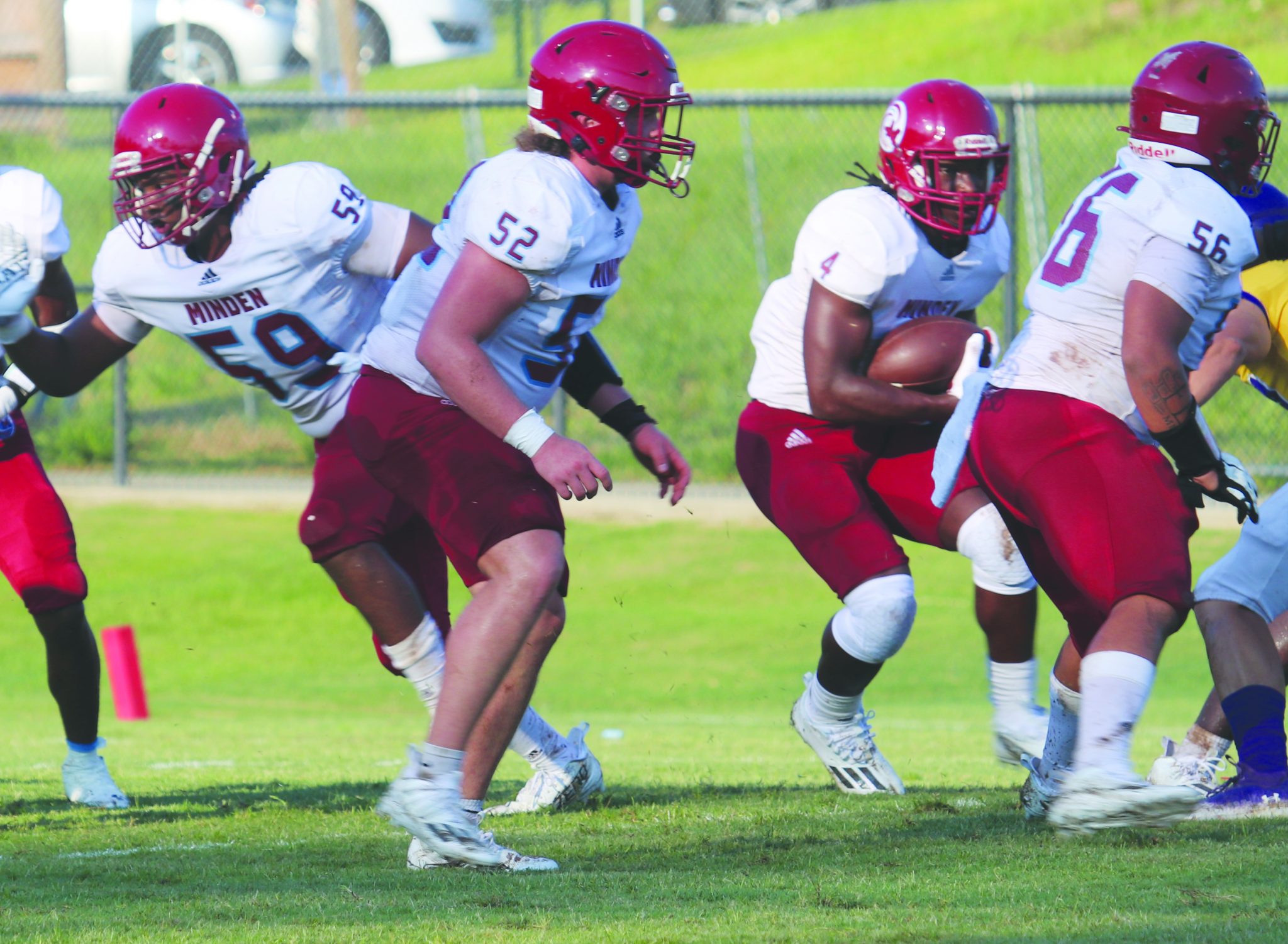 Entering the game needing a win to keep any playoff dreams alive, Minden High School and Crimson Tide running back Daylen Robinson took care of business Thursday night.
Robinson became the first MHS rusher to break the 1,000-yard rushing barrier for two straight seasons as his 133-yard performance on 10 carries pushed the Tide to a 43-26 District 1-4A win over Booker T. Washington at W.W. Williams Stadium.
Playing as one of the Crimson Tide's honorees on Senior Night, Robinson pushed his season rushing total to 1,026 yards, moving into third place on Minden's all-time career yards list behind the late Sammy Seamster and Raymond Tate.
Seamster, who passed away in the spring of 2019, went on to play at LSU and had been the last Crimson Tide running back to record back-to-back 1,000 rushing seasons for Minden in 1986 and '87.
Minden won big but trailed early, with BTW marching 60 yards on the opening drive to move on top 8-0 only 2:25 into the contest.
But the Crimson Tide countered with an 18-yard scoring scamper by Robinson to cut the Lions' lead to 8-6 after the two-point conversion kick attempt failed.
Booker T. Washington pushed its advantage to 14-6 late in the first quarter before the Crimson Tide surged back with three straight rushing touchdowns – an 11-yarder by Cameron Mitchell, a three-yarder by Robinson and a 17-yard by quarterback Jakobe Jackson to move out to a 30-14 lead at intermission.
Minden added a pair of second-half touchdowns on a 40-yard scoring strike from Jackson to Jaylin Williams with 3:25 remaining in the third quarter and a 18-yard run by Jackson at the 10:47 mark of the final stanza to build a 43-14 advantage before BTW added a pair of late scores.
Jackson finished with 88 rushing yards while completing six-of-nine passes for 100 yards.
Minden, 3-6 overall and 2-4 in District 1-4A, will close out regular-season play next week at Woodlawn-Shreveport, which also stands at 3-6 and 2-4 after losing 40-o Friday night at Northwood.
The Crimson Tide will need a win next week along with a lot of help to reach the Division II Select School playoffs. Minden currently stands at No. 33 in GeauxPreps.com's power rankings heading into the final week of the season.