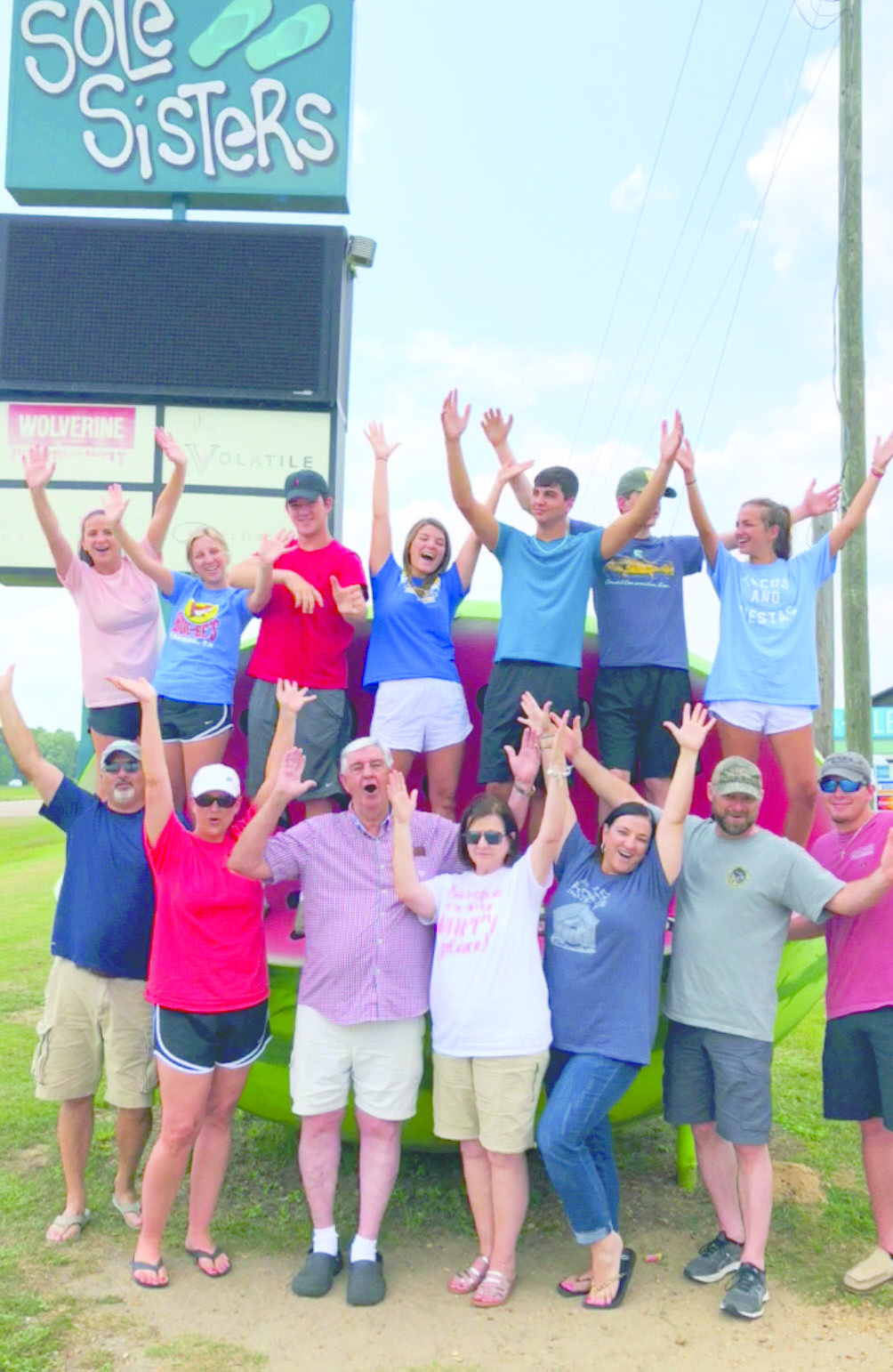 When 15 Sarepta natives traveled to Orange Beach, Alabama for their first family beach getaway in seven years, they expected a hot sun, cool water, and an all-around good time. What they did not expect was to return to Louisiana as an internet sensation.
As the Fuller-Tyler family approached the end of their week-long vacation in late July, Claire Tyler Lay could not get the song "Summer Nights" from the movie "Grease" out of her head.
"I thought, 'we need to do something cool on the last day,'" Lay said. "So I called my friend and asked what that video app we used to use in high school was."
More than eight hours of filming later, Claire and her family had finished a beach-themed lip sync performance of the John Travolta and Olivia Newton-John classic song, featuring all 15 family members. Not long after posting, the video went viral on multiple social media platforms.
Using an app called Video Star, Lay and Korie Fuller McMullan filmed their family having fun in the sun and mouthing different lines from "Summer Nights," stringing the clips together to form the fun and wacky final product. They found it easy to craft situations to match each song lyric, from burying family in the sand to hitting the nearby arcade.
As of Friday morning, less than two weeks after posting, the video had been viewed over 26.5 million times in total across several accounts on Facebook, Twitter, Instagram, and YouTube.
"We thought it would just be family and friends on our Facebook who would think it's funny," McMullan said. "But then everyone started sharing it, and it got really big."
Something about the creativity of the video and the silly charm of those involved has endeared the Fuller-Tyler family to thousands of people online. A particular fan favorite is "Grandaddy" Delbert Fuller, the 72-year-old patriarch who appeared in the video several times.
"Grandaddy comes to Wendy's in Minden every day because he drives the Louisiana Transit Bus," McMullan said. "And he said the girls at Wendy's saw his video and talked to him about it when he came in."
Lay, who is starting her first year of teaching at North Webster High School, said the video has been the talk of the town and beyond since the family returned to Sarepta.
"People are stopping us at Walmart," she said. "Everybody at the school in-service today said 'hey, I saw your video!'"
Lay said her Instagram followers have doubled since the video's release, and she has been sharing the love by tagging all the other members of the family, allowing them to be followed as well.
"Most of [the family] wanted to do the video, but you can't get boys to want to be in a video like that," she said. "Now they're glad they were in it. They're eating up all the Instagram followers we're getting."
A popular comment on Twitter under the video reads, "I feel like I have been introduced to 15 characters in a sitcom, and now I'm invested in their lives." Now that people across the country have seen their family in action, the question is: does the video represent the family correctly?
"It couldn't be more accurate about our family," Lay said. "How everyone is laughing at how Granddaddy is singing. Sarah's dance moves, Jay the kid who dabs, Ethan playing Fortnite. All of it is so accurate."
The Fuller-Tyler family is a close-knit group, according to Lay and McMullan. They travel together, have dinner together every Sunday night, and go to church together. The faith and beliefs the family shares is something Lay said she wants to use this new fame to highlight.
"I think people need to know it's important to have your family close to you," she said. "I want people to see through our video how close we are, that we go to church together. When I posted the video on Twitter, instead of promoting myself, I shared some Scripture. You need to be telling what you believe in if you get that many people to look at something you made."
Anyone who wants to see the now-famous video can find it by going to Lay's page at "Claire Tyler Lay" on Facebook, Twitter, or Instagram, or just "Claire Tyler" on YouTube.
THE CAST: Delbert Fuller, Granddaddy, 72 years old; Minnie Kay Fuller, Ma, 70 years old, buried in the sand; Jared Tyler, cowboy hat; Lyndi Tyler, jellyfish tube; Claire Tyler Lay, videographer; Austin Lay, binocular boy; Ethan Tyler, playing video games; Callie Tyler, backflip; Will Boyett, "cause he sounds like a drag"; Don Fuller, "met a girl crazy for me"; Lisa Fuller, "met a boy cute as can be"; Korie Fuller McMullan, girl at the very beginning; Aaron Fuller, "but ya don't gotta brag"; Jay Fuller, all the dance moves; Sarah Fuller, sunflower shirt.