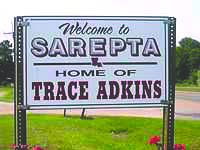 Mayor Peggy Adkins of Sarepta wants to let the public know that until this COVID-19 situation is over, their office is closed to the public. When the governor lifts the stay at home order, we will open for regular office hours again.
The drive-thru is open 24 hours a day, but no one is taking payments at the window. The dropbox is being checked every day. The sewer payments will be posted every other day and no one will have their water cut off if it is late in March. There will still be a late fee if people are putting their payment in the dropbox after 4:00 p.m. on the Mar. 20.
"We are trying to protect our office staff and officers. We will be in the office from 10 a.m. to 11 a.m.on Tuesdays and Thursdays to answer mail and return phone calls (318-847-4333). We are checking the answering machine every day and returning phone calls," the statement from Adkins read.
"Our police officers are still out and about. You can call 911 and they will call the officer that is on duty."
The playground, basketball court, and pavilion have been roped off. No one is to be on these until the quarantine is lifted. The walking trail is still open as long as there are not over 10 people walking together at the same time. The curfew for the park is 9:00 p.m.
Their town meeting scheduled for April 9, 2020, is canceled. Court has been canceled in April and that court will be held in May.
"Hopefully, we will be able to have our May meeting, but we will put our May meeting on Facebook if we are still not supposed to have over 10 people in one place," the statement read.
"We are trying to stay at home as much as possible and want to encourage you to do the same."