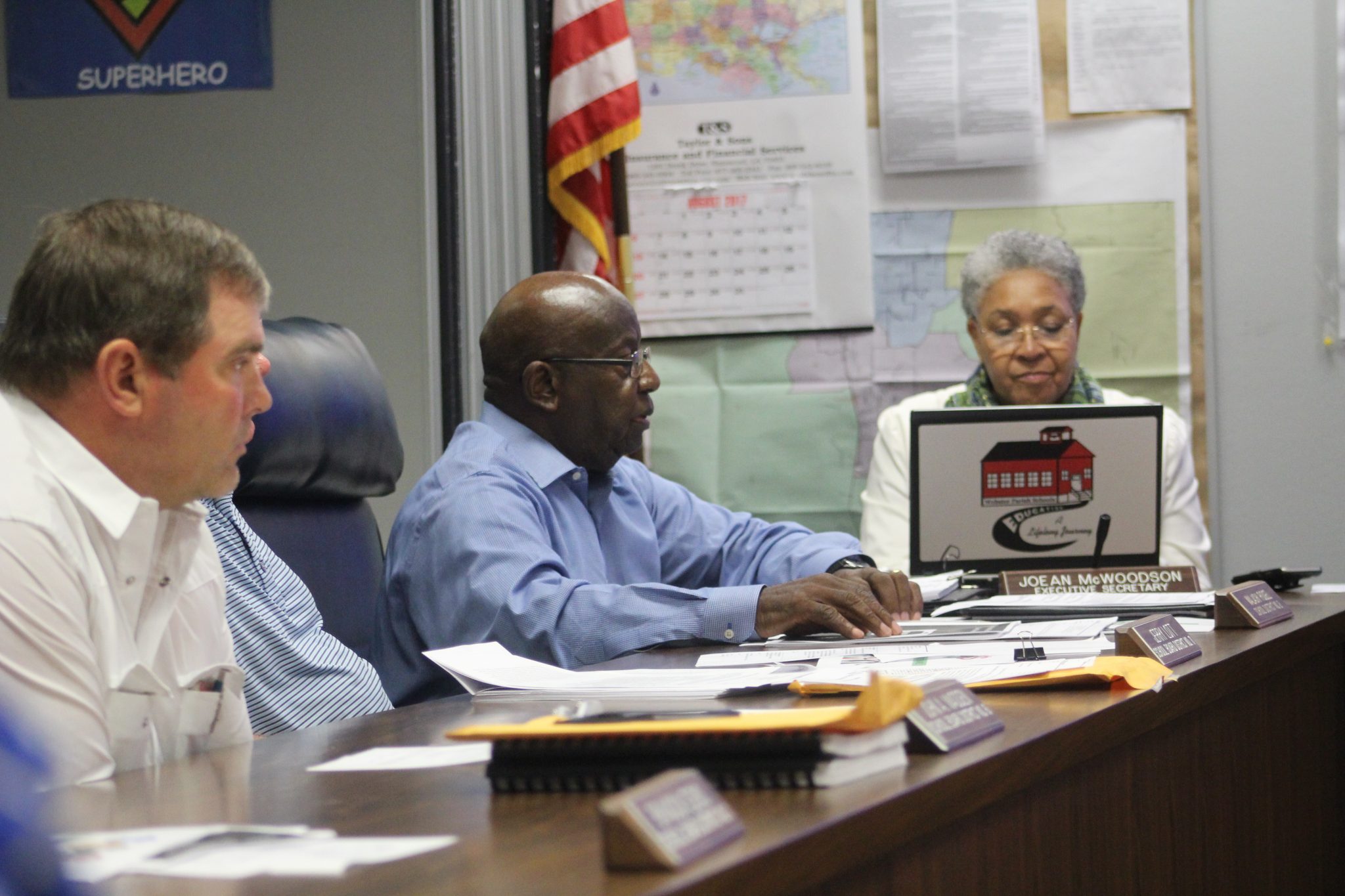 LEAP Data: Webster Jr. High sees 8 percent jump in student performance
The Webster Parish School Board held their monthly meeting Monday. They also held a Curriculum Committee meeting to discuss LEAP data for the 2017-2018 school year.
Superintendent Johnny Rowland reported that the School Board received a check for close to $700,000 from FEMA for repairs to Minden High School.
"About $1.4 [million] we've recouped out of a $2 million potential. From what I understand, out of a lot of government entities, we came out very well compared to others," Rowland said.
The Curriculum Committee of the School Board also held a meeting.
Webster Junior High School had an overall increase of 8% in LEAP scores and moved from 19 students going into ninth grade needing remedial classes at the end of the 2016-2017 school year to only six at the end of the school 2017-2018 year.
The positive changes were attributed to less suspensions, changing the culture and climate of the school, a new positive behavioral incentive program being used as well as rewarding teachers for perfect attendance. The school's leadership is also setting goals to move beyond those gains they've already achieved.
"In writing our action plans, our teachers started out the year with looking at the students who were enrolled in their classes, and looking at each individual student's scores and setting goals for the year. We constantly talked with them about what those goals were and how important it was for them to help us reach our goals," principal Bewanichi Sheppard explained.
School Board member Penny Long asked "So we're changing the way that people my age know how to do math. So, what happens whenever these children who have been brought up in Eureka math get to the college system?"
Curriculum and Instruction supervisor Dusty Rowland explained that the state had a nine-day math content training course which every college system in the area attended to adapt to the new forms of math instruction their students are coming in with.
"As far as advanced math, when we talked to the math people at the state, the way these children are learning to problem solve and think for themselves should be a natural progression when they do those advanced maths," Rowland said.
The new content coaches at the school board have taken the student responses to the LEAP 360 diagnostic tests and graphed them. They then have turned those questions into bell-ringers, or a quick question to answer at the beginning of class. This helps students understand what they missed and why they missed it. There are also common assessments across the parish now so every child is being tested with the same material that is formed to use questions that are like those on the LEAP test. The common assessments also help track student progress across the parish with the same measurement tool.
"In the past, we used to do test prep the month before we tested. So that's all we did was just practice test, practice test, practice test. I don't think that was really effective. This way, we are doing test prep a little bit all year long so it's not so stressful for them when it gets close to test time," content coach Shauna Allen said to the board during the Curriculum Committee meeting.
The Student Acceleration and Remediation program (STAR) has also been rolled out in full this year. Grades K-5 have plans for students who did not meet their growth to Mastery target. During the first 30 minutes of the school day, groups of about 15 students who are all on the same level receive remediation instruction with a targeted skill. There is a state mandate for students who did not reach their growth to Mastery goal in grade 4 to receive remediation, the STAR program also fulfills this requirement.
"The goal is to move these girls and boys up to the next group, and we're working with them," elementary and pre-K supervisor Oreata Banks said.
"We're progress checking them to see if we can move them. We don't want them to get in this group and remain in that group. We also want to make sure those that are in the higher group maintain and stay their so that when they get to the higher levels, they're able to do well on the ACT or even on their LEAP 2025."
Several expenditures were approved including 20 new Briggs and Stratton engines for the Agricultural Department at Lakeside Junior and Senior High School. These are used for competitions in which one student won a scholarship from John Deere. The purchase of 3 regular buses and one special needs bus was also approved.