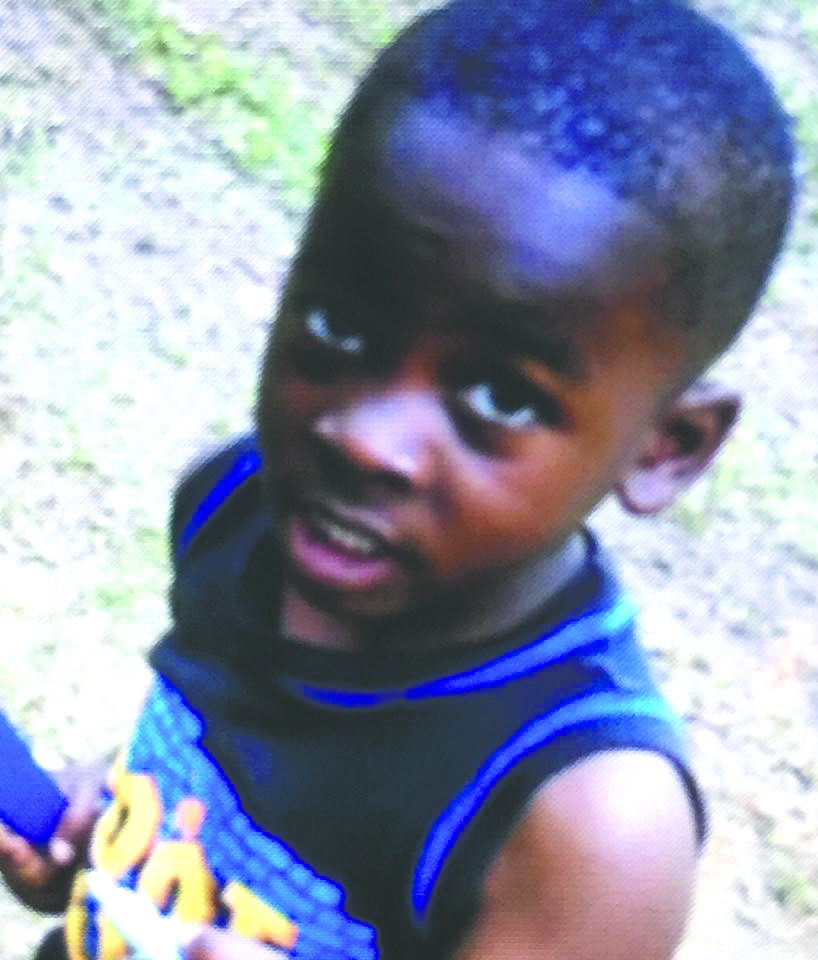 Public search called off as law enforcement investigates
JENNI WILLIAMS
The Guardian-Journal
CLAIBORNE PARISH — The search for a missing four-year-old in Lisbon continues after the Louisiana State Police issued a Level II Endangered/Missing Child Media Advisory on behalf of the Claiborne Parish Sheriff's Office. Rondreiz Cortez 'Junior' Phillips was reported missing Thursday, April 5.
Junior is approximately three feet tall and weighs 45 pounds. He was last seen wearing a white t-shirt, blue jeans and black and yellow rubber boots.
Junior, a four-year-old black male with black hair and brown eyes, was reported missing by his mother, Shelia Phillips, at 12:35 p.m. after she and her boyfriend claim he went missing around 11:30 a.m. while playing in the yard as the boyfriend worked on the family vehicle.
When their hour-long search proved to be fruitless, a 911 call was placed to the CPSO. David Wade Correctional Center Canine unit was immediately dispatched at 12:38 p.m. and arrived on scene at the home located on Howard Road, off of Highway 152 at 1:17 p.m. 
Upon arriving on scene, Incident Commander of the Search Dennis Butcher, director of Claiborne Parish Office of Emergency Preparedness and Homeland Security, Claiborne Parish Sheriff's Office and DWCC Search Team began a search for the missing child. Numerous Claiborne Parish Fire Districts, Homer Fire, Louisiana State Police and  Federal Bureau of Investigation investigators arrived to assist in the search. Two helicopters and drones with infrared were deployed to assist the search from the air within less than three hours of the 911 phone call. 
The search for Junior quickly became the largest ground search in the history of Claiborne Parish and as of press time Wednesday morning is still ongoing in the pursuit of the rescue and recovery of Junior Phillips.
Thursday's and Friday's searches were concentrated in a one-mile radius around the family's home, as FBI statistics prove 65-70% of four-year-olds are only capable of traveling within less than a mile.
As more and more volunteers and trained canines arrived in the area to aid in the search, teams were deployed farther out. Friday evening's heavy rains and high winds hindered the search but many volunteers persevered.
As Saturday's search voluteers reached a staggering 300-400 individuals, a base was set up at nearby Sharon Baptist Church, for searchers to be educated in what was needed and deployed to specific areas.
Eight teams of 25 citizens each were continuously combing the fields and woods near the home of Junior through the day. As the daylight dwindled, most volunteer searchers went home to rest and prepare to begin again Sunday morning as the professional agencies continued throughout the night.
Sunday morning brought another wave of volunteers and dual-purpose specialty trained canines out of Alexandria to continue the search for Junior.
As the day progressed, Claiborne Parish Sheriff's Office suspended the public volunteer search shortly after lunch to allow the canines and professionals to concentrate on special areas of interest, "We sincerely appreciate the public's help in the search for Junior Phillips. We have had a tremendous outpouring of support," the Sheriff's office said.
"At this time we are calling off the public search. We will be focusing on areas of interest that have been located during the search and will update with information as it becomes available. We are grateful for all of the help and apologize to those of you who are headed this way. Again thank you to all who have assisted in the search and provided supplies. Please continue to lift this child as well as his family and the entire situation up in prayer."
 Divers from Bossier and Caddo parishes were brought in to search a few ponds near the home of the little boy but he was still not located. Canines continued to be used throughout the day. 
Monday morning brought a second round of divers checking the remaining ponds of special interest to investigators and more specialty canines out of the Houston area.
The search for Junior Phillips is still ongoing 24 hours a day as the Claiborne Parish Sheriff's Office, Louisiana State Police and Federal Bureau of Investigation, along with numerous professional volunteers work diligently to locate Junior.
With untold local, state and federal agencies working collectively in the hunt, every clue to Junior's whereabouts is being pursued with every intention of finding this missing Claiborne Parish child.
Officials handling the search wish to offer a special thanks to Sharon Baptist Church and all its members, along with the many members of the public who donated their time and energy along with drinks of all kinds, hot and cold foods, and supplies, and for providing a warm and dry place to use as headquarters for rest and updates for the hundreds of volunteers throughout the weekend.
Anyone having any information as to the whereabouts of Rondreiz Cortez "Junior" Phillips should immediately contact Claiborne Parish Sheriff's Office at 318-927-2011, 800-810-2011 or Sgt. Stacey Pearson of the Louisiana Clearinghouse for Missing and Exploited Children/AMBER at 337-962-2605 or stacey.pearson@la.gov.