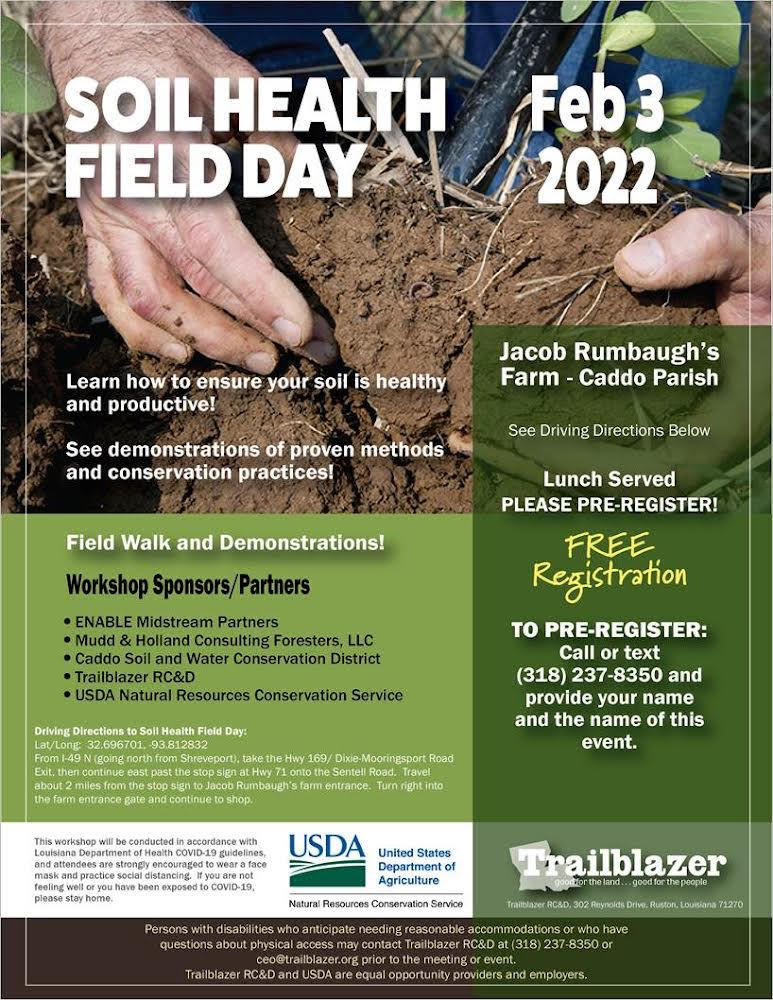 Benefits of Improving Soil
Shreveport, Louisiana, January 7, 2022 –A free Soil Health Field Day will be offered on February 3, 2022, at Jacob Rumbaugh's farm in Caddo Parish (driving directions are included below). This field day is a great opportunity for agricultural producers to learn how to improve their operations by improving their soil. Participants will have an opportunity to walk a field and see first-hand how different strategies work to improve soil health. They will hear from producers how improved soil health impacts production. There is no charge to attend, but it is important to pre-register as lunch will be served. This field day is hosted by the USDA Natural Resources Conservation Service and Trailblazer RC&D.
On-site registration begins at 8:30 a.m. on February 3, 2022, at Jacob Rumbaugh's farm, and field day activities begin at 9:00 a.m. The field day will conclude at 1:30 p.m. To pre-register or for more information on the workshop, call or text (318) 237-8350 and provide your contact information and the name of the workshop. Persons with disabilities who anticipate needing reasonable accommodations or who have questions about physical access may contact Trailblazer RC&D at (318) 255-3554 or ceo@trailblazer.org prior to the meeting or event.
This workshop will be conducted in accordance with Louisiana Department of Health COVID-19 guidelines, and attendees are asked to wear a face mask and practice social distancing. If you are not feeling well or you have been exposed to COVID-19, please stay home.
Driving directions to field day: Lat/Long: 32.696701, -93.812832
From I-49 N (going north from Shreveport), take the Hwy 169/ Dixie-Mooringsport Road Exit, then continue east past the stop sign at Hwy 71 onto the Sentell Road. Travel about 2 miles from the stop sign to Jacob Rumbaugh's farm entrance. Turn right into the farm entrance gate and continue to shop.
This presentation is made possible by the support of ENABLE Midstream Partners; Mudd & Holland Consulting Foresters, LLC; Caddo Soil and Water Conservation District; USDA Natural Resources Conservation Service; and Trailblazer RC&D.
Trailblazer RC&D is a nonprofit organization that provides leadership, coordination, partnership development, and technical assistance projects to encourage strong communities, sustainable agriculture, and a healthy environment.
for Ag Producers