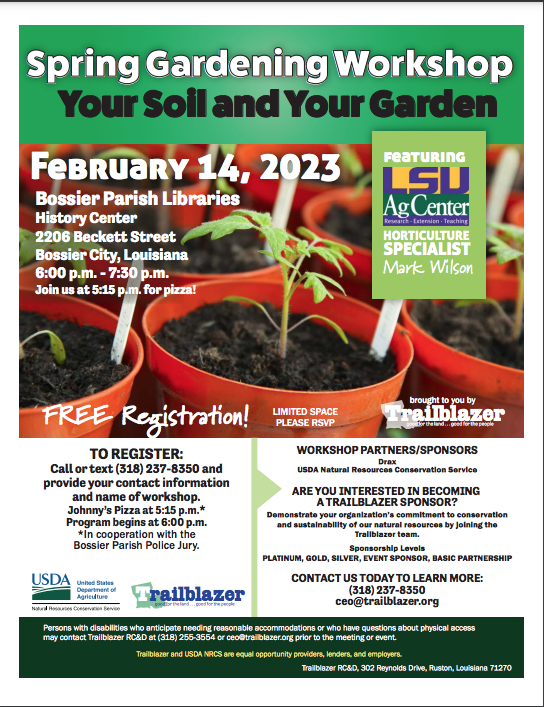 Free Workshop to Help Gardeners Learn How to Prepare Their Garden Soil
Bossier City, Louisiana, January 9, 2023 –A free Spring Gardening Workshop on soil will be offered on February 14, 2023, at the Bossier Parish Libraries History Center in Bossier City, Louisiana. Horticulture specialist Mark Wilson from the LSU AgCenter will present information to help gardeners prepare their gardens for spring and improve soil health to improve production.
There is no charge to attend this workshop, but because space is limited and food will be served, pre-registration is requested. To pre-register or for more information on the workshop, call or text (318) 237-8350 and provide your contact information and the name of the workshop.
The History Center of the Bossier Parish Libraries is located at 2206 Beckett Street, Bossier City, Louisiana. On February 14, 2023, on-site registration/sign-in will begin at the library with pizza at 5:15 p.m. The workshop presentation will begin at 6:00 p.m. and conclude at 7:30 p.m. Persons with disabilities who anticipate needing reasonable accommodations or who have questions about physical access may contact Trailblazer RC&D at (318) 255-3554 or ceo@trailblazer.org prior to the meeting or event.
This presentation is hosted by Bossier Parish Libraries, USDA Natural Resources Conservation Service, and Trailblazer RC&D. Free registration for this presentation is made possible by the support of Drax; the USDA Natural Resources Conservation Service; and Trailblazer RC&D. Contact Trailblazer RC&D regarding event sponsorship opportunities at (318) 237-8350.
Trailblazer RC&D is a nonprofit organization that provides leadership, coordination, partnership development, and technical assistance projects to encourage strong communities, sustainable agriculture, and a healthy environment.