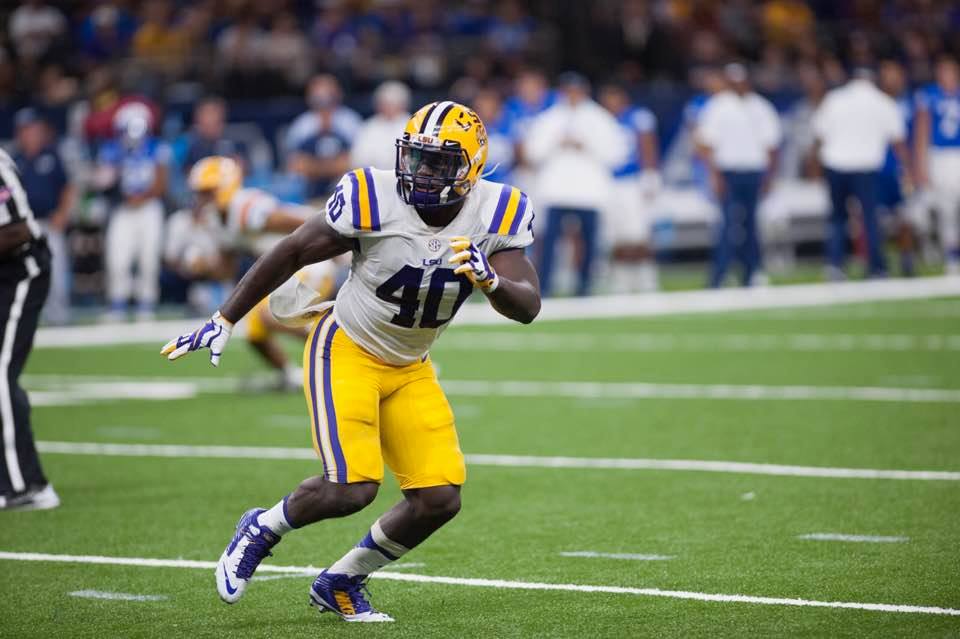 For the first time in his life, Devin White was preparing to go under the knife.
Well, the laser.
The LSU sophomore and budding defensive star in the middle of the twelfth-ranked Tigers' defense was tired of dealing with contact lenses, citing their propensity for falling out during games or practices, and was ready to do something about it.
After talking with LSU's training staff about his options, White opted for LASIK Surgery, the now famous form of vision correction laser surgery, where the patient is awake as a laser creates a thin flap in the cornea. The surgeon then folds the flap and the laser removes corneal tissue underneath. The procedure takes 20 minutes, or less, and patients typically recover with 20/20 vision in less than 48 hours.
"That was probably the best surgery I could get," White said. "I had astigmatism in both of my eyes and I was nearsighted. In high school I didn't even wear (contact lenses) because I couldn't put them in. I was basically blind in high school; our trainer would put them in for me before every game last year. But it didn't hurt, and it was probably only a 10-minute surgery."
White certainly saw everything, in LSU's 27-0 shutout of BYU. Sporting a new jersey number, 40, the one that became a hashtag on Friday nights during his playing days at North Webster, the second-year linebacker looked smarter, stronger and faster than ever.
In the first quarter, White signals Tyler Taylor to let him know a run is coming his way; sure enough, the play comes right to the true freshmen who stuffs the Cougars for a loss. Later, White comes on a delayed blitz which pressures BYU signal-caller Tanner Mangrum into a poor throw and a Andraez "Greedy" Williams interception. In the second half with LSU comfortably ahead, he follows a BYU tailback as he splits out to the far sideline; White plays tight man-to-man coverage against the primary receiver on the play leading to a Corey Thompson sack.
Good luck finding any chinks in White's armor. After cutting 15 pounds in the offseason at the request of his coaches, he's still strong enough to take on the trenches, yet fast enough to run with tailbacks and receivers.
White, who said he's currently in the best shape of is life, was challenged by LSU head coach Ed Orgeron to sharpen his mind this offseason, too.
"I was down here in school over the summer, but I was also getting extra film study in with coach (Dave) Aranda," White said.
"Basically, kind of learning how to be a pro, to be a leader. He taught me how to study the scheme of teams and know the down and distance and what plays they like to run. In the BYU game, I was really pointing out the plays they was running and telling the defense where it was going to go. I give credit to coach Aranda for that."
Spending his summer in Baton Rouge meant White had to sacrifice time with his family back home in rural Webster Parish.
"I miss home so much," White said. "But I just knew if I had a goal to reach, I had to eliminate some things, and one of them was coming home. When I was coming home I wasn't doing anything but having fun, so I was down here handling business."
White did make time to come home and assist with fellow Cullen native Charcandrick West's free youth football camp at North Webster High School's Baucum-Farrar Stadium and Jacob Hester's camp in Bossier City.
"When I did come home it was just for those things," White said. "I wanted to be a part of something like that. At the end of the day that's our community. Me and Charcandrick are like third cousins, we grew up together; anything for a good cause."
By taking summer classes and placing emphasis on events like West and Hester's, instead of LSU's, shall we say, vibrant, nightlife, White is setting a solid example for the Bayou Bengals' talented crop of defensive true freshmen, such as Taylor, Jacob Phillips, Kary Vincent Jr., Grant Delpit and K'Lavon Chaisson.
The group has come along quickly if their performance against the Cougars was any indication. One play form the victory in ticks out to White as noteworthy.
"Going into the BYU game, there was this one play that kept getting Grant (Delpit)," White said. "He just wasn't getting it, but then the game came and he recognized it and was right on it. I was running to the ball but he was already right there to make the tackle. That let me know he was dialed in and the whole defense, as we all saw, was dialed in."
There's no marquee matchup this weekend for the Tigers to jump up and down about; only the University of Chattanooga, 27-13 losers in their first game of the season against Jacksonville State University.
Even with his new 20/20 vision, White refuses to look past the Mocs to LSU's SEC opener at Mississippi State.
"Obviously, they're not a big ranked opponent, but we have to treat every week like the national championship," White said. "If we do that, we'll go as far as we want to go."