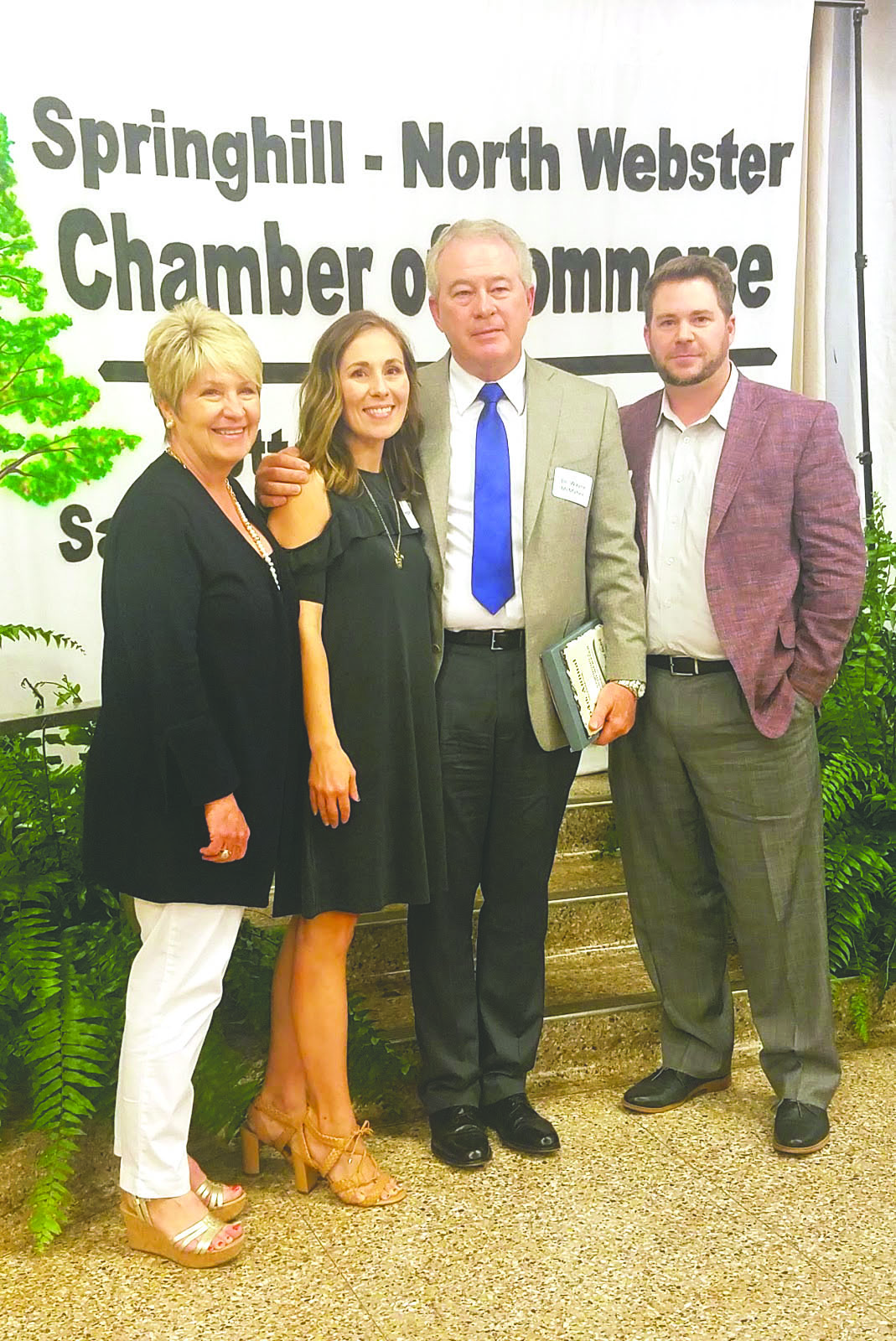 Maria Gonzalez
Special to the Minden Press-Herald
SPRINGHILL — Community members flocked to the Springhill Civic Center April 26, to celebrate the 64th Annual North Webster Chamber Awards Banquet.
There was a particularly special award presented, one that is not given annually. The Lifetime Achievement Award was bestowed upon Dr. Wayne McMahen, owner and operator of McMahen's Veterinary Hospital.
Dr. McMahen is a lifelong resident of Springhill. He graduated Springhill High School, followed by Louisiana Tech, and finishing up at LSU where he received his degree in veterinary medicine.
Shortly after obtaining his degree, he joined the family practice started by his father in 1955. Over the past 40 years, he's turned it into a thriving veterinary practice that services not only Springhill and the surrounding area, but clients from all over the Ark-La-Tex and Mississippi.
"Partly, I believe his success was because he's never learned how to ignore a 3 a.m. phone call," said his son, Springhill City Attorney Stuart McMahen. "He's been there for his clients day and night. He taught us [his children] by example, the value of hard work and about treating others with respect."
Aside from his work, Dr. McMahen also serves on the Board at Springhill Medical Center, the Board at Citizens National Bank, and is a Deacon at Central Baptist Church. McMahen received a standing ovation as he received his ward.
Other award winners included:
The W.H.O – Civic Service Award
Denny McMullan – Ambassador of the Year
Janene Cole – Businesswoman of the Year
Anthony "Lil Frenchie" Manuel – Businessman of the Year
Louisiana Home Care – Business of the Year