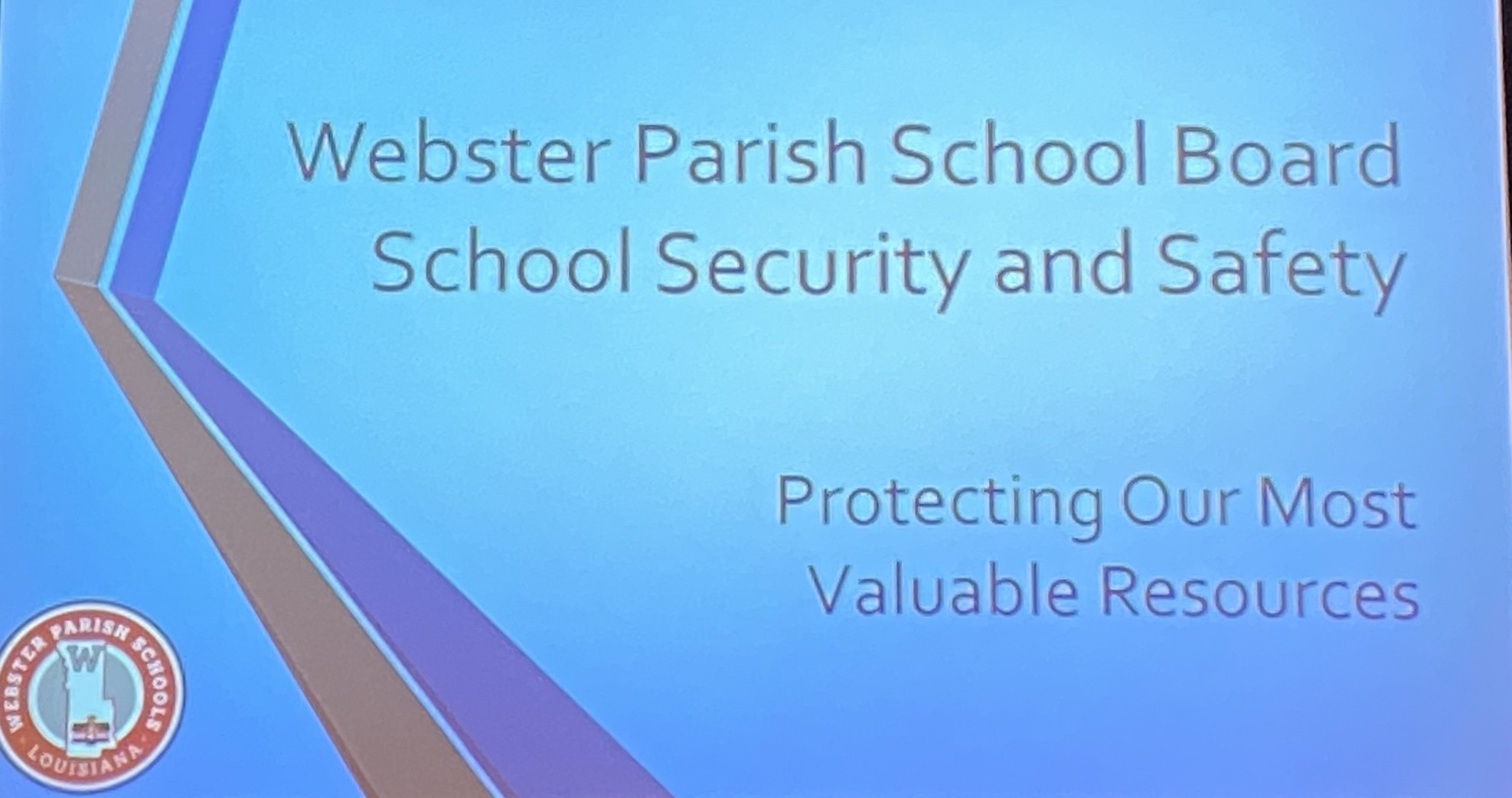 At a special meeting of the Webster Parish School Board on Monday, board members voted to approve funding to supply every public school in our parish with a School Resource Officer (SRO).
Sheriff Jason Parker began his presentation by outlining his experience with SROs: "I have a unique perspective because, when I retired from the Louisiana State Police and came to work for the sheriff's office, I started out as a school resource officer. I split my time between Doyline High School, Lakeside, and Central Elementary — which was tough at times. With almost 27 years of law enforcement experience at that time, that year-and-a-half or two years with those kids was the most rewarding of my career. I saw firsthand the benefits and the importance of having an SRO in each of our schools. SROs are not only there to provide security but also to build relationships with and a positive influence on students. It is very important to me that they get to see professional law enforcement officers in a positive light. I saw how important it is to have SROs in our schools so, when I took office, I looked at our budget and was able to add two SROs fulltime to our office. And then we partnered with the school board and added three more. I think it's time for us to try to add some more. The importance of SROs at those schools — being there as the first line of defense for our kids and the staff at every school — is paramount. Mr. Rowland and Mr. Washington came to me and expressed that the school board was ready to add some more SROs to the schools. We've come up with a plan, and we're sitting on Go. All we need is your permission to move forward."
The primary concern raised by both board members and audience members was that each school should have their own officer and not be required to share one between schools. Obviously, one person cannot be in two places at the same time. The next most raised concern was that of the officers' training and ability to handle dangerous situations.
Sheriff Parker feels strongly about training and having the right personalities in place to work with kids on a daily basis. In response to these concerns, he replied, "All of my SROs have been through a POST Academy. They're certified POST [Peace Officer Standards & Training] officers. And each one of those — the ones we have now and the ones we'll, hopefully, pick up — will go through an extensive training program with active shooter situations. I can say that our SROs probably have one of the most important job positions that we have, at least in my opinion, and it's hard to just pick a number and say 'I'm going to have this many.' You have to have the right people in there. We're going to make sure that those are special folks that we're putting in our schools — not just filling a spot."
Currently, Parker has people ready to start working at every school except one. Phillips Elementary and J.L. Jones Elementary, two schools that are very close together, will temporarily be sharing an SRO until the right person can be found to fill that position. For the schools that do not currently have a SRO, Parker is only waiting for the applicants' physicals to be approved. Those new SROs should be working on campuses by the first of next week at the latest.
Besides approving funding for more SROs, the board also approved funding to lease two marked law enforcement vehicles. Sheriff Parker wants an officer to accompany students on trips when they leave the parish for things like sporting events. He said that it provides extra security for the students, even if it's just instant help if a bus breaks down. In addition, he said, "Just the visibility of a marked car in front of a school can mean a lot."
Funding for the additional SROs and vehicles will be paid for out of the individual maintenance funds in the district, for example the District 6 ½ cent fund for schools within Minden. It will be an increase of approximately $637,000 per year.
An audience member asked if there is any federal funding that could help cover the costs. Superintendent Rowland replied, "I did speak to the state superintendent last week about this very issue — about if we could expect federal funding to come our way to help local districts like ours with the costs of SROs. He fully expects there will be funding coming our way."
However, as Mr. Rowland was reminded by both the state treasurer and the district finance director, "We have to come up with a plan that we can sustain and be thankful for whatever we get because, although there may be some monies up front that may come our way, will it continue to come our way yearly? We have no way of knowing." Rowland concluded by saying, "But I can't say enough about the citizens of Webster Parish and how the citizens have always stepped up for the needs of our kids in every way. And this includes safety and security."
After the SRO portion of the meeting, Jeff Franklin, the supervisor of transportation and maintenance, and Ursula Hullaby, the supervisor of Safe and Drug-free Schools, gave presentations on the physical and mental security measures that are in place.
Mr. Franklin spoke about the physical safety measures. Each school has a crisis plan that is tailored to each particular school. This summer, principals at each school conducted an extensive threat assessment for their schools that will be used to place additional measures. There are standard response protocols in place for dealing with a variety of situations. They have been installing significant amounts of security fencing to help limit access to schools. Most schools are now using a single point of entry so people can be monitored entering the schools. They are in the process of installing electronic door locks that will require people to be "buzzed in" to enter. Franklin stated, "Research indicates that anything we can do to inconvenience the bad guy will save lives."
Franklin said that the district has been using a universal locking system for years and that emergency responders have access via secured lock boxes. He continued by saying, "Probably the most powerful thing we do district wide is locking classroom doors. Statistics tell us that no students have ever been killed behind a locked classroom door." A state law now requires that classrooms be locked during instructional time. "We were locking doors way before the law was passed," said Franklin. To add to that, they are in the process of installing peepholes in classroom doors so teachers can see who is outside before unlocking the doors, and windows are all covered or tinted to keep people outside from seeing in. As a side note, fire codes require that all buildings be easy to exit, so locked doors will not present issues in the case of an emergency evacuation.
All schools are also equipped with metal detectors and security cameras. All visitors must sign in at the office and then wear a visitor's badge while on campus. Drills for fires, lockdowns, and dangerous weather are conducted regularly during the school year. Security and crisis training is ongoing. Mr. Franklin and Ms. Hullaby attended the Louisiana School Safety Summit in Baton Rouge this summer and brought back new information and training to share with the district.
The district is in the process of rolling out two new apps that should increase security. The Rave Panic Button app will be used by authorized personnel only. This app allows, at the touch of a button, a person to simultaneously contact 911 dispatch, administrators, and staff to alert them to an emergency situation. It includes texting capabilities to keep all the stakeholders informed as to what is happening. For students, they will be rolling out the CrimeStoppers Safe Schools app. This app can be used by students to report crimes, suspicious behavior, concerns about someone's mental health, etc. The information is considered anonymous unless it is deemed a life-or-death situation. Crime Stoppers forwards the concerns or information to the school district. This app is intended for middle and high school students, but elementary students might use it as well.
Ms. Hullaby finished the presentations by discussing the social/emotional and mental health measures that are in place.
If a student is reported to be a possible threat to himself or others, counselors use the Columbia threat-assessment instrument to assess the potential threat. "If it's deemed that a student is at high risk, the parents are called, the students are never left by themselves, and then they are sent to a medical professional to be further assessed," Ms. Hullaby stated. At that point, the student cannot return to school until they have been cleared by a medical doctor or a licensed therapist.
There are a number of professionals available through the school system to aid parents and students. They provide school counselors, behavioral interventionists, social workers, educational diagnosticians, and service linking — to provide help finding services to treat substance abuse, anger management, social anxiety, depression, etc. These professionals are provided for the use of both students and staff. "All counseling is private and confidential unless the student or staff member is in danger of harming himself or others," said Ms. Hullaby.
The stresses of living in a pandemic have been emotionally traumatic for many students. Due to this, school counselors have had some duties removed from them in order to give them more time to do their primary job: counseling students.
Kindergarten through 8th grade schools have also started having 15 minutes a day of "community circles" to learn to listen to one another, converse, and learn respect for one another. This falls under the heading of social/emotional learning. "We have a curriculum for K-8. It is an evidence-based program, and it teaches social skills and it helps students become self-directed competent learners," said Hullaby. This can also help teachers to identify students who have mental as well as social/emotional needs that are not being met.
The administrators and staff of the Webster Parish school district are working diligently to maintain the physical and mental well-being of students in our parish during difficult times. The school board's next board meeting will be on September 12 at 6 p.m. The public is welcome to attend.