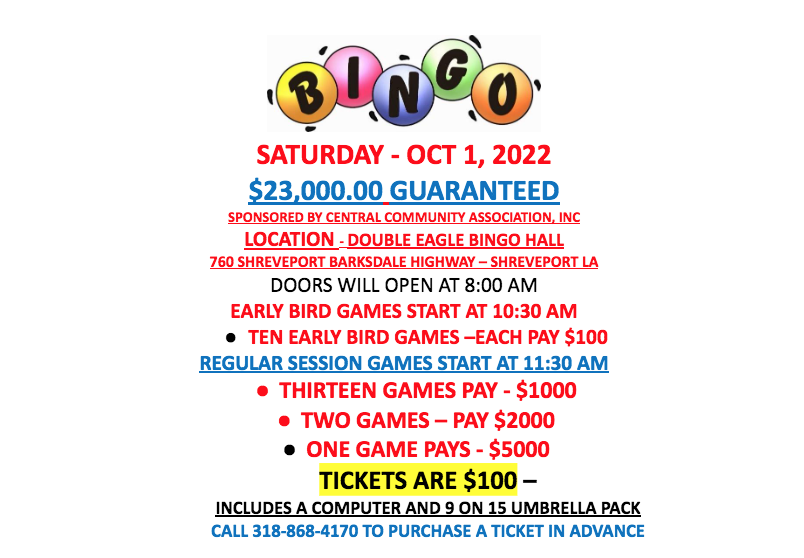 The Central Community Association of Dubberly will be hosting Super Bingo, one of their biggest fundraisers, on October 1, 2022. This event will help them fund their mission to enhance the lives of families who reside in the tri-community areas of Dubberly, Heflin, and Sibley.
The Central Community Association, a non-profit organization, provides nutritional food boxes to about 120 families each month through a partnership with the Food Bank of Northwest Louisiana. And through their partnership with LSU-Ochsner's Partners in Wellness program, they are able to provide a mobile unit, which comes to their community center every three months, to give women annual mammogram screenings.
But that's not all they do.
"For the past ten years we have implemented a Free Summer Day Camp that provides educational and recreational activities to an average of 35 children," said Jeanette Williams, financial secretary for the Central Community Association.
They even operate a community center with a newly constructed recreational facility for families to use for social and recreational activities.
"We would like to invite citizens of Webster Parish to support this activity in an effort to continue many of the programs and activities we offer to the families who reside in Webster Parish," said Williams.
The Super Bingo fundraiser will be held at the Double Eagle Bingo Hall at 760 Shreveport-Barksdale Highway in Shreveport on October 1. The doors will open at 8 a.m. with Early Bird games starting at 10:30 a.m. Tickets are $100 and there is $23,000 available for payouts. To purchase tickets in advance, call (318) 868-4170.