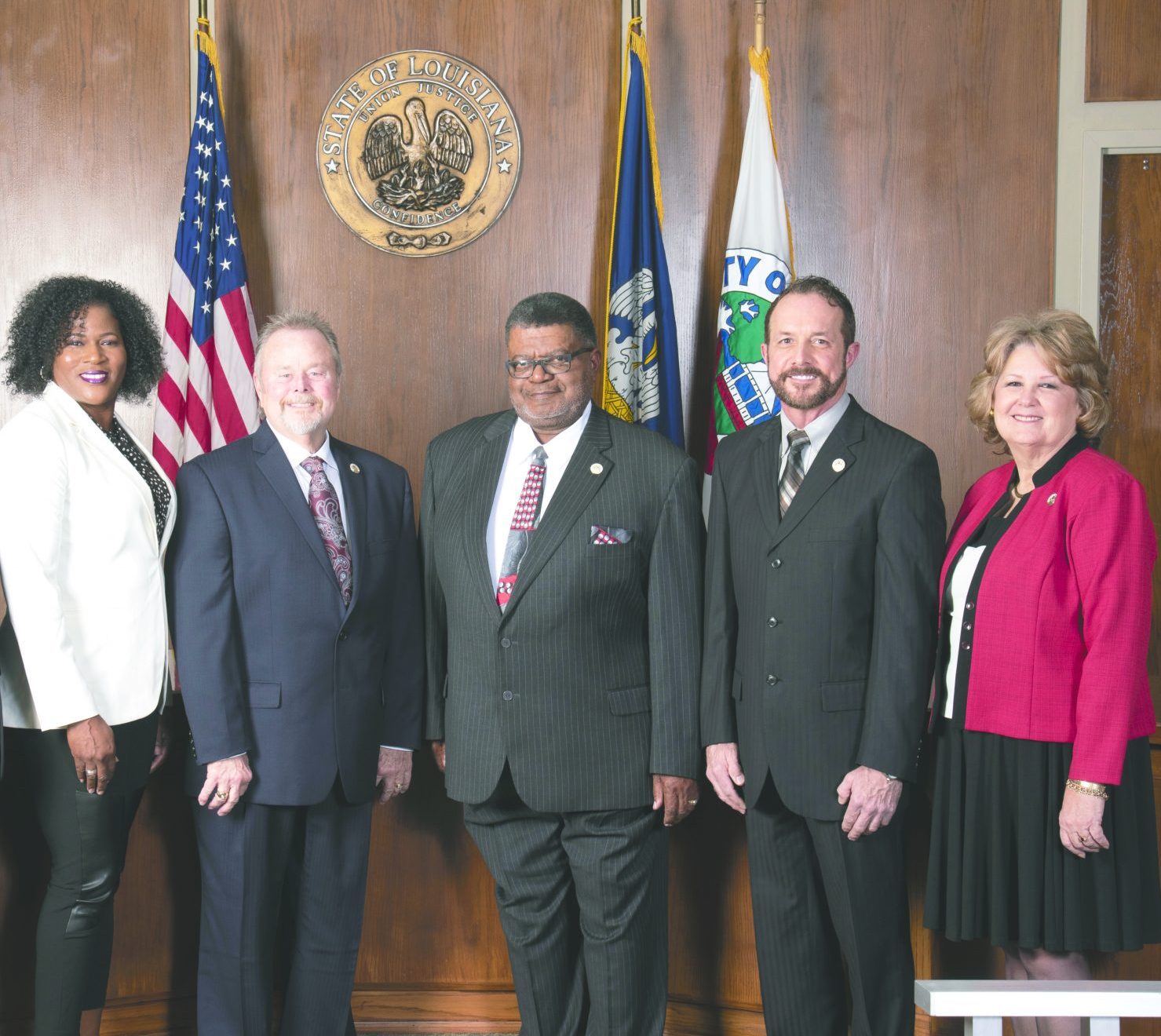 A suit with AEP/SWEPCO suit and the T.C. Bloxom sign at the Minden REC Center were the topics of discussion for the City Council Workshop held at City Hall Wednesday afternoon. The Council and Mayor were in a room with members of the public lining the walls waiting to hear their input on these topics. While the proceedings were mainly civil, there were moments of intense conflict near the latter half of the meeting. At certain points, some Council members chose to leave before the meeting had ended.
In regards to the SWEPCO suit, former Minden Mayor Tommy Davis came to the meeting to explain and answer questions about the suit, since it primarily took place under his administration.
It was explained that after direct negotiations failed with SWEPCO, the City decided to file suit against them with the Federal Environmental Regulation Commission. After years of negotiations, a settlement agreement has been achieved.
In a letter to Tommy Davis from attorneys, the key elements of the settlement are described as a one time $400,000 cash payment and a variety of accounting changes that are ultimately projected to save Minden roughly $300,000 annually. These are projected to be "especially beneficial if Minden adopts a strategy to control peak demands that have been the primary source of average wholesale costs," the letter read.
"If you tie all of this together, and how they figure everything, the rest of the contract from the time this was negotiated, will be reduced by about $4.78 million dollars," said Davis. The life of the rest of the contract ends in 2028, so according to projections, this will save the city roughly $478,000 annually.
Davis then encouraged the Council to consider using that 400,000 cash payment as part of an investment into solar power for the city, in order to take advantage of another agreement in the settlement which is called behind the meter generation. According to a letter sent from attorney's to Mayor Terry Gardner, "savings estimates under the settlement included a significant cost reduction from installing up to one megawatt of behind the meter generation."
Essentially, this means that the city can produce some of its own electricity, which is why Davis is recommending the solar panels. It was estimated that the solar panel project would cost roughly $1.2 million to install, but Davis' recommendation was that it was worth the investment.
"It makes extremely good sense to me, for the City of Minden to invest what money they can to build those solar panels," said Davis.
"They also suggest in the settlement that we start doing some energy classes for our residents as far as how to conserve energy. So we're planning on having some energy conservation classes," said Mayor Terry Gardner.
More discussion was had given the topic by both the Council and the Public, but no decisions were made regarding the settlement.
The other topic of discussion was the T.C. Bloxom sign that was put up at the Minden REC Center. The beginning of the discussion started like other discussions regarding the sign in the past weeks.
The REC Center started a booster club to raise funds for the REC Center. One of the incentives for people to donate was to put their names or the names of businesses on signs and fields after people who donate. Councilman Pam Bloxom donated $40,000 for a fence at the REC Center and T.C. Bloxom's name was put on a Memorial Field.
Councilmen Vincen Bradford, Herbert Taylor, and Terika Williams-Walker referenced Section 13 in the Charter of the Code of Ordinances in the City of Minden to say that they didn't have the authority to do so without the Council's Approval.
Section 13 reads, "The council shall have authority to exercise jurisdiction in the matter of streets, sidewalks, sewers and parks, and to open and layout and construct same; to repair, maintain, pave, sprinkle, adorn and light the same, and the right to accept maps and plans for additions and subdivisions to the municipality, and have the power to lease, sell, donate or otherwise dispose of any public square, plot or reservation within the limits of the city, provided same be made only for public purposes to the federal, state, parochial, or municipal authorities; also the right to vacate any street or alley or any portion thereof and, where the title is in the city, to lease or dispose of same by sale or otherwise, and also the right to exchange property, including streets and alleys, with property owners, so that new streets and alleys may be laid out and dedicated, the streets or alleys deeded by the city to become private property."
Rocke Musgraves, Director of Parks and Recreation, came forward to express both his willingness to work together with the council, but also his concern in resolving the issue as soon as possible, given that this conflict has caused sponsors to back out.
"I got a phone call from a person who asked if they were going to tear the sign down at the REC. I said I don't know the answer to that, I'm not part of that. And he goes, well, I'm pulling my donation. Then there was another company that contacted me, and they're not going to give now. So hopefully we can give you the information that makes everybody comfortable moving forward, because this is a community. It's not us and them, it's us, period," said Musgraves.
Later in the discussion it was brought up by Councilman Herbert Taylor that the REC Center had started charging friends and family for attending games at the REC Center. "I had an issue, not with my age group, but the older age groups, parents are now being charged to come see their kids play sports. I mean I can understand when they get to high school or Jr. High level but these are elementary school kids," said Taylor.
"One of the big reasons people weren't playing football anymore was because of the quality of the program. The two dollars, we could pay better officials. We had highschool certified officials to do all the games, and that really helped. I certainly understand that and I would certainly be willing to talk about that," responded Musgraves.
Later in the discussion, Terika said, "Here's the issue. Things are being done. Everyone is not informed. It's not necessarily that it's a problem. I understand you do pay. You have to pay admission, you have to pay to park, but more than likely that's not city property. Here again, things are being done. We get complaints and we have no knowledge. We can't answer questions about anything when we have people calling us about fees being charged for whatever. And honestly, they probably think we're lying, but we don't know what's going on. There is a lack of communication."
Musgraves responded, "I think that's why we're here. We need to come up with a process. Plus, I think we need to also come up with a set of, I don't know if you call them ordinances or rules, about how all the departments are supposed to operate. Like who has the authority to do what, I think that's a great question."
Later during the discussion, Councilman Pam Bloxom offered a past case in which the city had used advertising to pay for something at the REC Center. "I have a point of clarification for you, Mr. Bradford. So when I went soliciting their help on behalf of the booster club, they pointed out to me that despite the fact that you stated that there was supposed to be no advertising at the REC Center. Coca-Cola was passed by Mayor Roberston to contribute for the scoreboards because the city had run out of money to build those. So he went to Coke and Coke agreed that if their logo appeared on all the scoreboards, they would pay for their scoreboards. So advertising is not entirely eliminated because it was provided for by Coca-Cola," said Bloxom.
"I'm aware of that, and Coca-Cola was supposed to be the only thing that had to do with the Recreation Center," said Councilman Vincen Bradford.
Michael Fluhr, City Clerk, clarified, "Just for everybody's information, the contract with Coca-Cola is over. When the contract existed with Coca-Cola, there was no beverage to be sold other than Coca-Cola products period. The contract is done. So if we're going to need scoreboards now, it's city scoreboards, or GBT scoreboards, or b1 scoreboards."
Later Fluhr also asked the members of the Council individually if they wanted the sign to be torn down. Councilman Taylor, Bradford, and Walker all agreed that they wanted it taken down. "The point is for it to come down, and for things to be done the correct way — include the Council. Do I want it down and then we proceed and do things the right way? Yes. Because it's not about the name of it, it's the matter in which it was done," said Walker.
At the insistence of Councilman Bradford, Councilman Beard was asked to say whether he wanted it up or taken down. "I said I wasn't gonna speak, but I will speak since I've been asked a question. Going back I wish all of this could've all come to us in the beginning. I think the reason it didn't, this is my opinion, I don't want to be attacked, please, I just want to state my opinion. But personally, what I've been watching over this whole last year, I felt like a lot of it had to do with, because it's Pam, and there are just some personal issues, and that's just my opinion, and it may not be true."
At this point Councilman Bradford interjected, saying that Beard wasn't answering the question. At this point speaking quickly turned to shouting, resulting in Councilman Beard leaving the Workshop.
As the meeting seemed as though it was coming to an end, a flight instructor and local pilot asked raised a question about the grants were voted against in the last City Council Meeting. This exchange did escalate but by the end of the conversation Councilman Taylor gave the pilot his number and asked to talk later.
There was discussion, questions, and arguments, but ultimately the end result was the situation being exactly the same as when the meeting started. No firm decisions were made on what to do about the T.C. Bloxom sign nor future situations regarding the selling of advertising spaces as a source of revenue for the REC Center. There was also no mention of holding a future meeting to discuss it further.