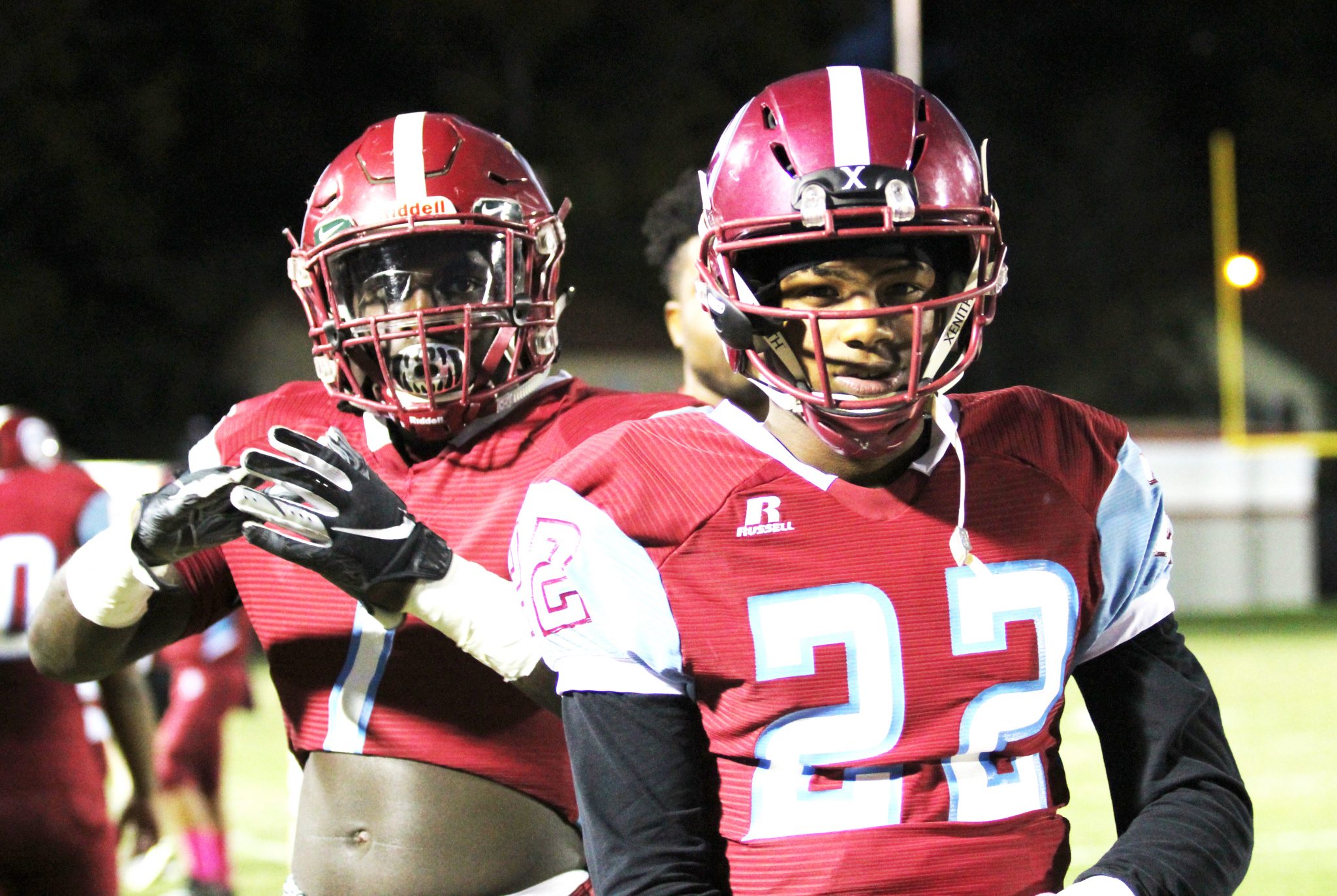 This weekend of high school football was a strange one in the context of this season. Lakeside lost and only scored twice (unusual), Minden lost their homecoming game, North Webster played on Thursday night and Glenbrook won.
It wasn't my favorite weekend of football, I don't love standing in the rain trying to take pictures, though I do love the cool weather that accompanies the rain afterward.
It's not the end of the world for any of the teams, just a weird week.
Lakeside had a tough break. Against a program like Calvary, it's difficult to sustain that many injuries, especially if you're a spread-em-out-air-em-out team on a muddy, wet field. And extra-especially when one of those injured players is Trey Sanders. Sanders should be back this week for their game against LaSalle. Zachaeus Sumlin will hopefully be back for the Warriors as well. Head coach Jason McClendon calls him "the fastest guy on the field."
Even through a less-than-stellar night for the Warriors, Jacquez Lott was a monster all game. This kid is unreal. He puts up Barry Sanders numbers every game. He's also a very well-spoken, humble young man who did not hold my spelling his name incorrectly earlier in the season against me. Lott ran for 257 yards against Calvary.
He has three 200-yard rushing games this season already. He's averaging 8.1 yards per carry.
The Warriors need quarterback Jordan Preuett to complement Lott, and I think Preuett needs Sumlin and Sanders as his main targets to maximize his efficiency.
Schools like Calvary have the luxury of having loads of players to choose from, thus avoiding disaster when injury strikes. Early in building his program, McClendon knows that the Warriors don't have the same perks.
Lakeside will bounce back quickly. This wasn't a trap game. They came back down to earth after completing an unbelievable comeback and having a historic win the week prior. I also want to point out that "come back down to earth" is not an insult. It's defined as dealing with life again after an exciting time.
Minden's loss was tougher to swallow. The Tide needed that game. Turnovers struck again in the worst possible times, and it cost Minden another game.
One Bright spot for the Tide was in finally unleashing Jakobe Greenard. With Greenard and Jacareon Lathan, Minden has two explosive playmakers to compliment workhorse Lieric Robinson. Those three players give head coach Spencer Heard a few options to choose from offensively, even without having to air the ball out too much.
Last Friday wasn't the game to do it because of the rain (Minden has had a lot of rainy games this season), but I think letting quarterback Trent McLaughlin loose might do wonders.
I think there has been a lot of timidity around turning the offense totally over to the young quarterback, and rightfully so. You have to earn that spot. But I've been thinking that if he could get a game under his belt where he got to throw a lot, he might understand how good he can be. This is why I'm not a coach. The decisions are too hard. You want to play it safe and feed the ball to Robinson as often as possible. You want to get the ball in the hands of Greenard and Lathan. You want your quarterback to flourish. The problem is that Minden have dug a hole for themselves this season and now they can't afford to lose another game really.
Now #4 Northwood comes to town and hasn't lost all season. I'll talk about this game later in the week, but count me among the ones who think the Tide may pull something special off this week.
Let's talk Glenbrook. I couldn't be happier for coach Drew Maddox, Coach Feaster, and their program. It doesn't matter who you play or how it happens, winning a game is obviously the goal.
The Apaches got their first win of the season and won it handily. Cade Clemons scored a defensive touchdown and caught three passes for sixty yards on offense. Marshall Meek was as consistent as he has been all season long. Meek is tough.
Winning a game on the road like that is how teams develop chemistry. You get the bus trip on the way home to scarf down burgers and just be happy kids. The coaches get to relax, if only for a few minutes.
Congrats to the Apaches and Coach Maddox. Well-deserved win. With the win, the Apaches will see their first postseason in four years.
North Webster may have hit a bit of a wall. Losses in consecutive weeks to Logansport and Airline aren't anything to sneeze at. Logansport hasn't lost a game this season and Airline is a 5-A school who are far better than their record indicates.
I still like the Knights. I really like the Knights. They are a complete football team.
Eddie Rollen is a touchdown waiting to happen.
Tyrell Markray and Scottie Johnson are fantastic talents (Johnson looked even better on defense at times against Airline).
I think North Webster will win two of their last three games at least. The season finale at Loyola will definitely be interesting.
The Knights shouldn't be too concerned after the last two weeks, but the sense of urgency is creeping in the closer we get to the end of the season.