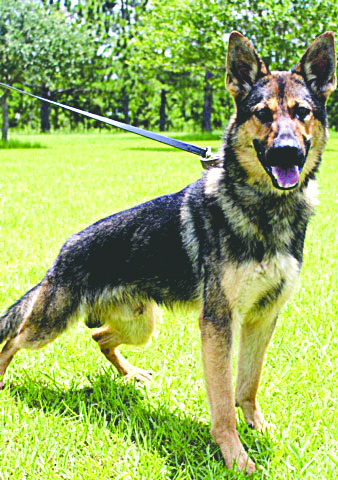 New MPD K-9 began patrols Wednesday night
Minden Police Department's K-9 Tigo made his first arrest Thursday night. MPD Officer Josh Lavrine conducted a traffic stop near the Homer Road at about 9:00 pm Thursday night. The officer discovered the driver, Gavin Green, did not have a license to operate a motor vehicle.
"Green was displaying signs of deception and requested to retrieve his backpack from inside the vehicle," according to a press release from Police Chief Steve Cropper.
Officer Lavrine requested the assistance of Officer Shane Griffith and Tigo. After Griffith and Tigo arrived, they conducted an open air procedure and Tigo alerted to the suspect's vehicle and backpack which was inside the vehicle.
Officers searched the backpack and located a black digital scale, a box of clear plastic baggies, a grinding device used for marijuana and a bag containing one ounce of natural marijuana with an estimated street value of $300.
Gavin Green of the 200 block of Goodwill Road was placed under arrest and charged with Possession of Schedule One Marijuana with Intent to Distribute and Possession of Drug Paraphernalia. He was also cited for No Driver's License and No Signal. Green was transferred to the Bayou Dorcheat Correctional Center.
Minden K-9 Unit Tigo completed his training and certification last Friday and began working the streets of Minden on Wednesday night.