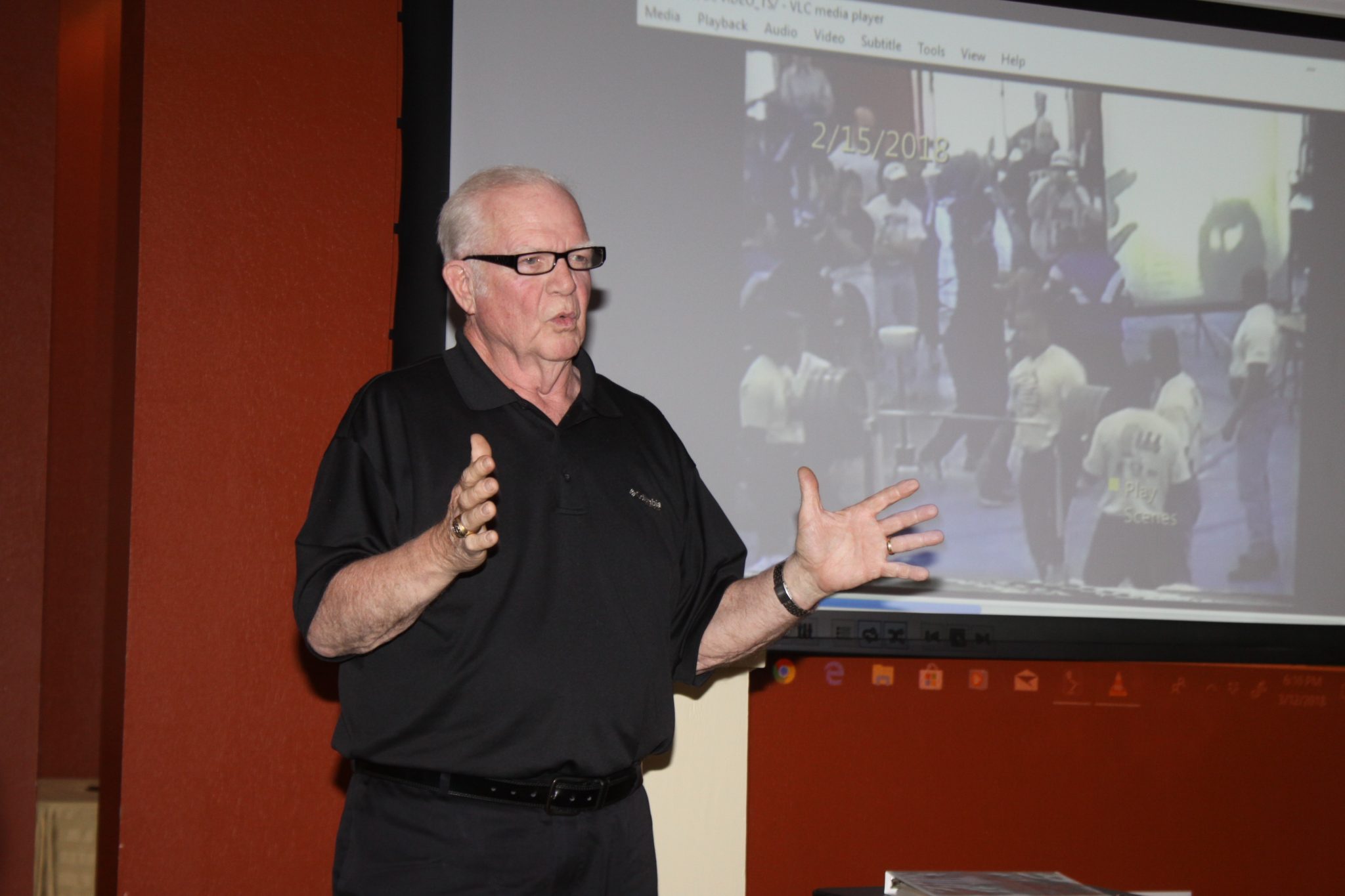 Minden's own Dr. Billy Jack Talton was the guest speaker Monday evening at the Dorcheat Historical Museum's "Night at the Museum" oral history program.
Talton, who developed the first high school powerlifting team in Louisiana, gave an overview of his life, from his time at Minden High School in the '50s to serving as a powerlifting official to this day.
Talton was introduced by Minden resident Ann Harlan, who said she has known him since the first grade. Harlan is a Dorcheat Museum Board Member.
Talton started his presentation by telling the large audience, including several of his family members and Minden High classmates, how honored he was to be back in Minden and to see so many familiar faces.
"Minden holds many memories for me," he said.
Talton spoke of his days playing football at Minden High, including playing as the starting guard on the 1956 State Championship team. He told of the time that he broke two teeth during a practice when going up against fellow teammate Billy Joe Booth. He credits Booth, who he described as one of the best defensive lineman to ever play for Minden, for his development as a football player.
The Minden High football letter jacket that resides in the Home of Champions display at the Dorcheat museum is actually Talton's letter jacket.
Talton said he got involved in weight lifting after getting kicked around the football field as a sophomore at Louisiana Tech by two guys who were younger, smaller and less experienced.
"We did some closet weight lifting at Minden, but it was not really encouraged," he said. "I knew that something was wrong, and I followed them around. Every afternoon, they would go into a room for an hour or two and I would hear things clinking and clanking around in there. They had found a weight room and had started working out, and I joined them."
Talton told the audience how much more comfortable, stronger and confident he was as a football player after he started his weight training. The rest is history.
Talton played football for Minden High, Louisiana Tech, and the Twin City Panthers Semi-Pro football team. He earned bachelor's and master's degrees from Louisiana Tech in the mid-sixties and an Ed.D. from Northwestern State in 1972. He coached football for 13 years as an assistant coach at Bastrop High, Captain Shreve High, Northwestern State, and Natchitoches Academy, later serving as head coach at Cedar Creek School in Ruston.
Initially viewing weight lifting as a means of motivation for his football teams, Talton developed the very first Louisiana high school powerlifting team at Bastrop High School in 1964-65 and became known as the father of LHSAA Powerlifting.
He served as a Professor of Health and Physical Education at Louisiana Tech from 1974 to 2001, where he formed and coached the Louisiana Tech Powerlifting Team.
Talton served as the National Collegiate Powerlifting Chairman for 12 years.
"I was involved in many of the political movements that shaped the sport for a long time," he said.
He was instrumental in creating the Women's Division of the United States Powerlifting Federation so that women could compete in the sport. Prior to this, there was no division for women. As a result, Talton's own daughter was one of his powerlifting athletes at Louisiana Tech.
"At the time, the administration of Louisiana Tech was not particularly open-armed about me having girls sign up for weight lifting and me having them lifting weights," Talton said. "Actually, girls work better and give you a better effort per pound than guys. So it did not bother me to have them in there competing."
Talton's Louisiana Tech men's and women's teams won 11 national championships each during his 27-year college coaching career, distinguishing him as the winningest coach in the history of collegiate powerlifting. His teams have competed at high school, collegiate, national and international levels of competition, winning numerous awards and championships.
He has also been instrumental in developing powerlifting at the high school level, founding the oldest continuous high school meet in the nation and hosting 22 consecutive high school invitational meets at Louisiana Tech.
In 1994, Talton was inducted into the Louisiana High School Powerlifting Hall of Fame. In 2005, he was recognized as a Distinguished Alumnus for the Louisiana Tech College of Education.
In 2012, the fitness room in the Maxie Lambright Intramural Sports Center on the Louisiana Tech Campus was named in honor of Dr. Billy Jack Talton. During the presentation, he fondly remembered what it was like to see his name up on the wall in huge letters at the Sports Center.
Talton was inducted into the Ark-La-Tex Sports Museum Hall of Fame in 2014 and the USA Powerlifting Louisiana Hall of Fame in 2015. He continues to be involved as a powerlifting official at both the state and collegiate/national levels. Talton will be officiating both an upcoming state meet in Alexandria and an upcoming national collegiate meet at Texas A&M.
"To be successful, you have to work the right way – work harder, work longer – and you have to be enthusiastic," he said.
After his hour-long presentation, Talton expressed how much he enjoyed his visit back to Minden and getting to see the museum.
This was the 60th oral history program for the Dorcheat Museum and the 67th museum event for Dorcheat Museum over the last ten years.