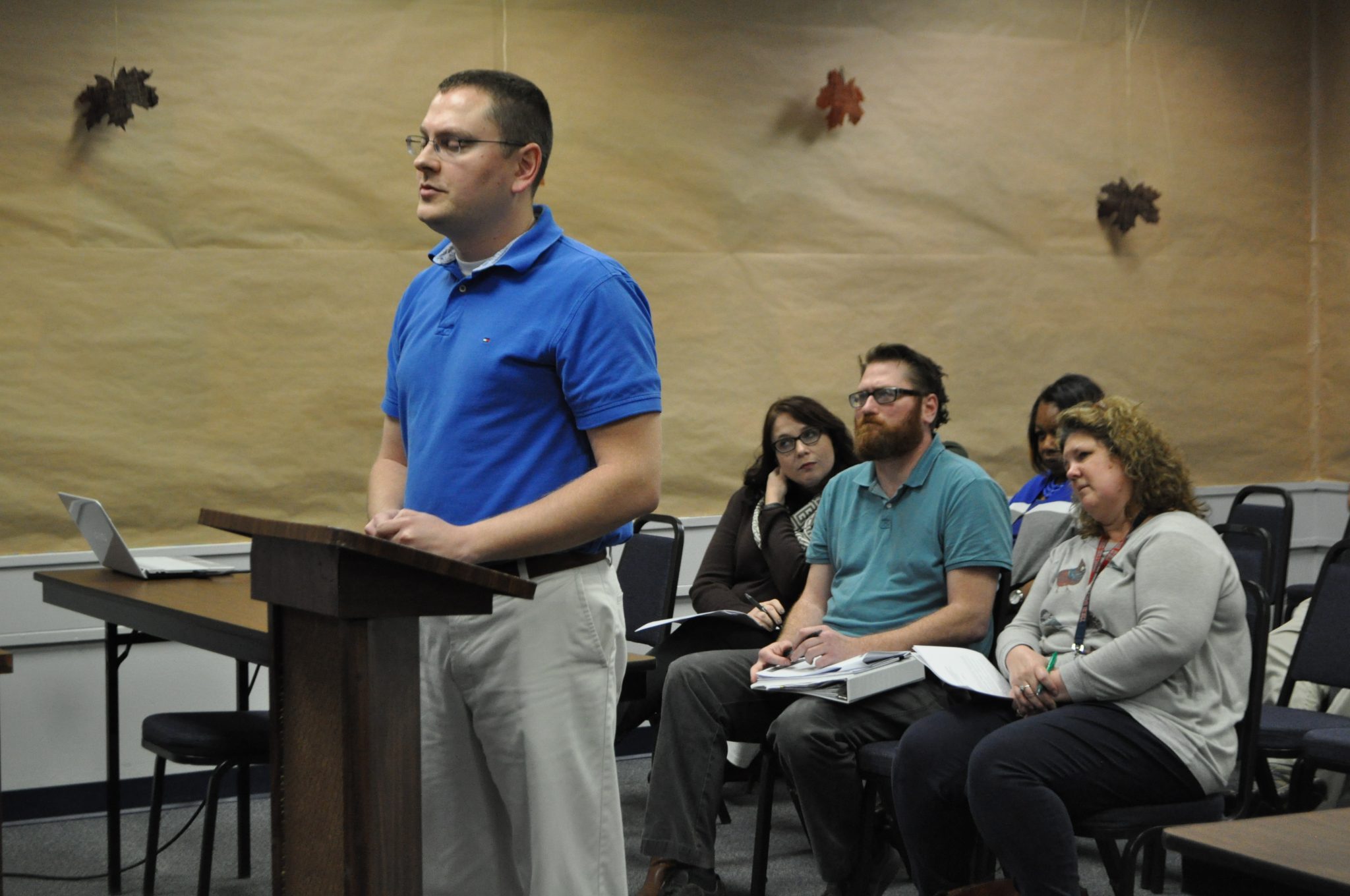 The Webster Association of Educators presented a proposed alternative teacher salary schedule to the Webster Parish School Board ahead of a vote by teachers set for later this month.
Minden High School Teacher Daniel Blell said what the WAE is offering is competitive with school systems such as Caddo and Bossier parishes, but will still fall in line with what the Webster school board needs to do to save money.
"Webster Parish has always been the most competitive around here," he said. "Teachers in my position were super happy to be there. I know several teachers that came from Claiborne, Ruston, and Shreveport to be a part of our team. They were coming because we had such a competitive salary schedule. The (board) proposed salary schedule does not meet that same level. It's significantly lower. It still puts us above Claiborne, but we're far below Caddo and Bossier."
He said the current proposal to slash $4,000 from new teacher pay and cap a teacher or administrator's pay after a certain amount of time is "just unacceptable." This means some teachers would never see another pay raise in their entire career.
Another issue is retirement. Retirement is based on a teacher or administrator's last paycheck or their highest pay scale before retirement.
Teachers and administrators are paid according to steps on the salary schedule. The current board proposal on the table caps the steps at 25. WAE is proposing to increase the steps to 35, which over the long-term would allow teachers to still get a pay increase for a longer period of time in their careers while at the same time still saving the board money.
"This lets them finish with a higher retirement check," he said. "The major benefit is retirement…the whole idea of this is teacher retention."
Blell said WAE took the proposed salary schedule given to board members in December 2016 and developed their proposal based on those numbers and step increases. For the last several months, the board and teachers have been in talks regarding unfreezing pay and how to do so with a tight budget in mind.
A financial workshop is set for 4 p.m., Monday to discuss with principals and teachers the two proposals. The accounting department will be at North Webster High School at 4 p.m. in the cafeteria, Feb. 21, in the Minden High School auditorium at 4 p.m., Feb. 22, and at Lakeside Jr./Sr. High School in the gym at 4 p.m., Feb. 23.
All ballots will be due at noon to the accounting department on Feb. 24 to vote on the proposed salary schedule.
The schedule, or schedules, to be voted on will be discussed at the workshop Monday.
In other news, the school board approved:
Travel allocation increases for MHS principal Robin Tucker and NWHS principal Jeff Franklin
Re-advertisement for the site of the old Springhill High School. This will be the third time the property has been put out for bid. There will be no minimum bid on the property for this third round, Superintendent of Schools Dr. Dan Rawls said.
The purchase of 10 tables and 10 chairs for J.A. Phillips Middle School, for $1,300, using District 6 half-cent sales tax
Work to cover gap in a fence caused by a tree root on the playground at Brown Upper Elementary School, for $75, using the Springhill Maintenance Fund
The repair of a breezeway at North Webster Lower Elementary School, for $2,700, using Shongaloo Building Fund
The replacement of one 5-ton package unit with new ductwork and heat/cool window unit in the office at North Webster Junior High School, for $12,900, using Sarepta Maintenance Fund
The repair of a water leak outside the gymnasium of NWLE, as well as troubleshooting the hot water system, and work on circulating water pumps, for $780, using Shongaloo Building Fund
The replacement of an intercom system and upgrades at Central Elementary School, for $15,150, using Consolidated 3 Maintenance Fund
Travel for a five to six pre-K teachers to attend the 2017 Pre-Kindergarten Teachers Conference on Feb. 23 through 24, in Austin, Texas
The purchase of 30 computer desks and chairs for $2,700 for Webster Junior High School, using District 6 half-cent sales tax.
A one-year service agreement with Homeland Safety Systems for $72,000. Funding for the agreement will come from all maintenance funds in the parish.
The next school board meeting is set for March 6.