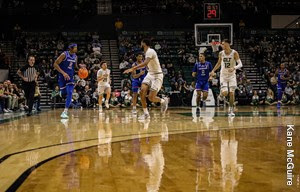 Louisiana Tech Athletic Communications
Louisiana Tech erased a 13-point deficit, but ended up falling late to Charlotte by a final score of 68-66 on Saturday afternoon inside Halton Arena.
The first 15 minutes of the second half was the best stretch of basketball for LA Tech (8-6, 1-2 C-USA), going 10-of-20 from the field while limiting Charlotte (11-3, 2-1 C-USA) to just 17 points.
During this part of the game, the Bulldogs went on a 13-2 run, capped off by a fast-break layup from Cobe Williams to take a 59-57 advantage with 6:07 to play.
However, the 'Dogs only got points on one of their next eight offensive possessions, a cold stretch that included a pair of turnovers and six missed field goals. The 49ers were not much better, but they did get a big three-pointer from the wing by Montre Gipson while also knocking down six of their final seven free throws to remain unbeaten at home.
LA Tech used the three-ball to stay in the game at the start, sinking six of them through the first 10 minutes of the contest. The sixth one came from Quandre Bullock, followed by a dunk from Dravon Mangum, which gave the Bulldogs a 22-21 edge with 8:30 remaining in the first half.
A 14-2 run ensued by Charlotte, including nine straight points by Brice Williams who finished with a game-high 31 (was 8-of-9 from the field in the first half, but held to 1-of-3 in the second half). The 49ers lead maxed out at 40-27 just before halftime.
LA Tech was fortunately to only be down eight at halftime (40-32) after Charlotte shot 65.4 percent through the first 20 minutes. The 49ers managed just 36.8 percent shooting over the final 20.
Williams was the offensive leader for the Bulldogs, scoring 21 points followed by Mangum with 17 and Isaiah Crawford with 12. As a team, LA Tech shot 42.1 percent from the field (24-57) and 45.8 percent from downtown (11-24).
QUOTABLES
Head coach Talvin Hester
"I tell the team every day to value every possession. We you get a lead, you have to really execute on the offensive end by getting a good shot, put pressure on the other team. I thought we got a little sloppy with the ball and our possessions after we took the lead. On the defensive end, I did not think we managed the game well. One of the big possessions being when we fouled and all we needed was a stop since it was a one-possession game. We have to manage and value every possession and be solid."
"Our guys needed to do a better job of shot faking and keeping them off balance because of their size. We played off one foot too much in the first half. On the road, you cannot have possession blunders down the stretch. Especially when you play good enough to take the lead late."
— Featured photo courtesy of Kane McGuire, Louisiana Tech