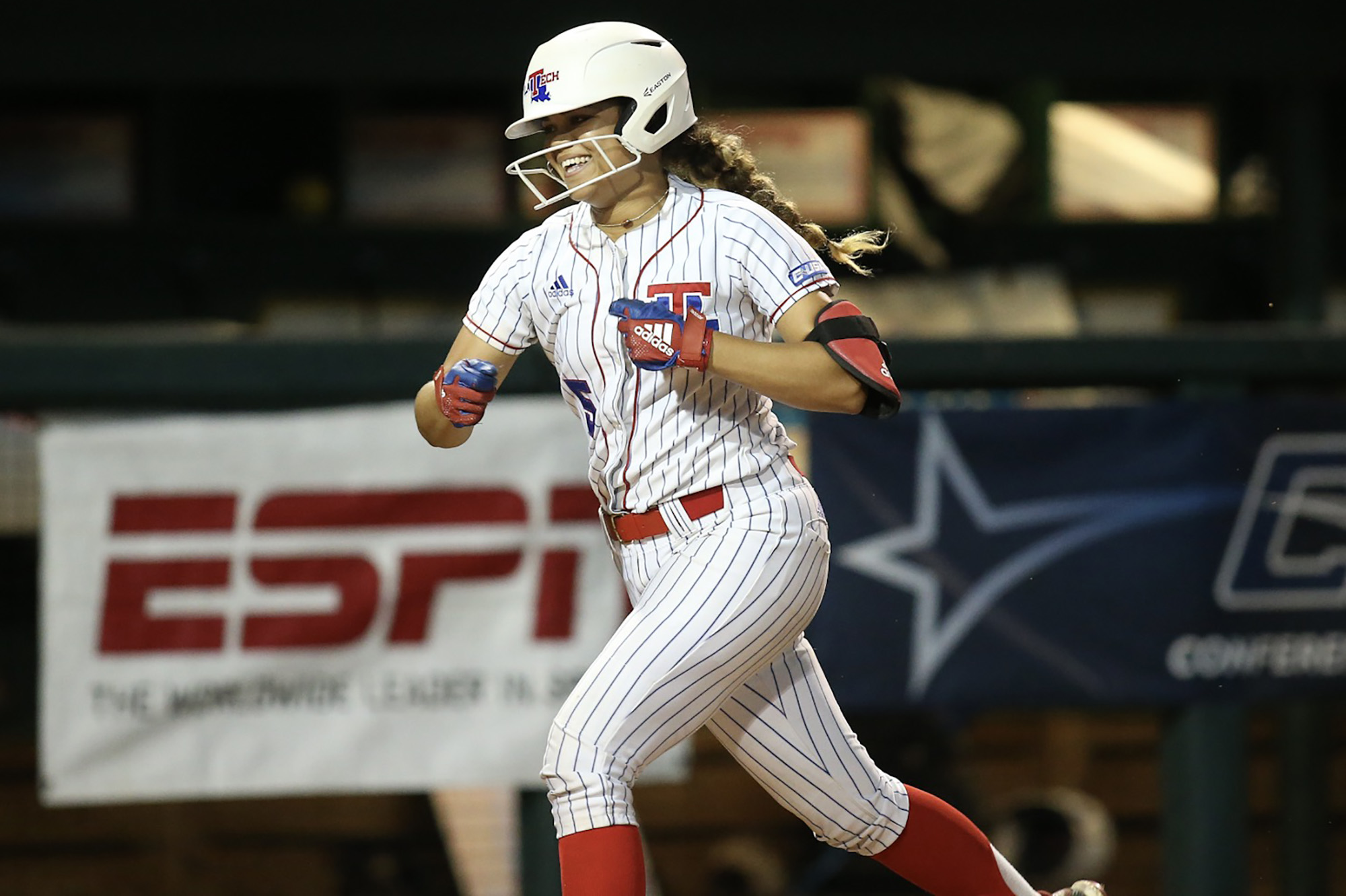 BIRMINGHAM, Ala. – After a seven-hour rain delay, Louisiana Tech's bats brought the thunder and lightning.
Jazlyn Crowder and Sloane Stewartson each homered and Kimmie Atienza and Lindsay Edwards each recorded three-hit games as the No. 2 seeded Lady Techsters (42-14) dominated No. 6 seed Middle Tennessee 10-0 Thursday night at Mary Bowers Field.
With the win, Tech advanced to a Friday morning match-up against No. 4 seed Marshall at 9 a.m. The Thundering Herd defeated No. 1 seed North Texas 1-0 earlier in the day before the skies opened up and more than two inches of rain fell in the area.
Tech snapped Middle Tennessee's seven-game winning streak at the Conference USA Tournament, dating back to last season's run to the title by the Blue Raiders. MT opened up this year's event Wednesday defeating UTEP (4-3) and WKU (1-0) behind the strength of the pitching of freshman Kailey Ahlstrom.
Ahlstrom didn't fair nearly as well against the league's top offensive team on Thursday night as the Lady Techsters banged out 12 hits and 10 runs in the run-rule shortened game.
"I thought we were laser focused," said Tech head coach Mark Montgomery. "Our approach at the plate was phenomenal. Even our outs were loud. It started with some great at bats in the first inning and just continued throughout. This team continues to play with a purpose."
Crowder, named the Conference USA Player of the Year Tuesday, opened the game with a two-run home run deep over the left centerfield wall at Mary Bowers Field, giving Tech a 2-0 advantage. It was Crowder's ninth home run of the season.
Edwards and Bayli Simon and Mary Terral walked to load the bases with two outs in the first but were stranded as Marilyn Rizzato fouled out.
Tech added another run in the third inning as Terral's line drive to deep left field plated Edwards from third base. The Lady Techsters led 3-0.
Krystal De La Cruz (16-3) was once again sharp in the circle for Tech, allowing one single in the first and one single in the second for the only hits of the game for the Blue Raiders.
De La Cruz struck out three and walked one in the shutout victory.
Tech then exploded for seven run on five hits in the bottom of the fourth inning, highlighted by Sloane Stewartson's two-run home run to left centerfield against Middle Tennessee reliever Corrina Dodd. Rizzato and Atienza both recorded two-run hits in the inning as well.
Ahlstrom (11-11) took the loss, allowing four runs – three earned – on eight hits and two walks.
Dodd allowed six runs on four this and two walks in 0.2 innings of relief.