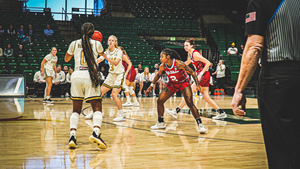 Louisiana Tech Athletic Communications
BIRMINGHAM, Ala. — Louisiana Tech used a defensive stretch in the fourth quarter, holding UAB to just 1-17 shooting, and built their largest lead of the game at 12 then held off a furious UAB comeback down the stretch to win on the road 61-55. 
Tech's defense held the league-leading Blazers to 21 points below their average and just 28 percent shooting (18-64). Tech shot 39 percent from the floor on 22-57 and hit 15-20 from the line (.750).
Keiunna Walker produced her fourth straight game with 20-plus tying her season-high with 26 points. Robyn Lee joined Walker in double figures with 12 big points off the bench. 

Neither team could find much rhythm or separation in a defensive-minded first half. However, LA Tech (11-6, 4-3 C-USA) put together a 9-2 run in the second quarter to build their largest lead of the half, 22-16, on three straight baskets by Walker.
UAB (9-6, 1-5 C-USA) quickly answered with back-to-back threes and cut the lead back to 2. Walker added two free throws, followed by a bucket by Lee inside the final minute to give Tech a 28-23 lead at the half. Tech held UAB to a 1-10 start from the field and just 30 percent for the half (8-27).
In the third, Tech built its lead to eight (36-24), with 6:10 remaining thanks to a 6-0 run, but UAB would not allow the Techsters to pull away. Both teams traded blows the over the remainder of the period, and after back-to-back buckets from Mackenzie Wurm and Lee, Tech took a seven-point advantage heading into the final stanza (46-39).
After Walker picked up her fourth foul early in the fourth, Lotte Sant hit a big three to give Tech a double-digit lead which Lee extended to 12 off a layup (55-43). Tech's 12-point lead was quickly cut to four due to an 8-0 Blazer run (57-53) with 33 seconds remaining. UAB managed to shave a point off the lead and make it a one-score contest, but three made three throws from Walker helped ice the game.
LA Tech is now 9-0 this season when holding opponents to under 60 points and 7-0 when out-rebounding the opposition. Tech pulled down 45 rebounds to UAB's 42. Amaya Brannon pulled down 10, Silvia Native grabbed seven, and Lee registered six.
Mackenzie Wurm once again made her presence known inside, registering a career-high five blocks. 

QUOTABLES
Head Coach Brooke Stoehr…
"I am proud of our team for finding a way to win on the road today. Our defense was solid in keeping them out of transition and defending the three-point line. UAB shoots it so well from three and spreads you out. It makes it hard to defend. Holding them to 55 today was big for us.
They are battling for each other, and we continue to have people step up and provide a spark for our group. We sometimes struggled to finish around the rim but continued to attack and get to the free-throw line. Keiunna was big today. She was aggressive and found ways to get to the basket and free-throw line, especially in the third quarter. Robyn and Silvia came up with some big rebounds for us, and Wurm protected the rim and came up with some big blocks. Sal kept us calm and moved the ball to create easy scores for us.
We must keep building from this week and prepare for a tough road swing against two very good teams next week."