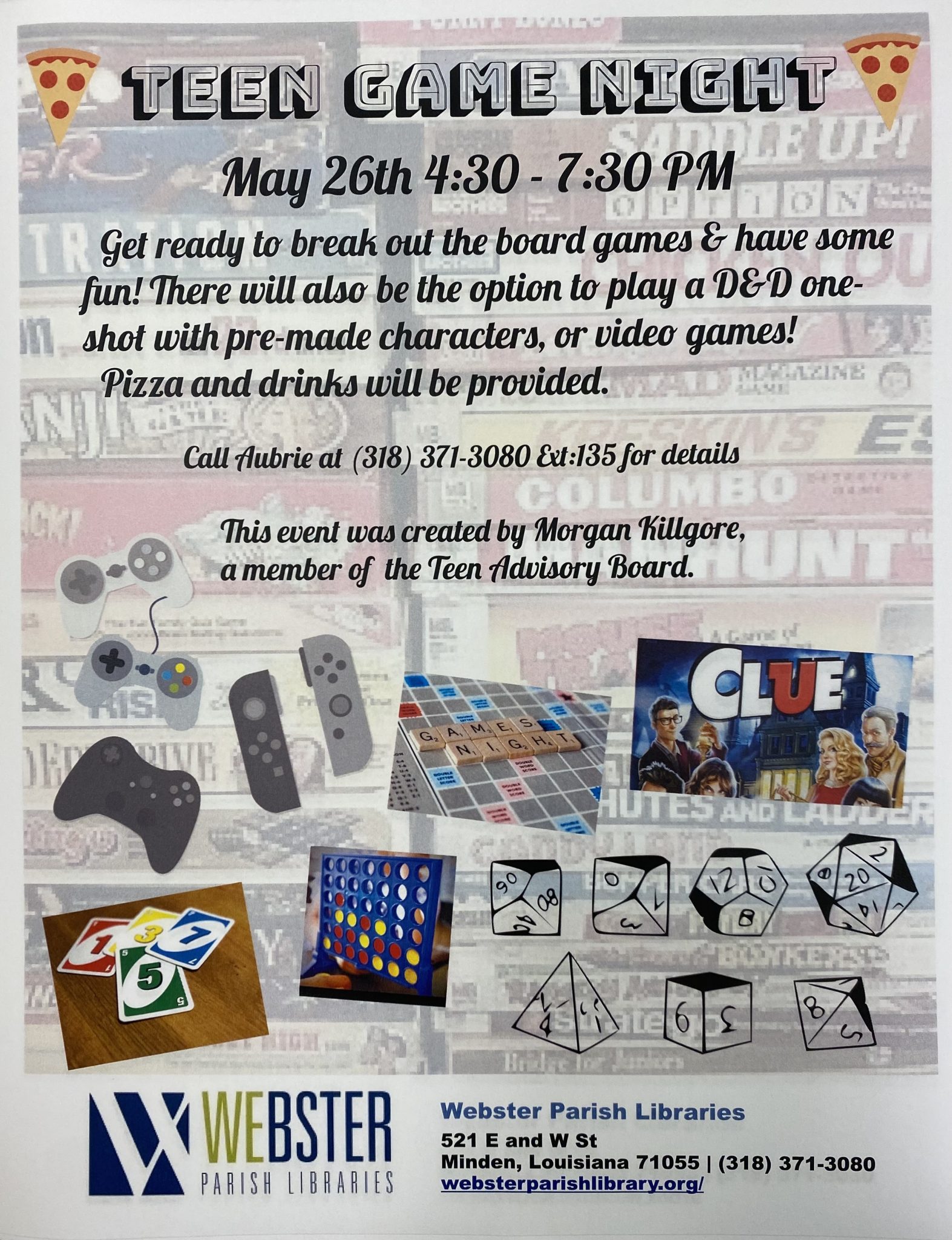 The Teen Advisory Board (TAB) is a volunteer organization at the Minden branch of Webster Libraries, whose purpose is to create fun and interesting programs/activities for other teens to enjoy, while also earning community service hours.
Aubrie Stahl is the head of Teen Services at the Minden library, and she coordinates the teen programs including TAB. "My whole job is to find out what teens want to do, and do it," said Stahl. Stahl stated that she could've planned many programs that she believed would be fun, but she thought that the teens themselves could do an even better job. So with the suggestions and encouragement of a friend, she started a Teen Advisory Board in Minden. "I can't take credit for the idea of Teen Advisory, because that's something a lot of libraries do. This program is to help them be a part of the library. They are able to step into my shoes — step into my job — and come up with all these ideas."
The board meets on the second Thursday of each month, and Stahl has scheduled two time slots for meetings to accommodate teen schedules. Meetings are frequently used to brainstorm ideas for programs or ways of improving programs. "I have a desk full of loose-leaf paper of book recommendations, program ideas, supplies that I need to get," said Aubrie. "They give me their ideas, and I put them into action."
Some of the programs that have already occurred were Teen Art Night, Edible Cookie Dough, and Scrapbooking with Magazines. And there will be a Teen Game Night on May 26 and Teen Bad Art Night on June 2.
"Everybody in Teen Advisory Board has an event that has either been done or scheduled," said Stahl. Some teens created multiple programs, but Aubrie wanted to make sure that everyone had one out before using the extras. "We're going to start back up with the teen programs right before the Summer Reading Program ends."
Meetings of TAB and actually putting on the programs all count as community service hours. For Minden High students, these hours are not required unless the student is in the National Honor Society, but they do look good on college applications and job resumes. Glenbrook School students are required to earn 20 Service Learning hours as part of their graduation requirement. According to the Glenbrook student handbook, "Student participation in community service activities builds an awareness of society and a connection between classroom and real-world issues."
Stahl agrees with this idea. "It gives them a sense of pride and a sense of responsibility. It's good for the community too. It's just pushing positives."
What does Aubrie Stahl want the teens of Minden to know: "Their ideas matter and they're important, and they need to be a part of the library because they're the next big thing. They're the future, as cheesy as that is. I love all my kids — they're great!"