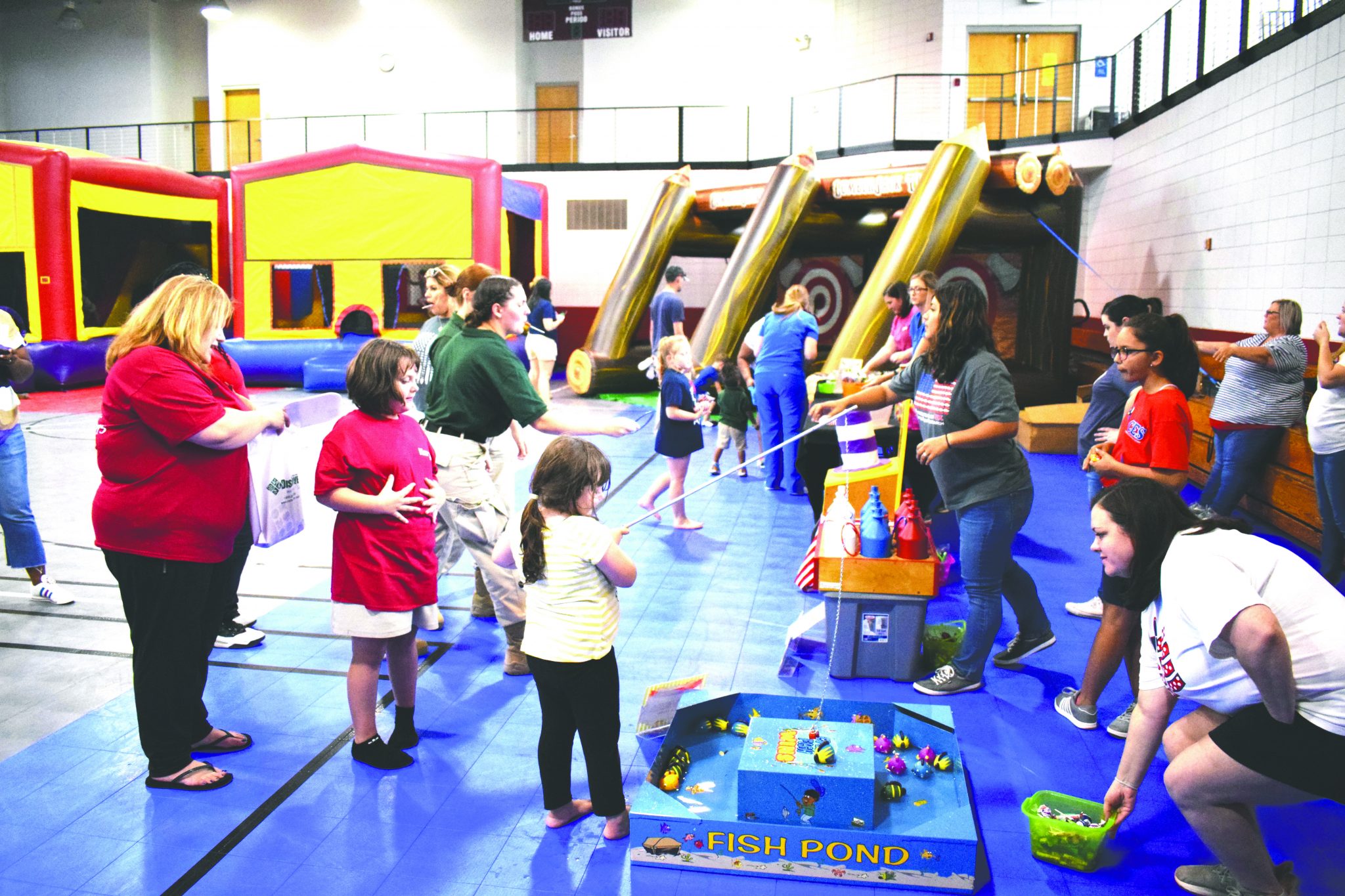 The citizens of Minden gathered in the Minden Recreation Complex in order to show their support of the first responders in our community at the 5th Annual First Responders Appreciation Night.
Greater Minden Chamber President Stephanie Barnette said the idea behind the event is to bring businesses and the community together to honor local first responders and show support for those who work every day to keep us safe."We feel it is important for our citizens to have the chance to interact with first responders in a light-hearted environment and to give them the opportunity to say "thank you" to our everyday heroes," Barnette said.
Various businesses from the local community came out to take part as well giving out a variety of free goodies. B1 Bank was giving out free popsicles State farm had a Spin-the-Wheel with which people would spin to see what prize they got.
The sponsors of the event include Louisiana HomeCare, Bistineau Blasters, Minden Family Dental, Ryan Gatti for State Senate, Minden Medical Center, Mike's Hometown Spirits, Catherine Hunt – Lindsey Realty, Wimberly Agency, The Gardner Group, B1bank, DC Pawn, Harper Motors, Fibrebond Corporation, Jason Parker for Sheriff, Rocketfast! Car Wash, Coca-Cola Bottling Co. of Minden, Creighton Wilson for State Representative, Hugh Wood for Webster Assessor, Jeanne Martin State Farm, Gibsland Bank & Trust, Clay Johnson Farm Bureau, Living Word Minden, and Centerpoint Energy.
"We would like to thank all of our businesses and community members who came out to honor our first responders. We would like to especially thank Town & Country Health and Rehab for once again being our Presenting Sponsor. They always go above and beyond to honor our local heroes," said Barnette.
Louisiana Tech even got in on the event, bringing representatives and cheerleaders to interact with the community and pass out goodies. Their mascot, Champ the Bulldog, even came out to the event and made an appearance.
Those who came out also got the benefit of their choice of free food options, including hamburgers, hot dogs, shrimp, and drinks. "The Lt. Governor and the Louisiana Seafood Board provided seafood for those in attendance. Everyone was so excited to see the Drago's Restaurant food truck as they walked in. They were awesome to work with," said Barnette.
The night hosted plentiful entertainment for the children that attended. Various emergency response vehicles were parked out front and were free for kids to explore. Inside of the complex, the basketball courts were jam-packed with bouncy houses, inflatable obstacle courses, RC car racing, ax throwing, kid-friendly of course, and many other activities.
"The City of Minden and the staff at the Minden Recreation Department were wonderful to work with once again as our venue host. Rocke' and his crew were so accommodating, even when the threat of bad weather had us changing locations at the last minute. We are so appreciative of them," said Barnette.