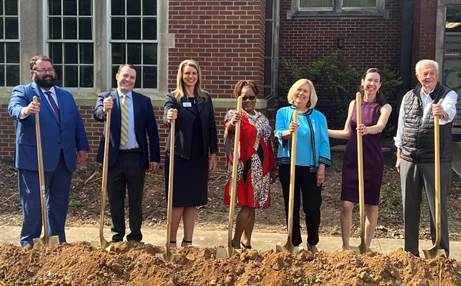 Shreveport, LA – The Arc Caddo-Bossier is proud to announce its partnership with The Highland Center, a multi-purpose community and nonprofit center located in the heart of the Highland neighborhood. This collaboration will allow The Arc Caddo-Bossier's founding program, Goldman School and Child Development Center, to expand its services for children and families in Northwest Louisiana.
On the morning of Tuesday, April 18th, 2023, employees from both organizations, along with key stakeholders and community leaders, gathered outside The Highland Center for a press conference, to reveal the exciting news to the public.
Who? Children (0-5) with and without intellectual and developmental disabilities and their families.
What? An inclusive environment in which children with disabilities can learn, grow and play alongside their typically developing peers in a location that provides safety and security.
When? Expected to begin accepting students Fall 2023
Where? TheHighland Center, 520 Olive Street, Shreveport, LA 71104
Why? To significantly reduce the waiting list of children who need the services provided by Goldman School. The second campus will allow us to serve nearly 75% more children. As the only program of its kind in the region, Goldman School; meets a unique need for local families.
How? Partnership between The Arc Caddo-Bossier, The Arc Caddo-Bossier Foundation and The Highland Center; and with generous community support for startup and future financial stability. Initial donors include First Presbyterian Church of Shreveport, The Grayson Foundation, Powers Foundation, Harrison Paint Company, and an anonymous benefactor.
About The Arc Caddo-Bossier:
The Arc Caddo-Bossier is a private, non-profit organization that has been serving the community of Shreveport, Bossier City, and surrounding areas since 1954. We carry out our mission of "building unlimited opportunities for people with disabilities" through an array of programs and services for infants, children and adults with disabilities and their families. Learn more by visiting www.thearccaddobossier.org.
Mission Statement: Building Unlimited Opportunities for People with Disabilities
About The Arc Caddo-Bossier's Goldman School and Child Development Center:
The Arc Caddo-Bossier's Goldman School is a Type III, Licensed, Four Star Quality Rated Child Development Center for children ages 8 weeks to 5 years old. Children with and without disabilities are given the opportunity to grow and learn together in an inclusive, year-round program. Goldman School offers support to young children and their families while valuing each child's unique strengths and honoring diversity among families.