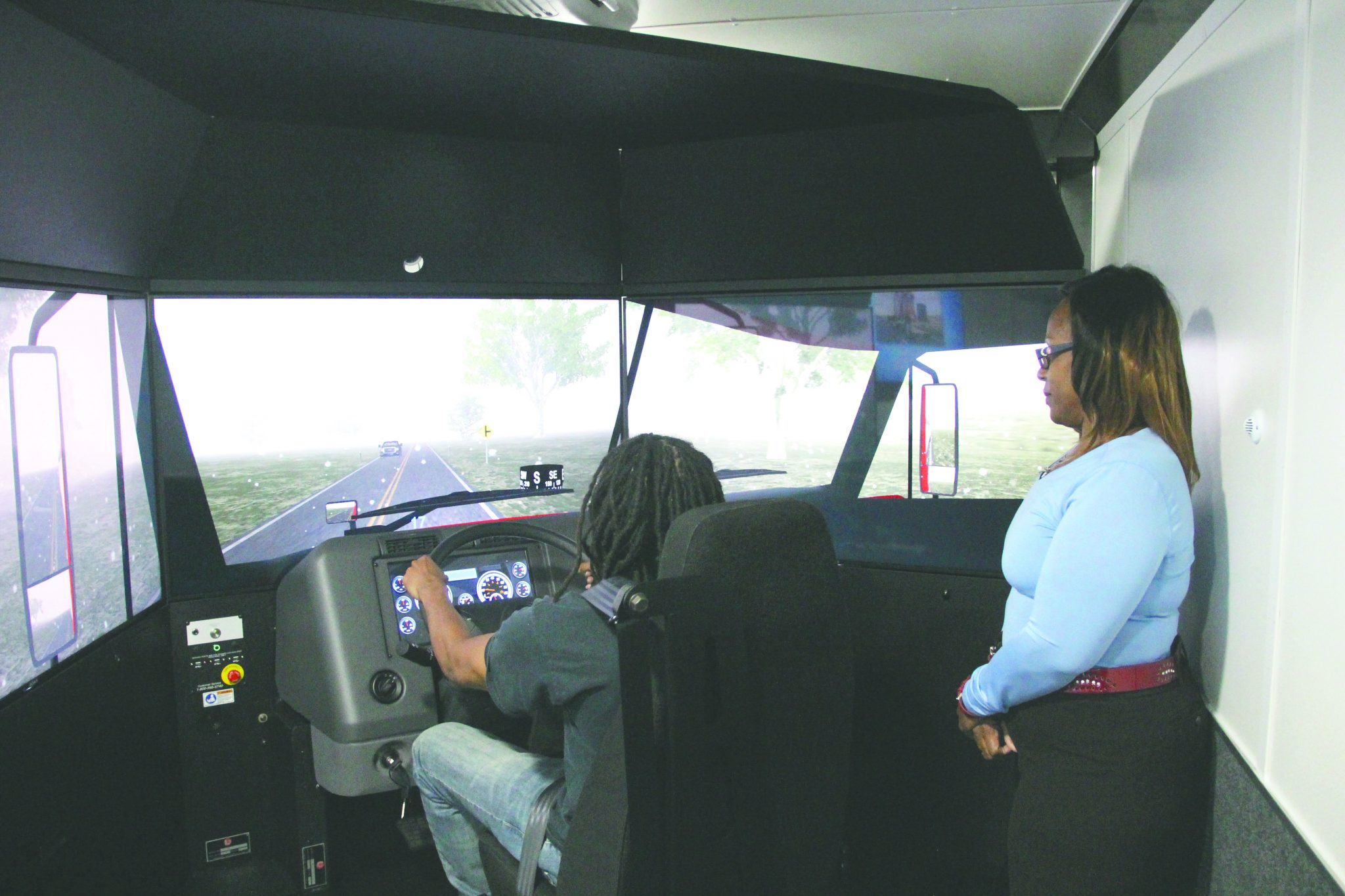 When Northwest Louisiana Technical College began its fall-semester Controlled Drivers License program at the Minden campus Monday, students were able to get behind the wheel of a truck almost immediately. Some crashed, others were rear-ended, and some swerved off the road due to fatigue.
Thankfully, this was all done behind the wheel of a virtual truck, thanks to Northwest LTC's new simulation classroom.
Located inside a trailer, the college's brand new truck driving simulator is a state-of-the-art safety teaching tool that Director Earl Meador said they plan to use in several ways.
"The simulator is going to be used for a variety of things," Meador said. "Today we have our regular CDL students out there training. The original goal was to develop a program for our business community to help them make sure they have a safe workforce. So we have an eight-hour safety refresher course that existing drivers and businesses can use as well."
The system features a 3D display and a myriad of settings and variables to test reactions to any imaginable situation. Even within a simple five-minute introductory run on automatic transmission, this reporter encountered snow, ice, traffic, and simulated driver fatigue.
"Instead of just normal, clear-weather driving, we can add impairments into it, road hazards, things they'd have to be looking for in real life," said Scott Price, Minden campus dean. "We teach them to see those things here before they actually get out in the truck. We can add bad weather, steep inclines, mountainous terrains – any region in the country they would drive, we can simulate that here."
Simulation variables are controlled by the instructor, Nancy Wilson, from a computer nearby. She can also use the "rabbit" station to directly control other cars, pedestrians, animals, and more to test the student's reactions.
All told, the simulator, trailer, and supporting equipment cost roughly $185,000, a cost Northwest LTC paid by receiving the Rapid Response grant from the state of Louisiana.
The college's CDL program is a 16-week course offered every semester. It maxes out at fifteen students at a time.
Not only will the system reduce risk and improve learning for the college's students, it will also be used to improve safety training for area businesses.
"It's a self-contained portable classroom," Meador said. "This allows us to go to businesses, park in their parking lot, and train their employees at the business site. They don't have to worry about their employees traveling, making sure they're going to return, or anything like that. It helps them provide training, and the insurance people like it and give them a discount on insurance, so it's good for a lot of things for our local businesses."
Meador said he is excited for the near future of business in the area, and he believes the CDL training is another step toward important growth.
"Our business community has lots of CDL drivers out there," he said. "Everything we do in this region has trucks. And we think the need for truck driving is busy now, but it's about to get crazy with the growth happening in the region along I-20. So this really is the tool of tools, and we're just getting started with it. We're excited about it."