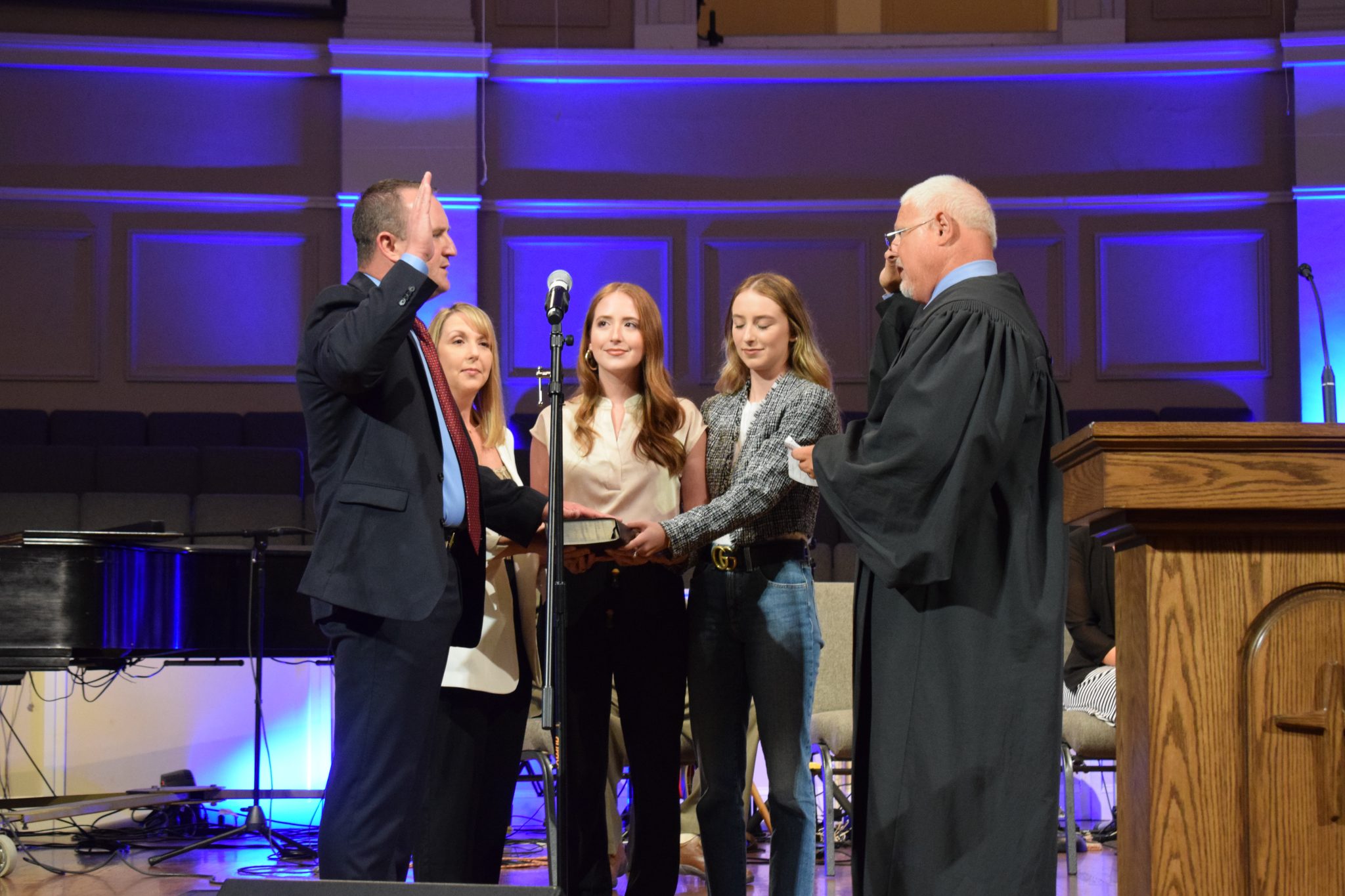 The swearing in of Jason Parker as the new Webster Parish Sheriff took place Sunday afternoon at First Baptist Church. The room was filled with his friends, family, and his fellow law enforcement who were all there to support their new Sheriff.
Introducing the ceremony was Pastor Leland Crawford of FBC. "Jason Parker is a member of our church, I've been privileged to be his pastor for a number of years now. He's a man I greatly respect and I'm excited about what he will bring to our Parish. We've been blessed with the past Sheriff that has served here and served here honorably, and now we're going to be doubly blessed with Jason. Parker at the helm of the Webster Parish Sheriff's Department," said Leland.
The invocation prayer was held by Rev. Dr. Lonnie Moore Jr. of Harrison Chapel Baptist Church in Springhill, Louisiana. Judge Jeff Cox Carried out the swearing in of both Parker and his Chief Deputy, Oscar Henry Hanes IV. Soon after Parker's daughter Kirsten Parker took to the podium to congratulate her dad and express her feelings of being able to share this moment with him.
"On behalf of the family I just want to thank everyone for being here today and for your continued support throughout this entire process. This is something that's been in the works for a really long time and it's something that I remember my dad saying that he's wanted to do for as long as I can remember. So it's so special to be here today and share this experience with him, being sworn into the office that he's always wanted," said Kirsten Parker.
His family then presented Parker with a plaque featuring the Thin Blue Line American Flag which symbolizes support for the men and women in law enforcement who put their lives on the line every day.
When it was his time to speak, Parker started off by thanking Pastor Leland for allowing him to use his home church as the location for the ceremony. "I want to thank Brother Leland and First Baptist, my home church, for allowing me to be here today. It's such a special place to me. I believe that everyone here would agree with me when I say that I think that we need God now more than ever. In our hearts, we need him in our communities, we need him in our schools, and we certainly need him to be part of the Webster Parish Sheriff's Office. So what better place to start this than right here under the roof of my home church, so thank you so much for allowing me to be here for that," said Parker.
"I also thank all of the folks that helped me out today. Pastor Lonnie Moore, a very good friend of mine. Got to know him over the last year or so, and he's going to be spearheading my Pastor and Patrol program that I talked about during my campaign. He's going to be an asset in that location."
"I want to say a special thank you to Sheriff Sexton. Thank you so much from the bottom of my heart for all that you've done for me over the last several months. I have certainly gained a few grey hairs during that time, but it's been a great deal for me. I learned a lot about budget, personnel, and stuff like that, and without his help I could not have done it. I just don't know where I would be right now if I had to go into office Wednesday and start from scratch. But we're going to be able to hit the ground running and put our best foot forward and make our citizens proud.
Last but not least I want to thank my family. Thank you for being there for me through everything, and I love you."
"My whole life, my entire law enforcement career, has been centered on helping and serving others. That's what's in my heart and that's the only way I know how to live. I think that we should all have love for one another and have love in our hearts. Every citizen of this parish will be treated with the utmost respect, dignity, and courtesy of the Webster Parish Sheriff Office deputies, employees and myself."
Parker then emphasized that his office would have an open door policy, allowing anyone to come and voice their concerns directly to him or his senior staff, as well as a focus on having his deputies more engaged within the communities that they serve.
"I want the folks to know the deputies who drive up and down their roads, and have a sense of comfort knowing that we're there to protect, serve, and help the anytime they need," said Parker.
"We will reach out and build partnerships with neighborhood leaders and rural area leaders so we can work together to prevent and deter crime. I am proud to be a member of the Webster Parish Sheriff's office, and as your Sheriff I will promote and instill this pride in every action that I take."
Parker then used the end of his speech to speak directly to all of the department's deputies for the first time as their official Sheriff.
"You have the important and awesome responsibility to enforce the laws of this parish. You know in your heart that the pay that you receive each month is not for the work that you perform, but for the uncertain duty that you may be called on to perform. Therefore I challenge you to continue to respond to the call. As you stand before me and raise your right hand you are assuming this great responsibility once again. Today I challenge you to maintain your professional standards and integrity, to remain prepared for the unexpected, and to always remember that we are in the business of serving and protecting our citizens," said Parker.
"In these next four years, I'm going to continue to demand that you excel and deliver, and to go far beyond what most think is satisfactory to achieve our goals, our standards, and our expectations. I have complete faith in your abilities and I am proud that you are my partners in serving the people of Webster Parish. Thank you, and let's get to work."