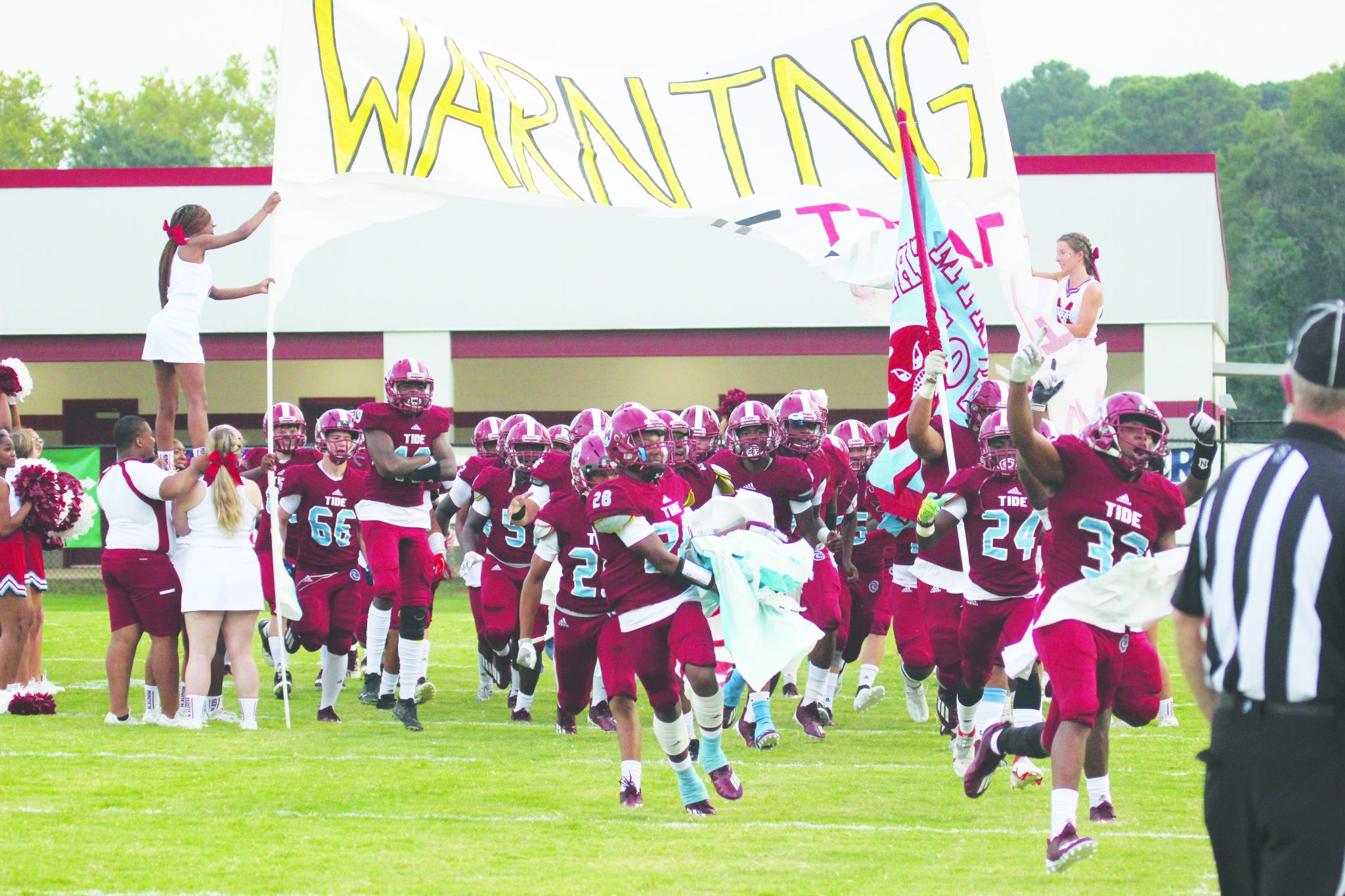 Minden looks to rebound from a season-opening home loss as the Crimson Tide plays host to Greek Oaks at 7 p.m. Friday at WW Williams Field.
The Tide fell 45-14 to Parkway while Green Oaks is also 0-1 after at Carroll last week at home.
Green Oaks went 7-3 last year but were outmuscled in the trenches by Carroll.
Five turnovers and eight penalties for 81 yards were too much for Minden to overcome against Parkway, which has Crimson Tide head coach Spencer Heard look for more focus on execution against Green Oaks.
"Some of the penalties occurred in bad situations," Heard said. "We had the ball in the first half where we were close to or in the red zone and penalties backed us up out of there and took some of those opportunities away. I think that was a big part of it.
"We've got to tackle better, squeeze better on the defensive line — there's a lot of things we have to do better. We just have to get ready to come to work Monday, move on and get better against Green Oaks."
The bright spot for Minden was the play of running back Daylen Robinson, who totaled 99 rushing yards and scored all 14 of the Crimson Tide's points against Parkway.
"He always runs hard and gives it his all," Heard said of Robinson. "Effort wasn't a problem (against Parkway). We actually moved the ball well much of the game. We just have to eliminate those little mistakes, especially at inopportune times."
GLENBROOK: The Apaches rolled over River Oaks 59-28 in last week's home opener.
But now Glenbrook faces a much tougher test as the Apaches face the defending 2020 Louisiana High School Athletics Association defending state champion Calvary Baptist in Shreveport.
Calvary Baptist won its opener last week by the score of 47-12 against Logansport.
"It doesn't get much tougher than that," said Glenbrook head coach David Feaster of his team's upcoming game. "Calvary is always one of the top teams in the state and capable of beating teams at much higher classifications. We have our work cut out for us and then some."
The Apaches had multiple players contribute last week as an early advantage allowed Feaster and his staff to get a good look and many of their players. He hopes that opportunity pays off to some degree against Calvary.
"Against River Oaks we were able to switch out all of our offensive skill people and really didn't miss a beat," Featster said. "We've got some good players on both sides of the ball. We're doing it like that right now knowing that sometime down the road we're going to have to deal with some injuries or someone's going to get the virus, or even fatigue might become a problem. We're blessed right now and making everybody play on both sides of the ball a little bit for conditioning's sake if nothing else knowing that the need will come somewhere down the road.
"With a school our size and the low numbers we have, to have that many guys contributing really is important for us."
LAKESIDE: Last fall Lakeside High School won only one game while losing four in a season shortened by the COVID-19 pandemic.
The Warriors won three games in 2019 and six in 2018, and Lakeside head coach Mike Santelices is hopeful that a strong start with a 39-0 win over Magnolia School of Excellence last week carries over to Week Two of the 2021 season as his team plays host to Block at 7 p.m. Friday.
Block High School opened the season last week with a 14-6 home loss to Buckeye last week.
Santelices said last week's early lead allowed the Warriors to get a better idea of the personnel they'll be playing with this season.
"In the second half last week we were able to move some kids around to see how they looked," Santelices said. "We left some starters in especially on the offensive and defensive lines because I wanted them in there to build their conditioning. It was a good night both offensively and defensively, but it was only one game.
Santelices said he and his staff also saw some things for the Warriors to try and improve on against Block.
"We were called for eight penalties. Those are the kinds of things that can really hurt you in a close game. That's one of the areas we'll try to get better at as we take on Block."
NORTH WEBSTER: The Knights will be looking to build on a big win over Haynesville to open the season last week as they stormed past the Golden Tornado 34-7.
At 7 p.m. tonight they'll kick off Week Two by playing host to North Caddo, which scored on the final play of the game last week to edge past Homer 26-25 at home.
Against North Caddo, the Knights will likely look to build on the offensive firepower shown by running backs JaMarcus Stephens and Cooper Sanders along with the passing game provided by quarterback Colin McKenzie.
Stephens scored three touchdowns and added a pair of two-point conversions in the season opener, scoring two plays into the Knights' first possession on a one-yard plunge.
"Sanders had some big runs and McKenzie threw the ball well and ran the ball well," said North Webster head coach John Ware. "But it started up front on both sides of the ball."
The Knights will again be looking for a second consecutive dominating performance from its defense, which didn't allow Homer to score last week until the final three minutes of the contest.
"Our lines played well on both sides of the ball and that's where it all starts," Ware said. "It was a good opening game for us. Now we have to come out and play even better against North Caddo."