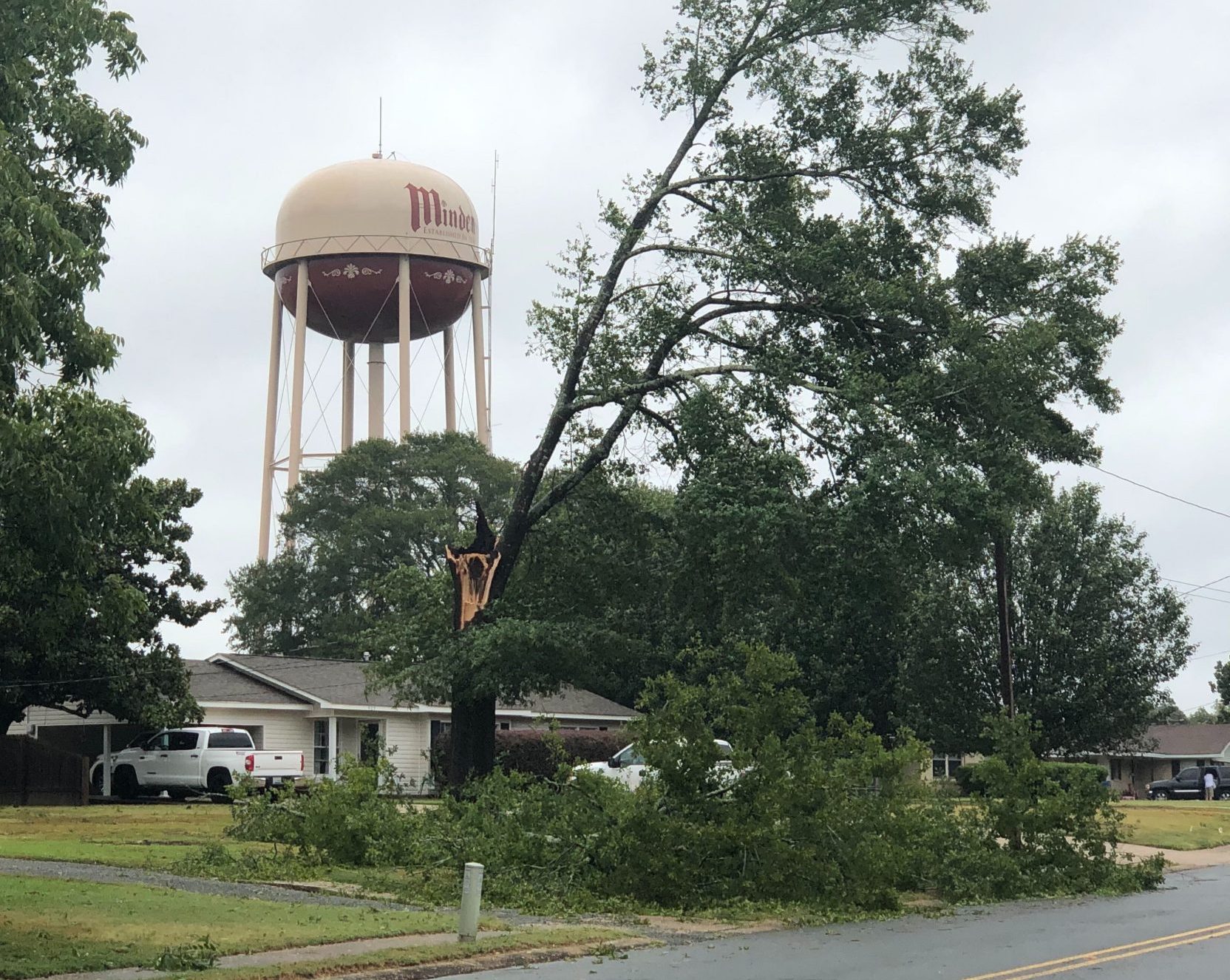 Hurricane Laura swept through Minden early this morning, causing high winds that brought down trees, which in turn took out power lines which caused the entire city to see a blackout.
Since it's been safe to do so, City crews have been working non-stop to get the City's power back fully operational. However, due to the extensive damage caused by Laura, some citizens will be having to wait longer for their power to be restored than past outages the city has experienced.
Mayor Terry Gardner stated, "We might have power outages for up to two days. We've been hit severely. We have a lot of trees down, we have damage at one of your substations that we have to get repaired, but we're a very resilient community. This shows our community that we're all working together."
While the damage may be severe, the City employees from various Departments are all contributing to help restore power to Minden's citizens.
"We have our crew out working all areas. Our main goal is to get power restored to all of our residents. We brought in additional crews from Texas. Three additional bucket trucks and 15 additional men. They will be working through the weekend getting our power restored," said Gardner.
"We have our crews, our recreational departments bagging sandbags, our water department is helping our line crews. We have met for several days planning for this, we're one of the only municipalities in the area that was open today, and the reason that we are open is because we wanted our citizens to be able to call in and tell us where we have power outages for our crews to be able to go out and help."
As of now, some parts of Minden are receiving power, some of the main ones being the Downtown Minden area and Homer Road. "One of our main goals was getting Homer Road on as well as Walmart so people can get their needs for their homes," said Gardner.
He also stated that Minden is going to de-energize the City at 8 p.m. in order to energize one of the City's substations. At that time, power may be restored in a large portion of the city.
However, there will still be many residents without power, though crews will be returning to work in the morning to resume getting more residents' power back on.
Unfortunately, some areas will potentially have to wait two days before seeing power restored.
As far as what individuals can do to help the city in their efforts to restore power, Gardner stated that citizens should look at the meter base on the back of the house to see if it's pulled loose. If it is, Gardner stated that the homeowner will need to get an electrician to get it repaired, and will be able to connect back to Minden's power once it's back fully operational. Furthermore, as stated above, if citizens are noticing that their power is off while their neighbors' power might be one, they should notify the city of Minden by calling them at 318-377-2144.
"If you think you see other areas around your street that have power and you're still out, please call back in, so we can go out and check. We're a strong community, we come back quickly, and we appreciate everyone being patient," said Gardner.